Although the indexes whipsawed the day in a wide-ranging chop, the market showed no fear of inflation, rate increases, and slowing worldwide economic growth. On the contrary, lowered earnings estimates inspire buyers even as indexes stretch in overbought conditions. Declining economic growth reports go primarily ignored as the rally extends with the fear of missing out. Risks remain high over substantial overnight reversals and big point intraday whipsaws, so plan your risk carefully in this emotionally charged condition. With a massive number of earnings reports, the remainder of this week, be prepared for just about anything.
While we slept, Asian markets rallied, led by Hong Kong, which surged upward by 5.23%. Unphased by record-high inflation, European markets are also in rally mode this morning, trading higher across the board. However, ahead of economic reports and a big day of earnings, U.S. futures point to a substantial gap as the relief rally extends. Keep an eye on overhead resistance levels for possible bear attacks as the wild ride earnings enthusiasm continues.
Economic Calendar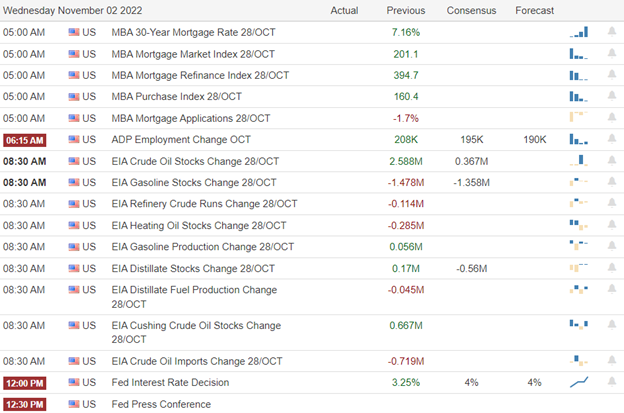 Earnings Calendar


On the earnings calendar, Tuesday is a busy day, with more than 160 listed and nearly 110 confirmed to report. Notable reports include AFL, AMD, ARNB, AIG, ARNC, CZR, CWH, CAKE, CHK, CRUS, CLX, CXW, DENN, DVN, ETN, EA, LLY, EXR, FOXA, BEN, HSIC, MPC, MTCH, MKC, MSTR, TAP, MDLZ, PFE, PSX, PSA, SEE, SPG, SIRI, SOFI, SMCI, SYY & UBER.
News & Technicals'
The British energy major posted underlying replacement cost profit, used as a proxy for net profit, of $8.2 billion for the three months through to the end of September. The world's largest oil and gas majors have reported bumper earnings in recent months, leading to renewed calls for higher taxes on record oil company profits. "Our job is to pay our taxes; our job is to invest," BP CEO Bernard Looney told CNBC Monday. For this winter, Europe's gas storage is more than 90% full, according to the International Energy Agency, providing some assurance against a major shortage. But a large proportion of that is made up of Russian gas imported in previous months, which likely won't be available by the winter of 2023. This could lead to significant social unrest — already, small to medium-sized protests have cropped up around Europe.
President Joe Biden threatened to pursue higher taxes on oil companies if they don't try to lower gas prices. However, any new proposed taxes on the businesses could run into opposition in Congress. Biden has highlighted efforts to reduce consumer costs as voters worry about inflation ahead of the November 8 midterm elections. State oil giant Saudi Aramco reported a 39% rise in net income for the third quarter year-on-year, on the back of higher crude prices and tightening global supply. Net income rose to $42.4 billion for the quarter, up from $30.4 billion the previous year and just above expectations. The Saudi state oil giant also reported a record $45 billion in free cash flow.
Despite declining economies, rising bond yields, and a pending rate increase, the market showed no fear on Monday. Though the price action whipsawed in a rage the entire day, the bulls and bears appeared comfortable even with the extreme extension in the Dow. The T2122 indicator suggests an overbought condition, while bearish economic reports go ignored as earnings speculation inspires buyers. Enjoy the rally but be careful overtrading with prices so extended in the short term because a reversal could begin anytime. Expect the wild morning gaps and intraday whipsaws to continue. Keep an eye out for bear attacks at or near price resistance levels and around economic data should the market suddenly decide to care that our economy is slowing.
Trade Wisely,
Doug