The bulls breathed a sigh of relief on better than expected earnings and economic data. Futures are already pushing higher in the premarket in anticipation that GS and PNC will keep good reports coming. That said, we will have to keep an eye on Retail Sales numbers that economists expect to come in negative and could dampen bullish energy. So be careful rushing in with a fear of missing out because we have about the perfect setup for a pop and drop if retail numbers disappoint.
Asian markets finished the week on a bullish note, closing green across the board. European markets share the same sentiment this morning, with modest gains across the board fueled by earnings results. Ahead of market-moving earnings and economic U.S. futures point to a bullish open that will gap the DIA and SPY above their 50-day averages.
Economic Calendar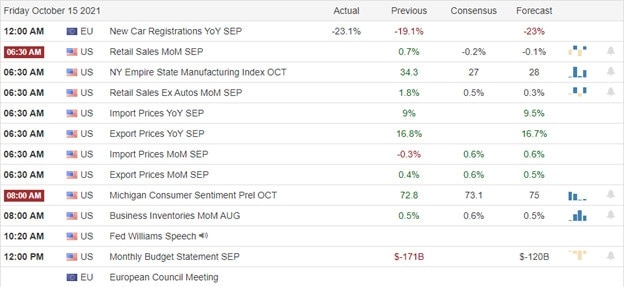 Earnings Calendar


We have 19 companies listed on the earnings calendar, with just eight confirmed. Notable reports include GS, JBHT, PLD, PNC, & TFC.
News & Technicals'
On Friday, the Biden administration unveiled a government-wide plan to address what he says is a systemic threat climate change poses to all sectors of the economy. The roadmap accounts for how climate change will impact the companies people are invested in and aims to protect the savings of American families with retirement plans. Additionally, his plan also identifies how agencies can strengthen infrastructure resilience in response to worsening climate disasters. A key FDA advisory committee unanimously recommended Thursday giving booster shots of Moderna's Covid-19 vaccine to people ages 65 and older and other vulnerable Americans. The endorsement is a crucial step before the U.S. can start giving third shots to some of the millions of Americans who originally received Moderna's vaccine. Bitcoin surged as high as $59,920, notching its highest level since May. 10, but struggled to break above the $60,000 mark. Traders are optimistic about the SEC's chances of giving the green light to the first bitcoin futures exchange-traded fund. This morning, Treasury yields rose in early trading, with the 10-year climbing to 1.544% and the 30-year rising 2.047%.
The bulls found more than enough inspiration to rally on better than expected earnings and economic data. The DIA and SPY tested their 50-day averages as resistance through the QQQ lagged somewhat behind. The big winner of the day was the underdog index of IWM, with financials and oil sector stocks working together bullishly. With earnings from GS and PNC this morning, futures are pumping up the premarket in anticipation of additional bullish results. However, this morning, we do a possible stumbling block with the Retail Sales report that consenses expects to come in slightly negative. The Consumer Sentiment reading should also be interesting to keep an eye on it see in inflationary pressures have dampened spending spirits. Though it was nice to see the rally, remember the real test is when it pulls back to test the new support levels. That said, be careful chasing stocks already extended in case a pullback occurs.
Trade Wisely,
Doug