Bulls Price Trend Working Together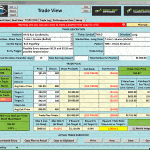 We all love the market when the Bulls, price, and the trend are working together. For the swing trader, this is a dream come true.
The SPY has closed over the top t-line once again on the daily chart following the France vote and strong earnings. Yesterday's candle pulled back slightly at the end of the day after walking into resistance. The hourly chart may be suggesting a little profit taking could be just around the corner. Below $238.40 today could be the profit taking trigger.
FREE Trade Idea – TWLO
TWLO 2-day chart – April 7 a Bullish Harami was printed creating a double bottom below the t-line bands. Follow through pushed price over the top t-line band and put the chart into a Rounded Bottom Breakout.
Note we bought TWLO yesterday.
Charts to Learn From – WYNN
WYNN –  Following our post to the HRC members in the trading room WYNN has rallied on a T-Line Run with only minor passes. We sold WYNN yesterday for a 29.88%
Members Swing Trade Ideas
We post to HRC members 10-15 swing trade ideas each day and post them in the member's area of the website.
10-15 trade ideas below –  for members only
What is a Trade Idea Watch List?
A trade idea watch list is a list of stocks that we feel will move in our desired direction over a swing trader's time frame.  That time could be one to 30 days for example.
From that watchlist, we wait until price action meets our conditions for a trade.