SPY Has Been Wondering Around With Its Eyes Closed
(SPY) For about 18 days now the SPY has been wondering around with its eyes closed, no direction other that sideways which is perfectly fine because we have been able to find and trade the profits right to the bank.
We took 38.52% of VRX to the bank yesterday – Soon we will take CGI, IMGN, VSTO, ARDX, DRIP, all double-digit gains to the bank. (No coin here all folding money)
Free Trade Idea – GNMX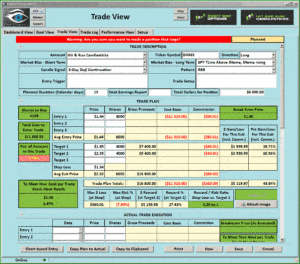 GNMX (Aevi Genomic Medicine Inc)  Became an HRC-RBB chart pattern yesterday with tremendous profit potential. The 3-day chart is set up for our Pinball Strategy. On the 3-day chart.
With on-demand recorded webinars, eBooks, and videos, member and non-member eLearning, plus the Live Trading Rooms, there is no end your trading education here at the Hit and Run Candlestick, Right Way Option, Strategic Swing Trade Service and Trader Vision.
Conditions For The GNMX Trade
RBB setup
Inverted Hammer
Higher Lows
J-Hook
Swing or swings: 30% Plus
From our Members Watchlist
VRX is up 76.81% from our members only post on May 5, 2017; VRX popped another 8.10% yesterday closing above the 200-sma. Can you see how VRX when from a Pinball setup to an RBB setup, then closed above the 200-sma?
Hit and Run Candlesticks Movers – SPY VS Members List Last 7 Bars
IMGN +48.91%
CARA +48.42%
VRX +34.91%
ESPE +28.39%
CAR +26.58
What is a Trade Idea Watchlist?
A trade idea watchlist is a list of stocks that we feel will move in our desired direction over a swing trader's time frame.  That time could be one to 15 days for example. From that watchlist, we wait until price action meets our conditions for a trade.
MEMBERS ONLY
Investing and Trading involve significant financial risk and are not suitable for everyone. No communication from Hit and Run Candlesticks Inc. is financial or trading advice. All information is intended for Educational Purposes Only. Terms of Service.
Rick Saddler is not a licensed financial adviser nor does he offer trade recommendations or advice to anyone except for the trading desk of Hit and Run Candlesticks Inc.