As we begin another trading week, we have the magic of Santa competing with weakening economic numbers and worries about a challenging recession over next year's horizon. Yet, the bulls showed incredible tenacity with a willingness to buy, buy, buy despite the hot jobs numbers likely to keep the FOMC hawkish. With many of the Dow component stocks in very extended parabolic patterns, traders will have to watch for possible big-point bear attacks, though the Santa rally hopes remain high.
While we slept, Asian markets rallied as China relaxed some pandemic rules prompting Hong Kong to surge 4.51%. However, European markets trade mixed this morning, with oil moving higher as price controls compete with OPEC's production cutbacks. After Friday's big recovery rally, U.S. futures point to a modest gap open as we wait for earnings and economic data. Plan carefully for another week of volatile data-charged price action as Santa hope battles recession fears.
Economic Calendar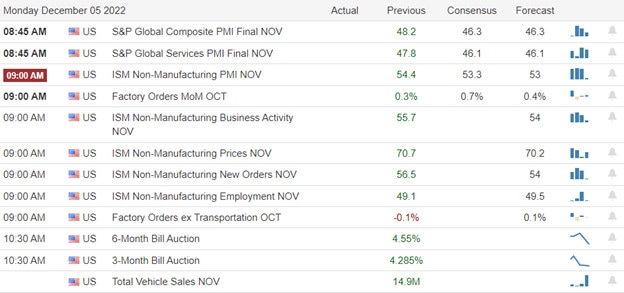 Earnings Calendar


Earnings reports will be light this week, but we will still have some notables to keep us on our toes. Notable reports for Monday include GTLB & SUMO.
News & Technicals'
The Netherlands is outsized in the global semiconductor supply chain because of its star company, ASML. ASML produces a cutting-edge chip-making machine, and China is keen to have access. The U.S. is worried that if ASML ships the machines to China, chipmakers in the country could begin to manufacture the most advanced semiconductors in the world, which have extensive military and advanced artificial intelligence applications.
Foxconn said November revenue totaled 551.1 billion new Taiwan dollars ($14.7 billion), down more than 29% versus October and over 11% lower compared to Nov. 2021. The Taiwanese firm said the fall was due to "production gradually entering off-peak seasonality and a portion of shipments being impacted by the epidemic in Zhengzhou." Zhengzhou, a city in China, is home to the world's largest iPhone assembly plant, which Foxconn runs. In late October, the factory had an outbreak that Foxconn battled to control.
The European Union is poised to ban all imports of Russian seaborne crude from Monday. The Kremlin has previously warned that any attempt to impose a price cap on Russian oil will cause more harm than good. Oil prices have fallen below $90 a barrel from more than $120 in early June ahead of potentially disruptive sanctions on Russian oil.
As we begin another trading, there is still hope for the magic of Santa to keep the rally going. First, however, Santa will need to overcome the economic data showing a slowing economy while job growth remains stubbornly strong. In addition, the growing worries of recession, a disinflationary cycle, or even the dreaded stagflation still worry investors making for some high-risk volatility. To begin the trading week, we have a light earnings calendar with Factory orders, ISM Services, and PMI composite readings to try and gain some inspiration. The indexes remain in bullish patterns, yet many of the Dow component stocks are very extended in parabolic patterns, so we will have to stay focused for signals of bear attacks or longer choppy consolidations as it rests.
Trade Wisely,
Doug