Why "Road To Wealth Coaching" with Rick Saddler?
The "Road to Wealth" is the name Rick Saddler gave to a small account ($5,100) he setup as of 1/1/2018. The purpose of the account was to show traders what can be achieved, even with a small account, using the trading methods taught by Rick and Hit and Run Candlesticks.
Rick closed the account in August of 2020 after the account had reached a high of $78,000.00. He opened a new Road To Wealth Account in August 2020 with $10,000.00. You can see the account below.👇
✅ 10 Hours minimum, Private Coaching
✅12 Months Total Access to Rick via Skype
✅12 Months Membership To Hit and Run Candlesticks
All It Takes To Double Your Money In A Year
* Assumes 210 Trading Days / Year
Enter Your Account Size Below
| | | |
| --- | --- | --- |
| Starting Balance | Required Profit / Day | Ending Balance |
| $ | $23.81 | $10,000.00 |
This is your chance to work with Rick and his Inner Circle to make a real difference in your financial future. The Road to Wealth Coaching program includes:
📌One full Year Hit and Run Candlesticks Membership
📌10 hours of minimum personal one-on-one coaching with Rick by Skype. sharing charts, teaching his trading techniques on how he has doubled his account in 12 months.
📌12 months of access to Rick Saddler via Skype to help with trades and charting.
📌Free Access to all current educational products and all new products and workshops created by Rick Saddler.
💲Details of Strategies He Uses
📌3×8 Trap
📌Pinball Strategy
📌The RBB Pattern
📌POP Out of The Box Pattern
📌Trendicator – How to use the RED/Green Line.
📌Trend Lines – Understand drawing trendlines to determine Trend, Support, and Resistance.
📌The Power of Base Hits – Learn the Base Hits technique for trade success.
📌Chart Patterns – Learn the power of chart patterns and the secrets they tell.
📌Price Action – When you add Price Action to the machine you now have a well-oiled, solid engine that's ready to run
📌Technical Analysis (Trend, Support/Resistance, Patterns and Price Action)
📌Trading Tools (Scanning, Charting.) Trade Planning (Entry, Stops, Exits.) Trade Management (Profit Taking, Risk Control, etc.)
📌Stocks or Simple Directional Options
✅10 Hours minimum, Private Coaching
✅12 Months Total Access to Rick via Skype
✅12 Months Membership To Hit and Run Candlesticks
💲2018/2019/2020 Road To Wealth Performance Click Here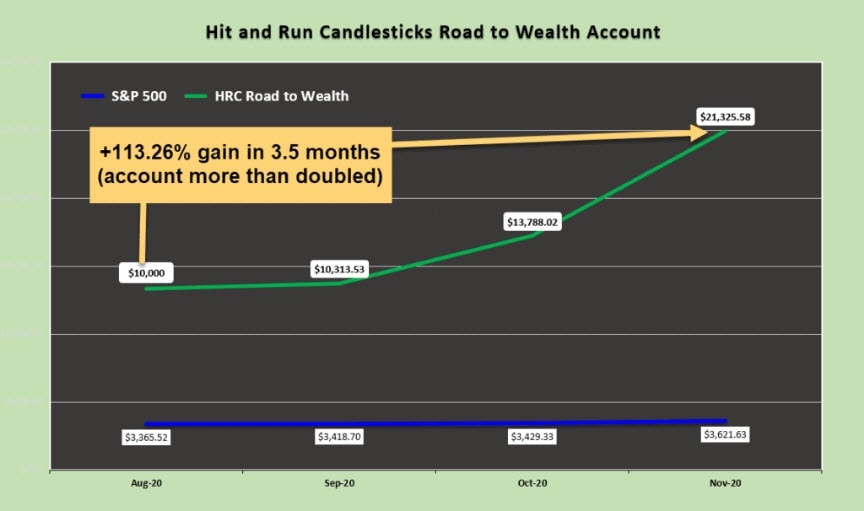 8/15/2020 – 11/30/2020 +113.26 Percent
This statement is from the personal account of Rick Saddler and is being shared for educational purposes only. The account balances created by his trading results and shown on the statement are not necessarily indicative of future results. Investing and trading involve significant financial risk and is not suitable for everyone. No communication should be considered as financial or trading advice. Rick Saddler and Hit and Run Candlesticks are not responsible for your trading results.