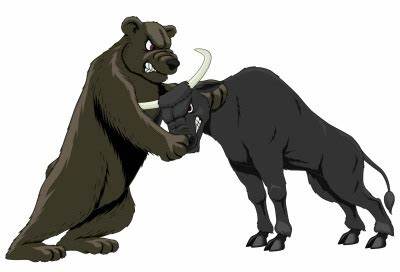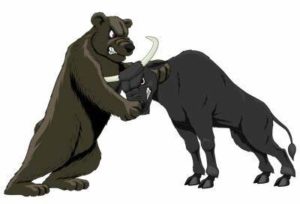 The market price action this week has been mostly contained in the overnight gaps with choppy, directionless chop throughout the day as we continue to test price resistance. This morning the futures suggest another gap, but this morning it's the bears doing the pushing as we head into a busy morning of economic data. Jobless estimates expect another 2.5 million Americans applied for unemployment, but with nearly 35 million already without work, the market has mostly ignored these historic numbers. Perhaps they will do the same today.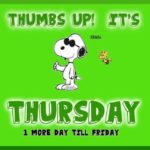 Asian markets closed the day with modest declines across the board, and European markets are lower by about 1% reacting to Euro Zone economic data. US Futures are choppy this morning but point to a lower open ahead of earnings and financial data as we slide toward a 3-day weekend. Stay focused on price as anything is possible as markets react to news and challenged by overhead price resistance.
Economic Calendar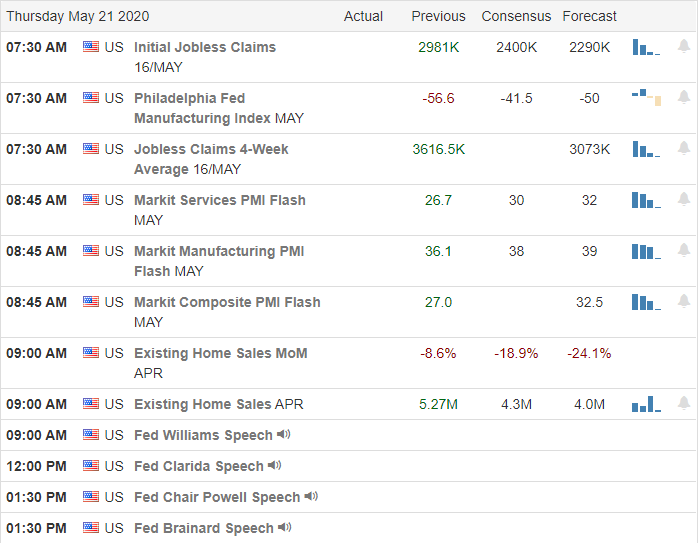 Earnings Calendar


On the Thursday earnings calendar, we have 77 companies fessing up to quarterly results. Notable reports include A, AINV, BBY, BJ, DECK, HPE, HRL, INTU, NVDA, PANW, ROST, SDRL, SPLK, TK, and TJX.
Technically Speaking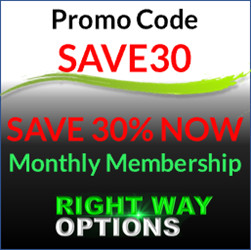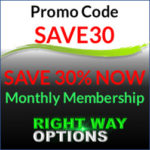 So far, the majority of the index price action has occurred on the morning gap, with the remainder of the day filled in choppy sideways trading. Keeping with the tradition, the futures point to another substantial gap heading into a big day of earnings and economic data. Global virus cases reached 5-million, with the US sadly holding the record of the largest number of infections and a death toll of nearly 95,000. However, according to the news, all 50 states are in the process of reopening the least part of their economies. Let's hope we don't see another surge of infections as a result, and we can on with the business of recovery.
As of the close Wednesday the all the major indexes continued to struggle with price resistance levels. Both bulls and bears seem equally matched after yesterday's morning gap. Interestingly, the Absolute Breadth Index rose yesterday during the chop, although it remains in an overall downtrend. T2122 continues to signal in the bearish reversal zone suggesting a short-term overbought condition. As we head into a busy morning of economic data and wait for reports from tech giants like NVDA and INTU, the futures point to a gap down open. Keep in mind volumes could begin to drop off quickly if traders wind down their week early heading into the 3-day Memorial Day holiday. Plan your risk carefully heading into the long weekend and continue to expect overnight price volatility to remain challenging.
Trade Wisely,
Doug