Description
Live Trading Alerts (LTA) is in Soft Release as of 11/5/18.
(It's ready to go, but all the bells and whistles won't be complete for a few weeks.)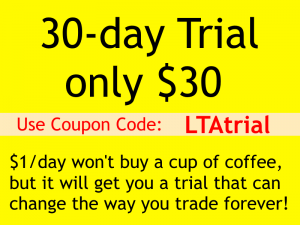 No matter what trading success you've had in the past, LTA will help you…
Know when any of your positions are breaking down
Know when any of your watchlist tickers break out
See exactly who's in control (Bulls or Bears) at any moment
Identify unusual volume flows
Find patterns and signals on Intraday and Daily timeframes
Find the breakouts and breakdowns before the crowd
Whether you're a Bull or a Bear, a Day-Trader or a Swing-Trader, LTA can improve your trading!