With a huge miss on the private payrolls number, worries of a slowing recovery added more price volatility and once again raised the bar of uncertainty. Though the DIA and IWM show a bit of strain looking at the SPY and QQQ, one could assume jobs no longer holding within striking distance of new records. So is this constant push of bullishness warranted, or do we see a dangerous level of complacency starting to develop? Expect the challenging price action to continue with a massive day of earnings data and jobless claims before the open.
During the night, Asian markets traded mixed but mostly lower as the Chinese online gaming stocks continued to experience selling pressure. European market trade with modest gains and losses this morning as they wait on the Bank of England. As earnings roll out, U.S. futures point to a modestly bullish open with the recently problematic jobless claims number just around the corner. As you plan forward, remember the Employment Situation number before the bell on Friday.
Economic Calendar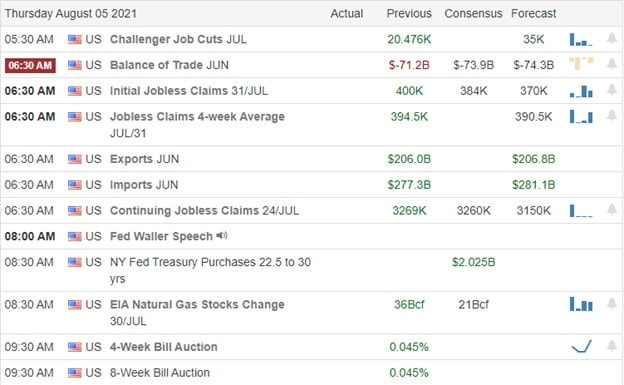 Earnings Calendar


We have our busiest earnings calendar of the week with more the 375 companies reporting. Notable reports include AMRN, AIG, BYND, CAH, CVNA, LNG, ED, CTVA, DIN, DBX, DUK, LOCO, EVRG, EXPD, FEYE, FSR, FNKO, GPRO, GRPN, HBI, ILMN, IFF, K, MRNA, NVO, PZZA, PRTY, PENN, SEAS, SHAK, SFM, STWD, STOR, SWCH, TRIP, OLED, VIAB, SPCE, W, WOW, YELP, YETI, ZG, & ZNGA.
News & Technicals'
Today the President will announce a new national target for electric vehicles to make up 40% to 50% of all new vehicle sales by 2020. However, some EV manufactures suggest such rapid adoption faces significant hurdles such as charging infrastructure, vehicle costs, and consumer adoption. According to Sean Yokota of the SEB, stocks are headed into a correction and says Japanese markets could be among the hardest hit as the country strains to contain the spread of the delta variant. In an attempt to attract workers, Target will offer 100% of college tuition and textbooks for associate and undergraduate degrees in business-related subjects. Walmart, Chipotle, and Starbucks offer similar education programs. Treasury yields edged higher this morning, with the 10-year trading up to 1.194% and the 30-year advancing to 1.845%.
The wild volatility continued yesterday as slowing recovery worries grew after the huge miss in the number of private payrolls. That said, the SPY and QQQ remain remarkably resilient as if to say jobs no longer matter with the indexes within striking distance of new record highs. However, the consistent bullish pressure could also point to a dangerous complacency building in the market. So please don't bother me with details and get out of my way because I want to buy something! Today is the busiest day of earnings report this season, and with jobless claims before the bell, traders should plan for the price volatility to continue. Remember to plan your risk carefully with the market-moving Employment Situation number before the market opens on Friday. Hang on tight as this data-driven rollercoaster ride continues.
Trade Wisely,
Doug