The bears became very feisty yesterday as sharply rising treasury yields shook investor confidence.  Unfortunately significant technical damage occurred in the NASDAQ, with the index closing below its 50-day average.   With bearish reversal patterns left behind in yesterday's price action and the VIX, very elevated trades should prepare for a challenging day of price volatility.  As we slide into the weekend, the buy the dip confidence may be a bit gun-shy to rush back into the turbulence.
Overnight Asian markets joined in on the selloff, with the NIKKEI dropping a whopping 3.99%. European markets trade red across the board this morning. The U.S. futures point to a missed open after a choppy overnight session. With potential market-moving reports on the economic calendar, anything is possible in the open. Expect considerable price volatility.
Economic Calendar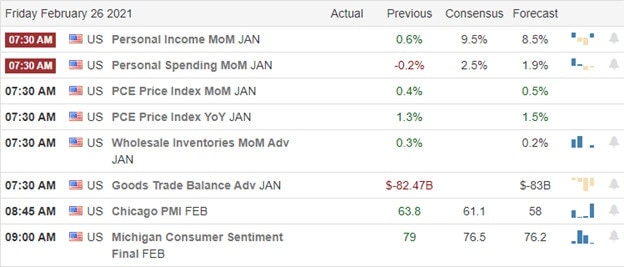 Earnings Calendar


On the Friday earnings calendar, we get a little break with just 58 companies reporting quarterly results. Notable reports include AMCX, CNK, CRON, DKNG, SSP, FL, IEP, LAMR, LBDRA, & RHP.
News & Technicals'
Rising treasury yields brought out the bears yesterday, leaving behind concerning bearish engulfing candles in the indexes. The DIA finished the day above a critical price support level, but SPY and QQQ broke support levels. On the bright side, the SPY held above its 50-day average, but unfortunately, the QQQ significantly dropped through this significant psychological level. Tensions between the U.S. Iran reached a new level after Iranian-backed militia facilities in Syria as the U.S. carried out airstrikes. The attempt to include a mandatory $15 an hour minimum wage in the stimulus bill hit a roadblock. According to the House parliamentarian, it can't be included in the 1.9 trillion dollar stimulus bill planned for passage today. However, Speaker Pelosi defiantly stated it would stay in the bill for today's vote.
The confidently bullish market trend suffered considerable damage yesterday.  With the VIX closing the day above 28 handles, traders should expect considerable price volatility today.  Be prepared for gaps and challenging intraday whipsaws.  As of late, any selloff has met with a strong surge of bullishness.  I suspect a good deal of that extreme confidence was shaken to the core yesterday.  However, with massive stimulus just around the corner, the bears will have their work cutout if they intend to defend price resistance levels.  Buckle up it could be a rough day.
Trade Wisley,
Doug