Vaccine fueled recovery hopes helped to inspire the bulls to new record-breaking levels creating headlines around the world. Massive rallies in energy, financials, and consumer staples have created impressive reversal patterns in the charts and suggest the move may have become a bit parabolic in the short-time. Expect volume to decline rather sharply today after the deluge of economic data as traders head out for holiday plans. Consider your risk carefully as we head into the shutdown and what typically is a choppy light volume market condition on Black Friday and the Cyber-Monday shopping distractions.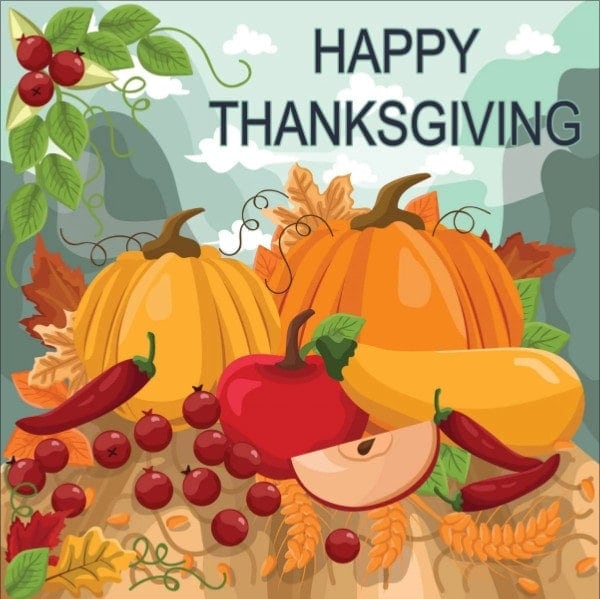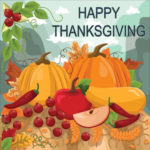 Asian markets closed mixed but mostly higher overnight while European markets slip slightly lower, resting after yesterday's sharp rally.   As we wait for a massive morning of potential-market moving economic data, the futures are taking a wait and see approach indicating a modestly lower open.  Stay safe and have a Very Happy Thanksgiving, everyone!
Economic Calendar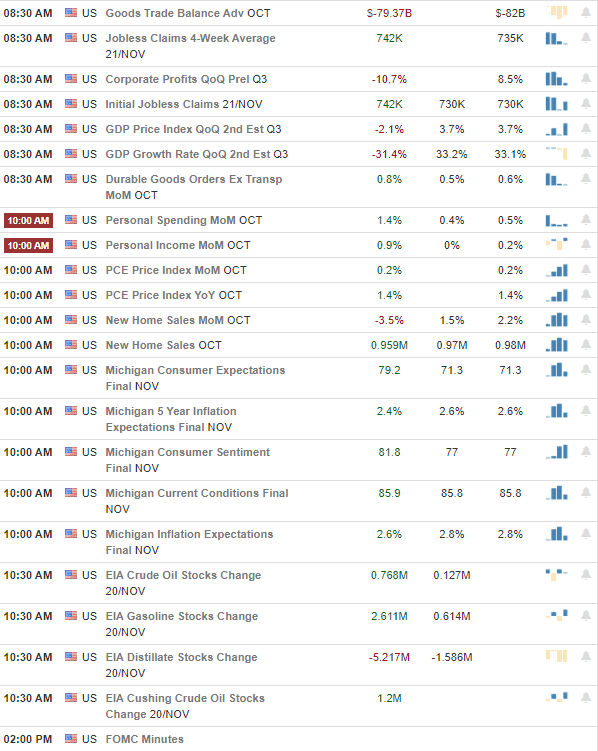 Earnings Calendar


On the eve of the Thanksgiving shutdown, we have a relatively light day of earnings calendar. Notable reports include DE & FRO.
News & Technicals'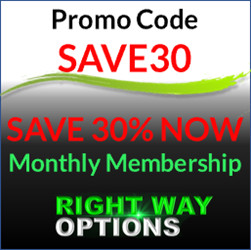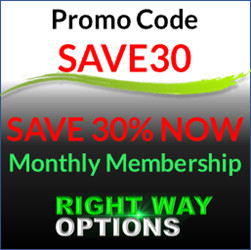 A pre-holiday surge set new records lifting the Dow above 30,000, enjoying the blue sky above with IWM. Energy, financials, and consumer staples sectors were the big winners, while some tech giants struggled to find buyers. Focused on vaccine recovery, hopes the bulls maintain solid control of the index trends, and there seems no price too high that they are willing to pay. Reaching the 30,000 goal was very important for the institutions. As reported on CNBC, this new threshold could draw in new investors from the sidelines with hopes that more stocks will participate in the next leg. However, there are those worried that the market is heating up to an unstainable level. One thing for sure, as the pandemic continues to impact business and the expectation of higher taxes on the horizon, traders will have to remain nimble.
Today is a massive deluge of potentially market-moving data. As of now, U.S. Futures point to a slightly lower open as if taking more of a wait and see approach this morning. Although 2020 is far from typical, it would be wise to keep in mind that volume usually shrinks quickly ahead of the holiday as traders hit the roadways and airports. Light volume choppy price action and be expected during the short session on Black Friday often extends into the following week with shoppers focused on Cyber-Monday deals. No doubt this has been a challenging year, but we still have so much to be thankful for in this great country of ours. Please take a moment during this holiday to remember those that serve in the military, our first responders as well as the health care professionals on the front lines keeping us safe.
Trade Wisely,
Doug