Earnings continued to fuel the bulls on Wednesday, and Thursday may be much the same with a hectic earnings calendar but be careful with over-exuberance and complacency. We still have a tough road to recovery, and in a rising rate environment and a strained consumer, we should expect challenges ahead. So, enjoy the bullish ride but remember to take some profits and after such a long bull run, be careful not to overtrade! Also, with layoff headlines in the news lately, keep an eye on the Jobless claims before the bell that has started to creep up.
Asian markets traded mostly higher overnight, with the Hong Kong tech sector up 2.06% at the close. While waiting on a significant U.K. rate increase, European markets trade cautiously bullish this morning. What's become all too common during this earnings season U.S. futures point to another gap up open ahead of a jam-packed calendar of reports. Buckle up for another busy day!
Economic Calendar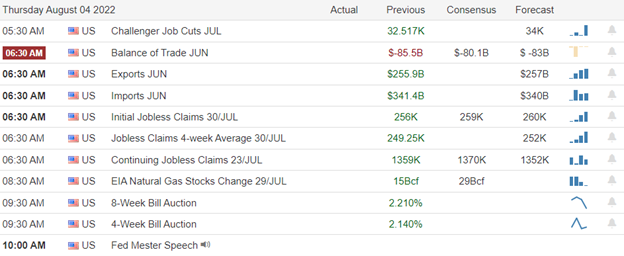 Earnings Calendar


Thursday is usually our most hectic day on the earnings calendar, and today is no different, with more than 350 companies listed. Notable reports include SQ, ABMD, ALB, APD, AMC, BABA, AMGN, AAOI, BDX, BYND, BRCX, CABO, CVNA, CHH, CHUY, CLNE, COP, CROX, CUBE, DUK, DVAX, EXPE, FIS, FNKO, GPRO, IHRT, IPI, IRWD, ITT, K, KTOS, LLY, LNG, LOCO, LYFT, LYV, NKLA, NUS, PZZA, PCTY, PH, DOC, PSA, SEAS, SHAK, SWKS, TRIP, TWLO, OLED, VMC, W, WW, XPO, YELP, YETI, & ZTS.
News & Technicals'
The companies that hired most aggressively during the pandemic are now overstaffed and forced to cut back or impose hiring freezes. Meanwhile, airlines and hospitality companies are desperately trying to staff up after Covid-19 lockdowns led them to downsize. "The pandemic created very unique, once-in-a-lifetime conditions in many different industries that caused a dramatic reallocation of capital," said Julia Pollak, ZipRecruiter's chief economist. In addition, Walmart confirmed on Wednesday that it has begun to lay off corporate employees. The news comes about a week after the company slashed its profit outlook and warned that consumers had pulled back on discretionary spending due to inflation. Pay cuts are expected across wide swaths of the financial industry as bonus season approaches, according to a report released Thursday by compensation consultancy Johnson Associates. "There are going to be a lot of people who are down 50%," Alan Johnson, managing director of the namesake firm, said in an interview. IPO issuance has plunged 95% to $4.9 billion through July, while total equity issuance has fallen 80% to $57.7 billion, according to SIFMA. DBS Group CEO Piyush Gupta said the bank's wealth management and capital markets businesses continue to see "headwinds" despite the bank reporting robust second-quarter earnings. "Business momentum is a bit mixed. Our corporate lending activities are actually doing quite well. And so the balance sheets continue to grow," Gupta told CNBC's "Capital Connection" following the release of the bank's results Thursday. "Private banking customers have been reluctant to put money to work, that obviously is a challenge. The headwinds on wealth management and capital markets mean that the overall fee incomes are down year-on-year," he added. The Indian rupee has come under intense selling pressure in recent weeks due to a perfect storm of global headwinds, which analysts say will continue to pummel the currency in the months ahead. It has already tested record lows falling more than 80 to the dollar level twice in July, only recovering after the Reserve Bank of India stepped in to stem the slide. Finance Minister Nirmala Sitharaman attributed the rupee's depreciation to external reasons in a written statement to parliament recently. Treasury yields moved lower in early Thursday trading, with the 2-year trading at 3.10%, the 5-year at 2.85%, the 10-year 2.73%, and the 30-year at 2.97%.
There is no question that bulls are in control but has this turned into over-exuberance considering the economy's overall condition? While I would expect a pullback or consolidation to begin at any time, earnings inspire retail buying while volume lags behind. Ride the bullish wave as long as it lasts but be careful with complacency because the bull run may be getting a bit long in the tooth. Try to avoid overtrading, and don't let greed prevent you come taking some profits if the tide begins to go out. Today we get a reading on International Trade, and with the recent layoff notices, keep a close eye on the Jobless Claims coming out before the bell.
Trade Wisely,
Doug