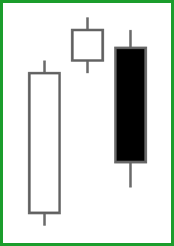 The close yesterday produced an Evening Star closing on the upper T-Line channel band. More selling and a close below yesterdays low $278.90 today or tomorrow could put price action on the blue Lower T-Line channel band or about $276.90. If a Red Volatility Stop Dot is created, the pressure on the bulls might make them run for safety about $273.50. A test of the 200 SMA is possible if the buyers don't put a game together. The T-2122 chart 4Wk New High/Low Ratio saw weakness yesterday below the 80 line, and today we are likely to test the recent low. From the December low to yesterdays high the 23.6 Fib retracement would be $269.80, a nice healthy pullback, the 38.2 line would be at $262.95.

Hit and Run Candlesticks News
Yesterday we closed VXXB for 26% which brings the Road to Wealth account to a 425% increase in 14 months. I have opened up two more spots for the "March Road To Wealth Coaching." Possible trade ideas- DPZ, ATGE, EA, UNP, PYPL, HAE, EBS, MTAP, SGMS. We will also be moderating the LTA Scanner.

Live Trading Alerts News
Two new auto scans have been added to the LTA-Live Trading Alerts Scanner; the Bull -Fig Newton pattern and the Bear- Oreo Pattern. With over 100 built-in scans my favorite bullish scans are the Pop Out of The Box, The RBB, The 3x8 Trap, The Fig Newton. If you need set with the scanner set up or adding scans just let us know. Each day (Market hours) we provide Free Scanner coaching in our trading room #4. Warning the LTA- Live Trading Alert software is a game changer, alerts for candlesticks, candlesticks patterns, western patterns, price action, tends, bullish and bearish.

Free YouTube Education • Subscription Plans • Private 2-Hour Coaching
DISCLAIMER: Investing/ Trading involves significant financial risk and is not suitable for everyone. No communication from us should be considered as financial or trading advice. All information provided by it and Run Candlesticks Inc, its affiliates or representatives is intended for educational purposes only. You are advised to test any new approach before implementing it. Past performance does not guarantee future results. Terms of Service