Rick Saddler, teaches the steps to profitable trading.
Simple Easy Steps for Stocks or Options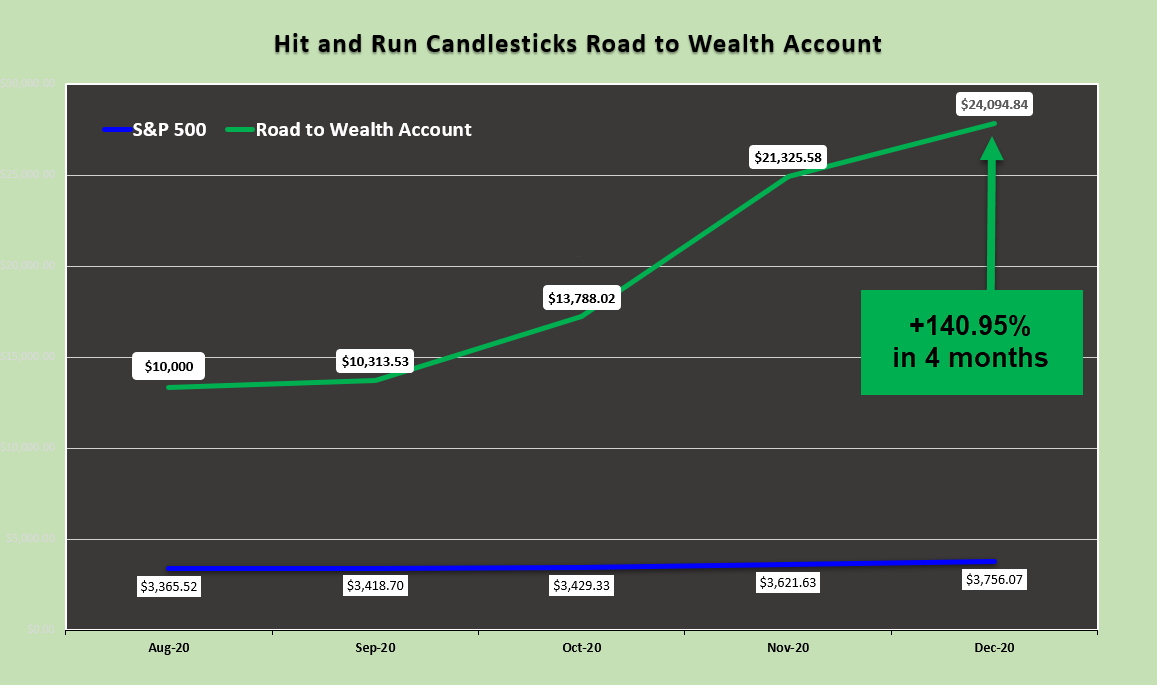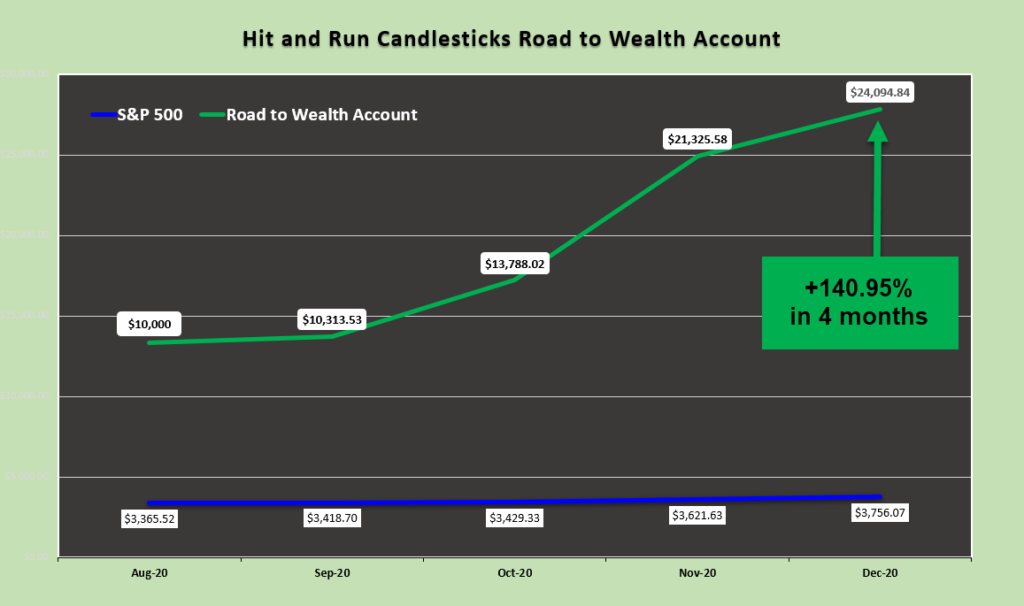 Previous RTW Account Performance
Hit and Run Candlesticks Benefits
✅ Access to Rick Saddler in the Trading Room. Learn the secrets to the Road To Wealth Account
✅ Receive the same Trades the Road To Wealth account takes with the member-only Real-Time Alerts App.
✅ You do not need to be in the trading room to receive alerts on your smartphone.
✅ Trade alert examples: Bought XYZ January calls, 40 strike, 6.81 cost, 42.75 stop for today. Bought XYZ December calls, 70 strike, cost 10.10, stop 72.15
✅ Learn the power of base hits
✅ Learn Rick's favorites trade setups and chart patterns such as the 3/8 Trap, (RBB) Rounded Bottom Breakout, Pinball setup.
✅ Learn how Rick uses the T-Line or the Trendicator, Price Action, and Candlesticks
Click Here for current discount codes
Use code
SAVE30
to get 30% Off the subscription price.
Hit & Run Candlesticks Memberships
Hit & Run Candlesticks Membership (Monthly)
---
Our Premium Membership Option
Hit & Run Candlesticks Membership (Quarterly)
---
11% Off Regular Price
Hit & Run Candlesticks Membership (Semi-Annual)
---
11% Off of Normal Price
Hit & Run Candlesticks Membership (Annual)
---
12 Months for the price of 8
---
More Benefits
✅ How and why us a trend.
✅ Entries, exits and stop-loss placements
✅ Pre-market trade review in the trading room
✅ A typical day Rick will explain | chart patterns | Candlestick signals, Trends | Trendlines | Support, and Resistance | what are they | How they work | How to profit from them |
✅ Rick teaches emotion control to make better trading decisions
✅ Members-only Education 2 times a month
Click on the 👆 YouTube button | Latest Videos | Subscribe
Investing and Trading involve significant financial risk and is not suitable for everyone. No communication from Hit and Run

Candlesticks or its associates should be considered as financial or trading advice. All information is intended for Educational Purposes Only.