"The Trend is your friend" The key is to work with a trend that compliments your trading style. When the trend and your trading style come together as one, your engine will run smoother. Years ago, I discovered the power of the 34-EMA and the T-Line (8-EMA) when putting on the same chart. If the T-Line is below the 34-EMA, the trend is bearish. While watching for signs of a bullish reversal. This strategy using the T-Line and the 34-EMA can be used on indices, stocks, or ETF's such as the SPY, DIA, IWM, VXX, AAPL, FDX, KO, and INTC to name a few. The SPY closed Friday's candle and the T-Line below the 34-EMA suggesting the current trend is still negative, and the sellers have control. The trend is currently pointing at the 200-SMA with a possible bullish relief rally along the way.

The LTA Scanner can filter out charts that are trending, up or down and alert on charts that have Candlestick signals and patterns, western patterns and when indicators, such as MACD, Stochastics, RSI or Bollinger Bands have crossed or reaches the desired level. The right tools for the job.
5/28/2019 Acton Plan
Stay focused on trend long of short for a trade
85% of all stocks follow the trend of the SP-500
Manage current trades looking for base hits.
Welcome small losses
Trade smaller, less capital in a position
Fewer positions
Trade strong, stable charts, not one-day wonders
Trade with the trend of the chart
A trading plan for each trade.

Trades Ideas
Trade-Ideas will be sent out today using the APP throughout the APP. See App download buttons below.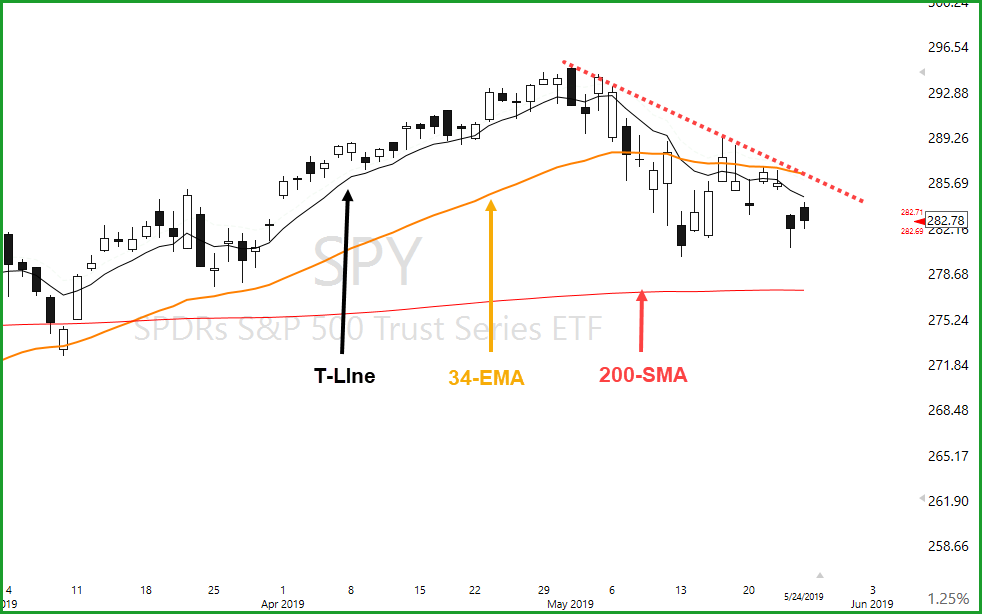 We use 2 of The Worlds Best Trading Tools, TC2000 for charting, LTA-Live Trading Alerts for real-time price action, candle and candle patterns, and western patterns. The right tools for the right job.👍




Free YouTube Education • Subscription Plans • Private 2-Hour Coaching
DISCLAIMER: Investing / Trading involves significant financial risk and is not suitable for everyone. No communication from Hit and Run Candlesticks Inc, its affiliates or representatives is not financial or trading advice. All information provided by Hit and Run Candlesticks Inc, its affiliates and representatives are intended for educational purposes only. You are advised to test any new trading approach before implementing it. Past performance does not guarantee future results. Terms of Service