Markets gapped strongly higher at the open Tuesday on the EU recovery deal, general recovery optimism, and good earnings.  However, the huge tech names sold off immediately, and the rest of the market could not fight that wave, finally following suit in the afternoon.  The QQQ closed down 1.04%, but the large-caps eked out gains as SPY closed up 0.18% and DIA closed up 0.57%.  The VXX was flat at 29.48 and T2122 climbed all the way to the top of overbought territory at 96.49.  10-year bond yields fell slightly to 0.604% and Oil (WTI) climbed 2% to $41.76/barrel.
Republicans met and began cobbling together their proposal for the next stimulus bill, a necessary precursor for the start of negotiations with Democrats (whose plan has been passed and, on the table, since May).  As of Tuesday, the GOP has agreed amongst themselves that businesses need more PPP loans, other grants, and liability protection at a minimum. They also will ask for $105 billion for schools.  However, the Payroll Tax Cut that the President demanded didn't appear to make the list since it is being opposed by even some Republicans.  Later, House Minority Leader McCarthy told CNBC he does not expect a final deal to be negotiated and passed until August.  Still, Congress will want to adjourn again and get back home to begin their reelection campaigns.  So, early August is probably as late as it will be allowed to go.
The other major storyline overnight is the ratcheting up of trade tensions with China.  This may be a legitimate confrontation about the activity or something that would always be legitimate but is done now for unrelated purposes.  In any event, the US charged (in absentia) 2 Chinese men for hacking and attempted (but unsuccessful) theft of medical data. The US also abruptly forced the closure of the Chinese Consulate located in Houston.  The Chinese have vowed retaliation for both through their state-run media.  Regardless of the true reasons behind these moves or their validity, it does stir up fear of another round of trade war.

In a one-off story snuck out overnight, Citadel Securities announced it has agreed to be was fined by FINRA for front-running client orders in a settlement agreed July 16, but announced in a Tuesday press release.  The fine was a paltry $700,000. However, this case had been dragged out so long that the activity covered dates from way back in 2012-2014.  So, apparently it pays to hire top FINRA and SEC officials as your General Counsel as Citadel had done.
In the US, the virus numbers show we have 4,028,733 confirmed cases and 144,958 deaths.  This includes 67,000 new cases Tuesday.  TX and FL continue to report record-high 7-day average new deaths.  However, at least for the first time in over a week, FL reported under 10,000 new cases with 9,400).  LA Governor Edwards announced Tuesday the state will remain in phase 2 of reopening for at least another 2 weeks (rather than move to phase 3 on Friday as previously scheduled).  On the business side there was good news as BBY announced that sales are returning (up about 2.5% in Q2) and they have brought back about half of the employees furloughed in April. 
Globally, the number of cases has reached 15,120,686 confirmed cases and 620,263 deaths.  Asia is again becoming a hot spot.  For example, India continues to see a surge as they reported over 39,000 new cases on the day in their very underwhelming testing program (given their huge population).  The outbreak in Australia also continues, especially in its two largest states.  Japan also is back near their record-high in cases although the last 2 examples are tiny relative to US numbers, due to the tiny Australian population and Japan's overwhelming acceptance of mask-wearing.  Closer to home, Mexico surpassed 40,000 deaths as their 7-day average of new cases also sits at an all-time high.

Overnight, Asian markets were in the red with the exception of China and Taiwan, which were mildly green.  These moves came mostly in response to trade fears.  The same is true in Europe, with only Russia above break-even (barely) at this point in their day.  In the US, as of 7:30 am futures are pointing to a modest gap lower of about a quarter percent. 
The major economic news for Wednesday is limited to June Existing Home Sales (10 am) and Crude Oil Inventories (10:30 am).  The major earnings reports on the day include ABB, APH, BIIB, BKR, CP, CSTM, DOV, HCA, IQV, KEY, KNX, LAD, NQAD, NTRS, NVR, RCI, SLGN, and TMO before the open.  Then after the close, CMG, CSX, EFX, KMI, LSTR, LVS, MSFT, MTH, PLXS, RJF, RUSHA, SU, TRN, TSLA, UFPI, and WHR.
Tuesday's fading of the gap higher did nothing to break trend.  We simply printed a black candle in an uptrend.  The sentiment drivers are likely to be earnings (since we are in silly season), stimulus bill negotiations, and US-China relations.  Remember to watch those FAANG stocks as they proved again yesterday that it's very hard for the market to buck any move they make as a group.  Remain focused on short-term charts and don't chase, don't predict, and always take profits as you go.  In earnings season, be wary of both reactions and re-reactions.
Ed
The Daily Swing Trade Ideas for today: NBL, CWH, WDC, PENN, OIH, AIG, XOP, WFC, DKNG, X, MRO, SLB. Trade your plan, take profits along the way, and smart. Also, don't forget to check for upcoming earnings. Finally, remember that the stocks/ETFs we mention and talk about in the trading room are not recommendations to buy or sell.

🎯 Mike Probst: Rick, Got CTL off the scanner today. Already up 30%. Love it.
🎯 Dick Carp: the scanner paid for the year with HES-thank you
🎯 Arnoldo Bolanos: LTA scanner really works $$, thanks Ed.
🎯 Bob S: LTA is incredible…. I use it … would not trade without it
🎯 Malcolm .: Posted in room 2, @Rick... I used the LTA Scanner to go through hundreds of stocks this weekend and picked out three to trade: PYPL, TGT, and ZS. Quality patterns and with my trading, up 24%, 7% and 12%.... this program is gold.
🎯 Friday 6/21/19 (10:09 am) Aaron B: Today, my account is at +190% since January. Thanks, RWO HRC Flash Malcolm Thomas Steve Ed Bob S Bob C Mike P and everyone that contributes every day. I love our job.
Hit and Run Candlesticks / Road To Wealth Youtube videos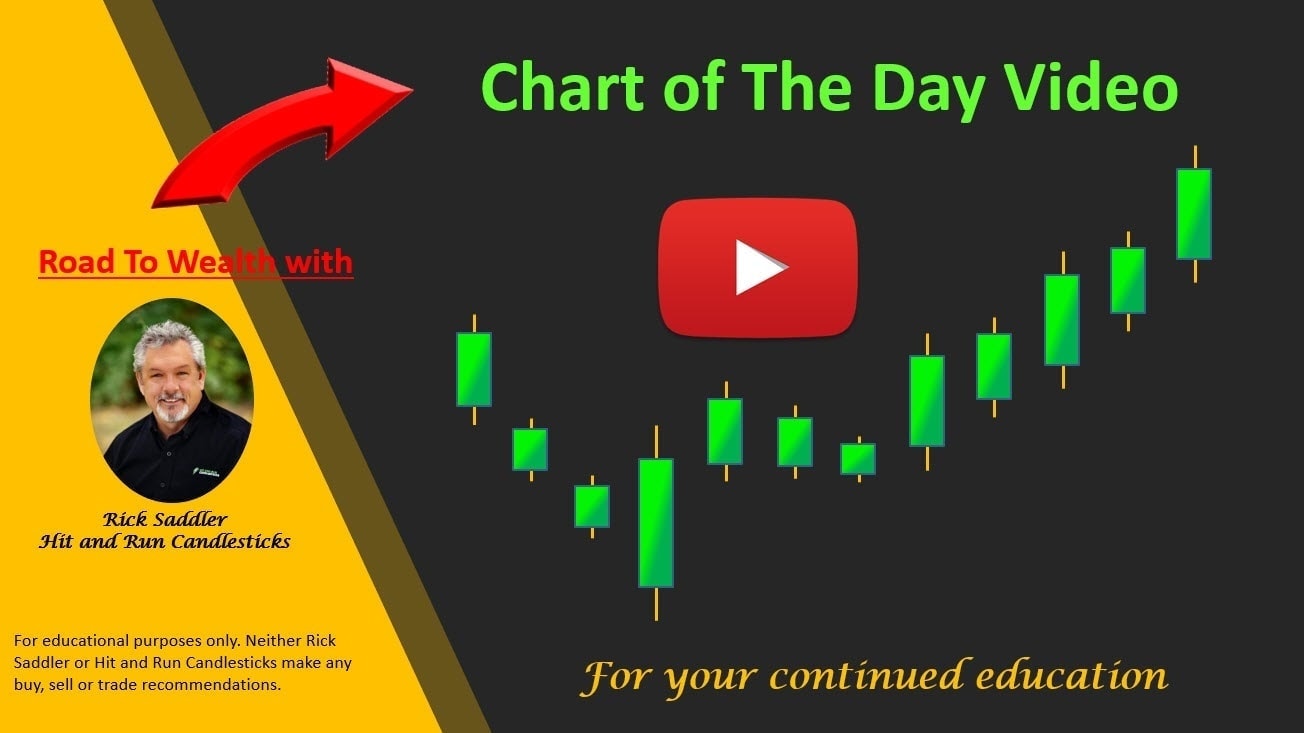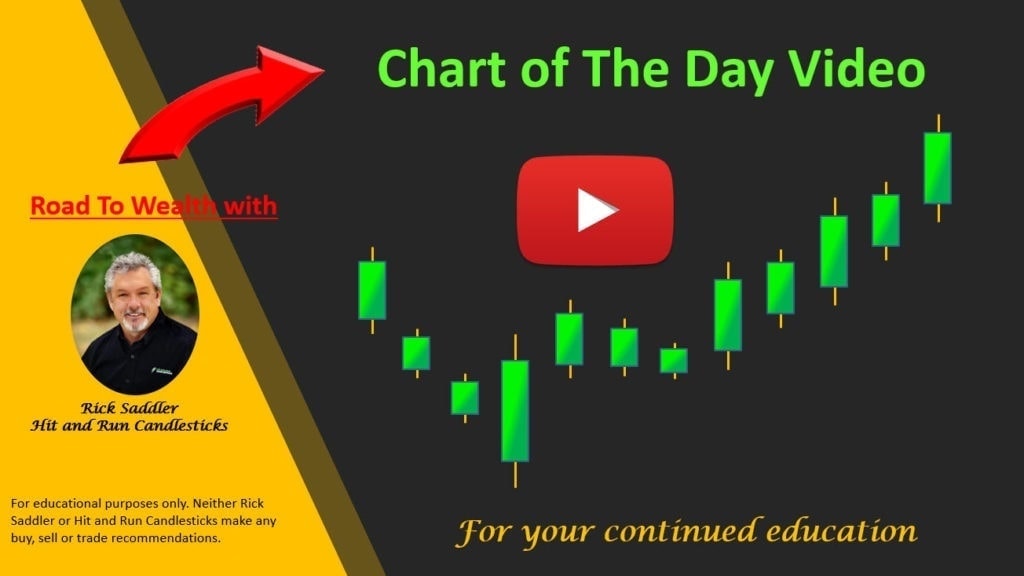 Disclosure: We do not act on all trades we mention, and not all mentions acted on the day of the mention. All trades we mention are for your consideration only.




Free YouTube Education • Subscription Plans • Private 2-Hour Coaching
DISCLAIMER: Investing / Trading involves significant financial risk and is not suitable for everyone. No communication from Hit and Run Candlesticks Inc, its affiliates or representatives is not financial or trading advice. All information provided by Hit and Run Candlesticks Inc, its affiliates and representatives are intended for educational purposes only. You are advised to test any new trading approach before implementing it. Past performance does not guarantee future results. Terms of Service