Markets gapped down Friday and then gave us indecision to end the week.  Both the SPY and DIA printed Doji and QQQ printed a White Spinning Top.  Only the SPY broke its uptrend line, but only the QQQ flipped its Volatility Stop (10. 1.5) from green to red.  For the day, the SPY lost 0.64%, the DIA lost 0.75% and the QQQ lost 0.95%.  VXX was also flat at 30.17 and T2122 fell back into the mid-range at 66.97.  10-year bond yield were flat at 0.587% and Oil (WTI) climbed slightly to $41.34/barrel.  For the week, we had indecisive trading that closed down a bit as once again the mega-cap tech names led markets by the nose all week.
This week has the potential to be the most news-filled of the summer (at least so far).  Republicans are expected to finally finish their relief plan so that negotiations can begin with Democrats, perhaps as soon as Monday.  Over the week, there will also be 1,200 major earnings reports released, including most of the huge FAANG stocks that truly drive market direction.  The CEOs of those FAANG stocks will also be testifying before Congress during an Antitrust hearing on Wednesday.  On that day, the Fed also ends its regular meeting and although no new announcements are expected, their statement and the Q/A will be important.  Lastly, on Thursday the first read of Q2 GDP will come out, giving us as idea how bad the economy crashed during the first belated shutdown.  On top of all this, we know virus and virus impact news will continue hot and heavy.
On Sunday, Bloomberg reported the big banks such as BAC, GS, and JPM now expect the EU's economic recovery to be larger and faster than that of the US.  The overall theme is that leadership and fast action breed public confidence and the EU scores much better at this than the US.  Those experts point to July PMI data, where the EU PMIs handily beat analyst expectations, while the US PMI came in below expectations.  In the longer-term, the EU will also have much less debt to pay off.  The US has spent a bit more than $10 Trillion (so far) in combined fiscal and monetary stimulus (not including state spending).  By contrast, the supposedly socialist EU, with a 50% larger population, has spent a fourth of that number even including individual EU-member spending. The bottom line is that companies focused on EU markets may be favored over those that focus on US markets in the short to medium-term timeframes.

In the US, the virus numbers show we have 4,371,992 confirmed cases and 149,852 deaths.  Over the weekend, the country saw the 7-day averages rise to 69,000 new cases and 937 new virus deaths. On Friday, MCD and CMG both also joined the long list of retailers now requiring all customers to wear masks.  Thankfully, TX and AZ saw a reduction in new reported cases.  However, this may be less a trend and more about the hurricane and normal weekend activities impacting numbers.
Globally, the numbers have reached 16,446,932 confirmed cases and 652,852 deaths.  It took just over 4 days for the world to go from 15 million to 16 million cases and that pace continues.  This came as new outbreaks were found in China, Hong Kong, Vietnam, Japan, Spain, Sweden, Romania, and Bulgaria.  The Chinese outbreak was the largest since the initial Wuhan eruption. The W.H.O. also reported rampant spread throughout sub-Saharan Africa.  Finally, Latin American has become the current epicenter with Brazil, Mexico, Peru, and Chile now all among the top 8 most-infected countries.
Overnight, Asian markets were mixed but generally close to flat.  The exception was Thailand, where in addition to other news items, they are experiencing public demonstrations related to both government response and social problems.  (Not a great atmosphere in a country prone to military dictatorships.)  In Europe, markets are following Asia. The major bourses are all within a quarter percent on either side of flat so far today. In the US, as of 7:30 am futures are pointing to a gap higher of between a third (DIA) and one percent (QQQ) at the open. 

The only major economic news for Monday is June Durable Goods Orders (8:30 am).  However, Monday is the slow kickoff of an otherwise heavy week of earnings.  Before the bell Monday, we'll get reports from AVY, CX, EQT, HAS, RPM, and SAP (SAP announced a spinoff IPO of a division as well).  After the close, AMKR, BRO, CINF, FIX, CR, EHC, FFIV, NOV, NXPI, OMF, PFG, TFII, and UHS report.
Friday gave us indecisive follow-through to Thursday's ugly candles, but the uptrend has not been broken and we have potential support below.  So, the fight is still on between the bulls and bears in the short-term.  We have a lot of news coming this week, which leaves open the possibility of either a lot of volatility or a flat market too overwhelmed by conflicting news to make a move. 
That said, remember that the market has only paid attention to good news for months now. The point is we may see a pause to get more assurance, but the lean is definitely still in the bulls favor.  So, watch those FAANG stocks as our "canary in the coal mine," but follow the trend.  Don't chase or predict reversals, and always take profits as you go.  Remember, consistent singles and doubles win championships, not occasional home runs.
Ed
The Daily Swing Trade Ideas for today: BBY, LULU, AA, FDX, WEN, KO, TGT, TCOM, DNKG. Trade your plan, take profits along the way, and smart. Also, don't forget to check for upcoming earnings. Finally, remember that the stocks/ETFs we mention and talk about in the trading room are not recommendations to buy or sell.

🎯 Mike Probst: Rick, Got CTL off the scanner today. Already up 30%. Love it.
🎯 Dick Carp: the scanner paid for the year with HES-thank you
🎯 Arnoldo Bolanos: LTA scanner really works $$, thanks Ed.
🎯 Bob S: LTA is incredible…. I use it … would not trade without it
🎯 Malcolm .: Posted in room 2, @Rick... I used the LTA Scanner to go through hundreds of stocks this weekend and picked out three to trade: PYPL, TGT, and ZS. Quality patterns and with my trading, up 24%, 7% and 12%.... this program is gold.
🎯 Friday 6/21/19 (10:09 am) Aaron B: Today, my account is at +190% since January. Thanks, RWO HRC Flash Malcolm Thomas Steve Ed Bob S Bob C Mike P and everyone that contributes every day. I love our job.
Hit and Run Candlesticks / Road To Wealth Youtube videos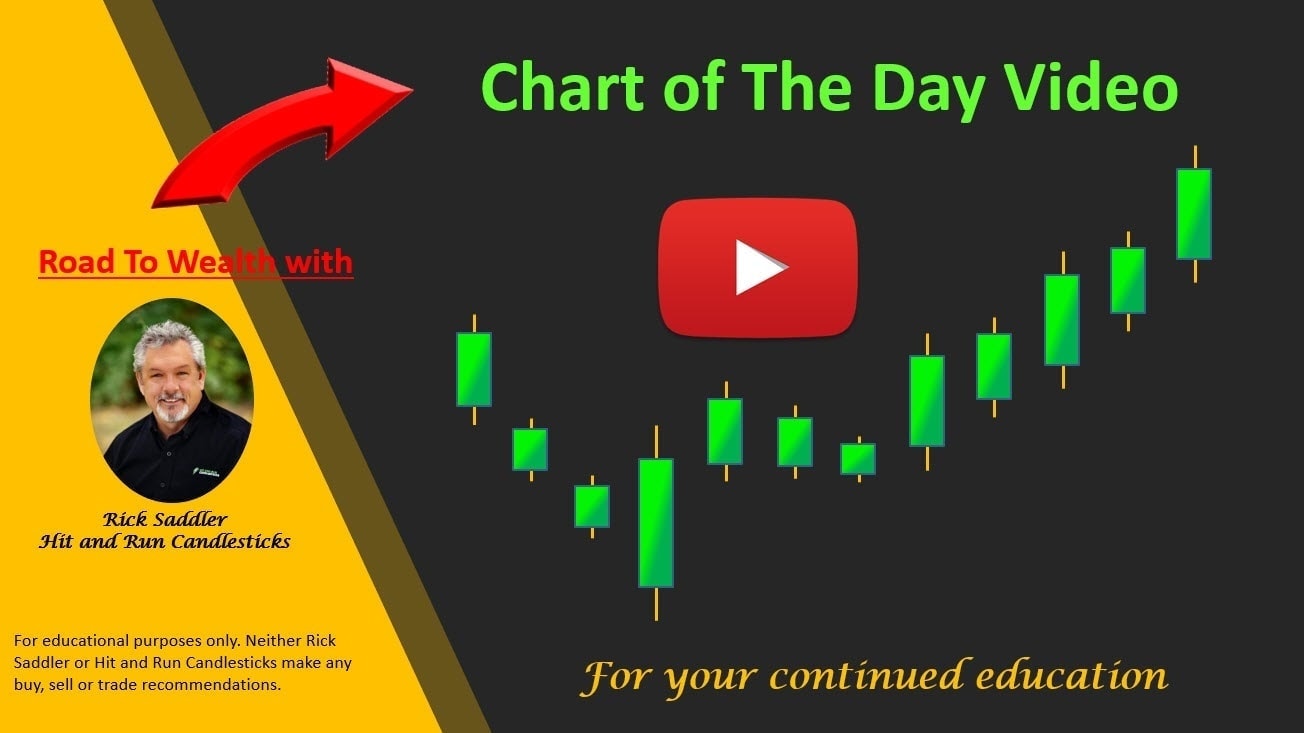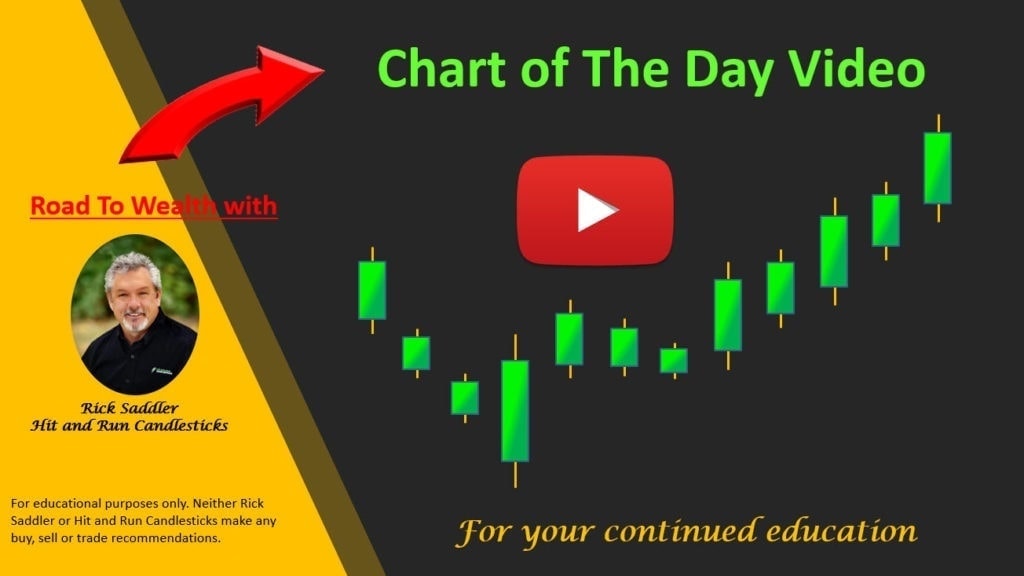 Disclosure: We do not act on all trades we mention, and not all mentions acted on the day of the mention. All trades we mention are for your consideration only.




Free YouTube Education • Subscription Plans • Private 2-Hour Coaching
DISCLAIMER: Investing / Trading involves significant financial risk and is not suitable for everyone. No communication from Hit and Run Candlesticks Inc, its affiliates or representatives is not financial or trading advice. All information provided by Hit and Run Candlesticks Inc, its affiliates and representatives are intended for educational purposes only. You are advised to test any new trading approach before implementing it. Past performance does not guarantee future results. Terms of Service