💲 Traders focus will likely be on the Fed meeting starting Tuesday. AIG, A trade we have been holding setting up nicely with a pullback in the T-Line bands. With the Thursday Bullish Engulf and the Doji on Friday, we are ready. Trading requires a level of trading education that most people just wanting a stock pick and to follow, likely does not have that level of education in trading. Having the right education, tools, and an understanding of Candlesticks signals make all the difference in the world. The LTA Live Trading Alert Scanner and the Hit and Run family is the best of the best. All buys and closes announced in HRC Live Trading Room, be sure to tune in starting at 9:10 Eastern when I'll review the markets, trade ideas.
I would suspect the next day and a half will be much like the last week, choppy and boring. I think a large number of traders are on the sidelines waiting to hear the Fed attitude on a rate cut/hike in June, July, or later. The SPY still has a Shooting Star and a Bearish Engulf staring at us, but the bulls have done a great job in containing any sell-off. The sideways move the last three days has allowed the T-Line to catch up to the price; this could be very helpful for the bullish scenario. The bearish scenario is easy; we close below the T-Line we will look for lower support. The VXX is still trading under the T-Line (No Fear) and still under the lowest T-Line band, (still no Fear). If the VXX can get over $28.30, we could see the (Fear).
👉 Friday, June 14, we didn't do much of anything with trading, we flew to Florida and enjoyed some beach time for Fathers, stay tuned. A relaxing traders life.
🎯 SFIX is one for the watchlist; The lower high followed by the gap and with the bulls keeping the sellers at bay is putting SFIX in a bullish position to reach higher. Simple rules and strategies are what we use, and it works.
🍰 The LTA Alert Scanner and TC2000 are my tools of choice because they work!. Rick and the HRC Members kick off the trading room starting at 9:10 Eastern when we review the markets, trade ideas, and PFE. ✅✅ Other charts we plan to cover is: SFIX, URBN, SKK, FB, VAG, SHOP, AAPL, TTD, YY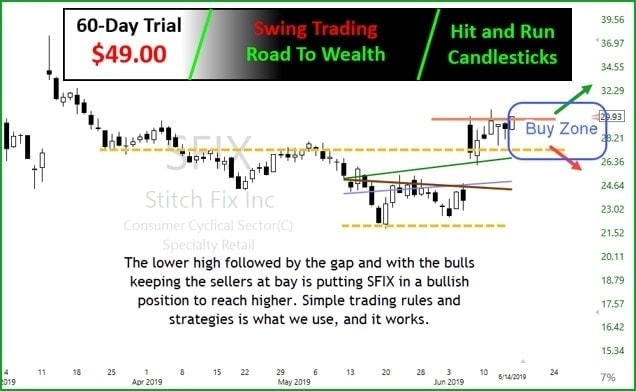 ✅ A Traders Edge In All Markets
The LTA Scanner can filter out charts that are trending, up or down and alert on charts that have Candlestick signals and patterns, western patterns and when indicators, such as MACD, Stochastics, RSI or Bollinger Bands have crossed or reaches the desired level. Hey, check out the NEW BULL PERFECT TREND ALERT. The right tools for the job.
Acton Plan
✅ Be patient. Know what you want and be patient
✅ Always plane your trade out
Use our base hit strategy, sell into strength
Buy close to your stop and support
USE the LTA Trade Alert Scanner to find the winners
We use 2 of The Worlds Best Trading Tools, TC2000 for charting, LTA-Live Trading Alerts for real-time price action, candle and candle patterns, and western patterns. The right tools for the right job.👍
Free YouTube Education • Subscription Plans • Private 2-Hour Coaching
DISCLAIMER: Investing / Trading involves significant financial risk and is not suitable for everyone. No communication from Hit and Run Candlesticks Inc, its affiliates or representatives is not financial or trading advice. All information provided by Hit and Run Candlesticks Inc, its affiliates and representatives are intended for educational purposes only. You are advised to test any new trading approach before implementing it. Past performance does not guarantee future results. Terms of Service