Oil prices surged Wednesday night (on word that China was filling its strategic oil reserve, meaning higher demand), which had futures up almost 2.5% in early morning hours. This was then offset by a worse than even worst-case scenario estimate of the unemployment claims number, which came in at 6.65mil. claims. So, markets opened down slightly Thursday. However, after a roller-coaster morning, President Trump claimed (unsubstantiated) that he had brokered a deal between Russia and Saudi Arabia. In that supposed deal, the two had agreed to cut production by 10-15mil barrels/day) helped the bulls run late. As a result, markets closed higher with the SPY up 2.35%, the DIA up 2.22%, and the QQQ up 2.03%. All three major indices printed bullish engulfing signals on the day. The VXX fell to 47.36, while Oil (WTI) shot up to $25.01/barrel and the 10-year bond yield fell to 0.624%.
It is worth noting that a Kremlin Spokesman denied that Russia had agreed to any oil production cuts. Saudi Arabia also told Bloomberg it had not agreed to production cuts unless done in conjunction with cuts by every major oil producer, including the US. In addition, while President Trump plans to meet with US Oil Producer and Refining Execs today, there are ongoing internal White House arguments over ideas like restricting US Oil exports, implementing tariffs on foreign oil, asking US producers to cut output, letting US producers store their oil in the US Strategic Reserve locations and plain old bailouts for US oil companies.
Related to unemployment, it was reported Thursday that the New York, California, Illinois, Ohio, and Texas state unemployment funds are on the verge of insolvency due to the surge in new claims. There has not been time for a federal response to this problem. The White House also adjusted the relief check timelines as Treasury Sec. Mnuchin said the first direct deposit payments to individuals will start in 2 weeks (about 60 million people). However, according to an IRS analysis sent to Congress Thursday, any person needing a paper check (about 100 million), will have to wait. The IRS will begin to cut checks during the week of May 4 and the report said it could take up to 20 weeks to get all the paper checks cut and mailed. Mnuchin disputed this timeline, but that is what was reported to Congress. Obviously these issues could impact the economy as the stimulus will be quick for some, still far out for many and possibly delayed for an unknown amount if state funds did become insolvent.

Sec. Mnuchin also said the small business lending program (which turns into grants if enough employees are retained) will be up and running Today. However, JPM said publicly Thursday afternoon (and other lenders confirmed to CNBC off the record) that they will not be ready to accept applications Friday as they had not gotten guidance on what the process will be from the Treasury Dept. Regardless, that would only be a delay of a few days, worst case.
During the day Thursday, the world surpassed 1 million diagnosed cases of COVID-19, having doubled the number in one week. The global headline virus numbers have now reached 1,030,1937 confirmed cases and 54,198 deaths. In Asia, a second wave is taking shape. Thailand, Malaysia, and Indonesia also reported new outbreaks. A smaller increase in Singapore caused the response to shut schools and businesses. Meanwhile, South Korea also had a small uptick in cases.
In the US, we now have 245, 280 confirmed infections and 6.095 deaths. (Twice as many cases as any other country, but China's data is very suspect and India isn't even testing broadly.) In terms of impact, new states are implementing stay-at-home orders (TN) and others are extending the existing orders for another month (OH). Still, 10 states still have none in place. It's clear many remain ignorant or are not taking the virus seriously. For example, Georgia's Governor claimed he only learned Thursday that the virus could be spread by asymptomatic carriers. In addition, in a stunning lack of wisdom, many bible belt states are refusing to issue stay-at-home orders or have exempted church gatherings, including "mega-churches."

Overnight, Asian markets were mixed, but mostly in the red. In Europe, markets are also red across the board at this point in their day. As of 7:30 am, US futures are pointing to a gap lower at the open, but the March Employment numbers could take that either way at 8:30 am.
Friday's major economic news includes Mar. Avg. Hourly Earnings, Mar. Non-farm Payrolls, and Mar. Unemployment Rate (all at 8:30 am), Mar. Services PMI (9:45 am), and ISM Non-Mfg. PMI (10 am). The only major earnings on the day will be STZ before the open.
We should expect news cycles about the US and most of the world to continue to be terrible for at least another 30 days. The impact on quarterly numbers is also likely to drag on for two more reporting cycles. However, as we've said, a lot of bad news is already "baked in" to markets. Either way, there isn't a lot of reason to take on new risk ahead of a long weekend news cycle. We need to continue to either be very fast (day trade), very slow (long-term holds) or just wait.
Ed
No Trade Ideas for Friday. Trade smart, take profits along the way and trade your plan. Also, don't forget to check for upcoming earnings. Finally, remember that the stocks/etfs we mention and talk about in the trading room are not recommendations to buy or sell.

🎯 Mike Probst: Rick, Got CTL off the scanner today. Already up 30%. Love it.
🎯 Dick Carp: the scanner paid for the year with HES-thank you
🎯 Arnoldo Bolanos: LTA scanner really works $$, thanks Ed.
🎯 Bob S: LTA is incredible…. I use it … would not trade without it
🎯 Malcolm .: Posted in room 2, @Rick… I used the LTA Scanner to go through hundreds of stocks this weekend and picked out three to trade: PYPL, TGT, and ZS. Quality patterns and with my trading, up 24%, 7% and 12%…. this program is gold.
🎯 Friday 6/21/19 (10:09 am) Aaron B: Today, my account is at +190% since January. Thanks, RWO HRC Flash Malcolm Thomas Steve Ed Bob S Bob C Mike P and everyone that contributes every day. I love our job.
Hit and Run Candlesticks / Road To Wealth Youtube videos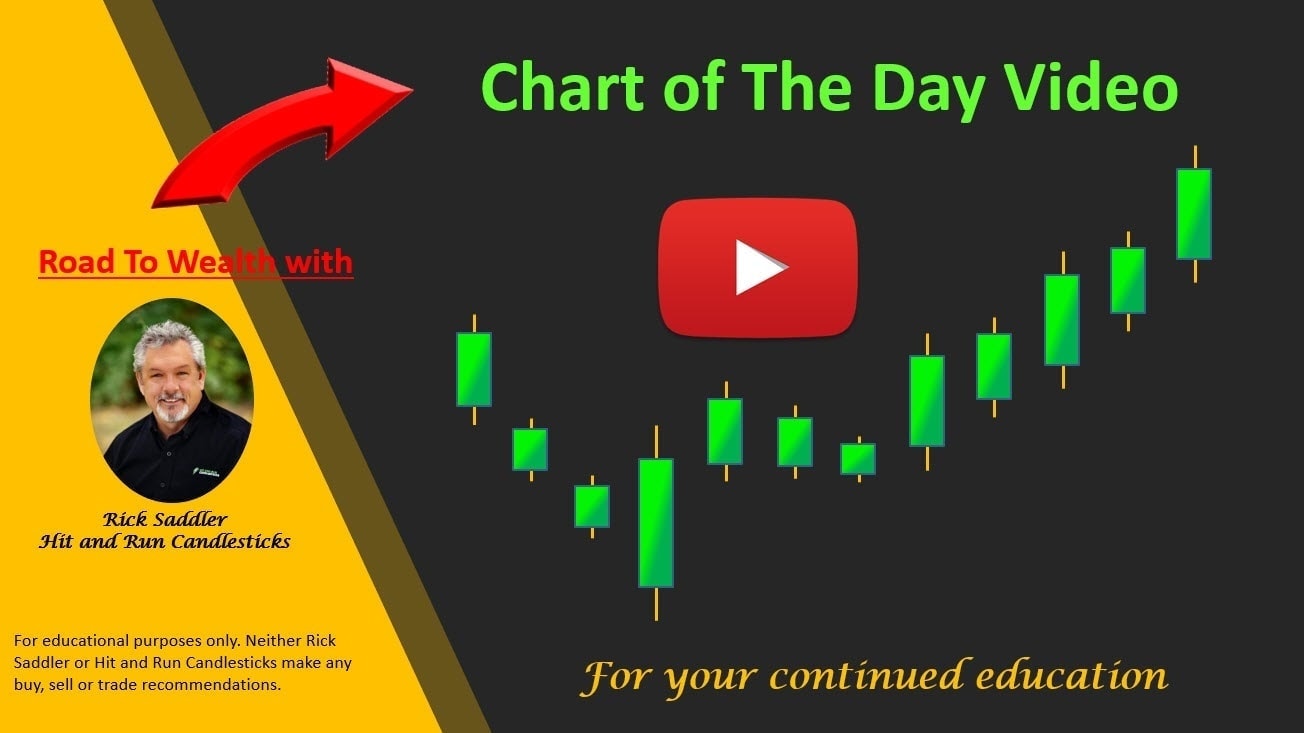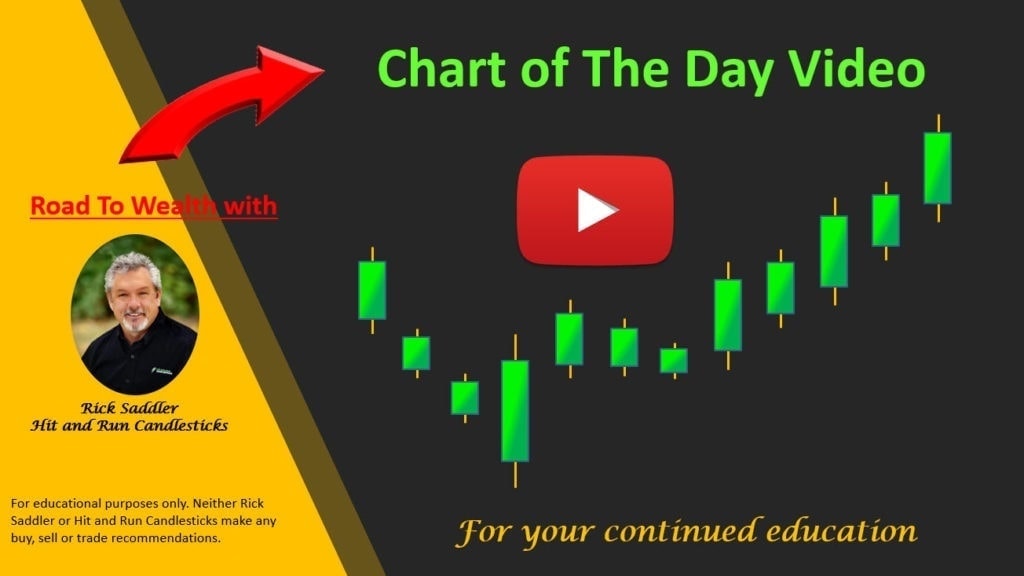 Disclosure: We do not act on all trades we mention, and not all mentions acted on the day of the mention. All trades we mention are for your consideration only.




Free YouTube Education • Subscription Plans • Private 2-Hour Coaching
DISCLAIMER: Investing / Trading involves significant financial risk and is not suitable for everyone. No communication from Hit and Run Candlesticks Inc, its affiliates or representatives is not financial or trading advice. All information provided by Hit and Run Candlesticks Inc, its affiliates and representatives are intended for educational purposes only. You are advised to test any new trading approach before implementing it. Past performance does not guarantee future results. Terms of Service