Yesterday 6/4/19 we closed ½ of SNAP for a sweet 27% base hit as the market began to draw to an end. We also picked up a little BABA ending the day up 11% based on the 60-min chart and an (RBB) Rounded Bottom Breakout. AIG and KO and AMD are doing fine and holding well.
POW! What a great day yesterday, price action took out our $280.10 line and pre-market today have already tagged our $282.50 line. Yesterday's price action as great as it was, the SPY chart is still in a downtrend. When price closed over the downtrend line and constructed a bottom we will have a ton of nice long charts to choose from, but first thing first. The bulls will need to challenge the $283.00 line followed by $286.00. By following the 3x8 Trap, you will be able to see when the 3-EMA is above the T-Line, that will be a sign the SPY is in a bullish direction. At the close of yesterday, the trend is still down.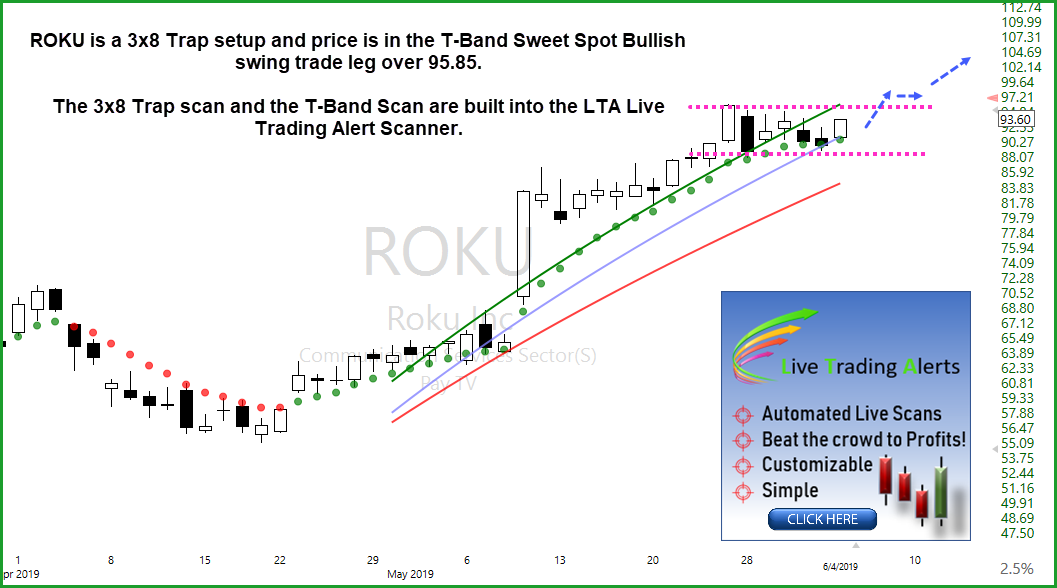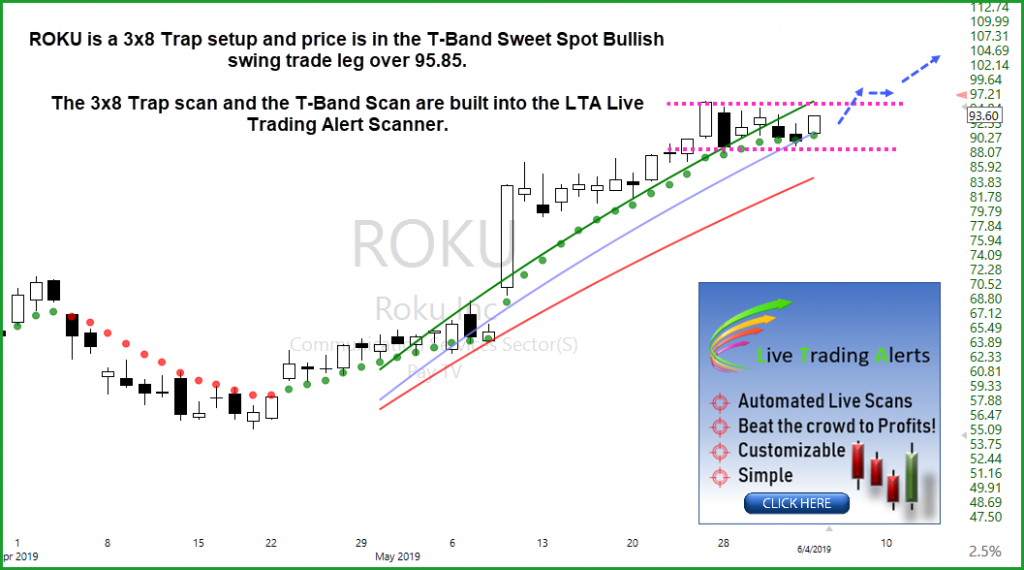 🎯 ROKU is one we are stalking today on our watchlist, ROKU is in a T-Line Run and yesterday was triggering on the LTA Scanner as a 3x8 Trap, and the LTA T-Line Band alert was going off "Sweet Spot-Sweet-Spot." Members, be sure to be in the trading room about 9:10 Eastern when I'll review the markets, trade ideas, and ROKU. More trade Ideas we will consider FSLR, CECE, LMT, AIG.

A Traders Edge In All Markets
The LTA Scanner can filter out charts that are trending, up or down and alert on charts that have Candlestick signals and patterns, western patterns and when indicators, such as MACD, Stochastics, RSI or Bollinger Bands have crossed or reaches the desired level. Hey, check out the NEW BULL PERFECT TREND ALERT. The right tools for the job.
6/5/2019 Acton Plan
Plan relief rally trades
Use our base hit strategy
Fight the urge to predict a bottom
Grow rich trading base hits

We use 2 of The Worlds Best Trading Tools, TC2000 for charting, LTA-Live Trading Alerts for real-time price action, candle and candle patterns, and western patterns. The right tools for the right job.👍




Free YouTube Education • Subscription Plans • Private 2-Hour Coaching
DISCLAIMER: Investing / Trading involves significant financial risk and is not suitable for everyone. No communication from Hit and Run Candlesticks Inc, its affiliates or representatives is not financial or trading advice. All information provided by Hit and Run Candlesticks Inc, its affiliates and representatives are intended for educational purposes only. You are advised to test any new trading approach before implementing it. Past performance does not guarantee future results. Terms of Service