#1 Alert scanning tool in the world was the key to profiting 35% in ROKU, 34% in SPY Puts, and  51% in TZA yesterday. It's Friday the start of a 3-day weekend Honoring the men and women who died while serving in the U.S military.

Yesterday the trading gods gapped us down out of and below the T-Line Bands to a $280.57 in the SPY before closing a bit higher at $282.14. The morning futures are pointing to a higher open. As of yesterday the recent low of May 13, is safe but will it last? The current trend is still weak, with price below the Bands and a bearish trend line above. The T-Line is below the 34-EMA, and the 17-EMA has breached the 34-EMA as well. The T2122 chart dropped to 10.6 yesterday triggering an oversold condition, and a relief rally is warranted. The VXX chart produced a Bull Kicker yesterday from a higher low pull back closing in the now bull trending bands, keep your eyes on the VXX chart, it can be very telling.
5/24/2019 Acton Plan
Ease up on trades over the long weekend
Continue to build a watchlist for the weeks ahead using the LTA Scanner.
Clean up the Harley for a ride this weekend
Study charts in the HRC trading room

Trade Ideas-No trades Ideas On Fridays
I hope everyone has had a profitable week, if so please let us know. If not we are here to help but we have to hear from you. Reach out to us we are here for you.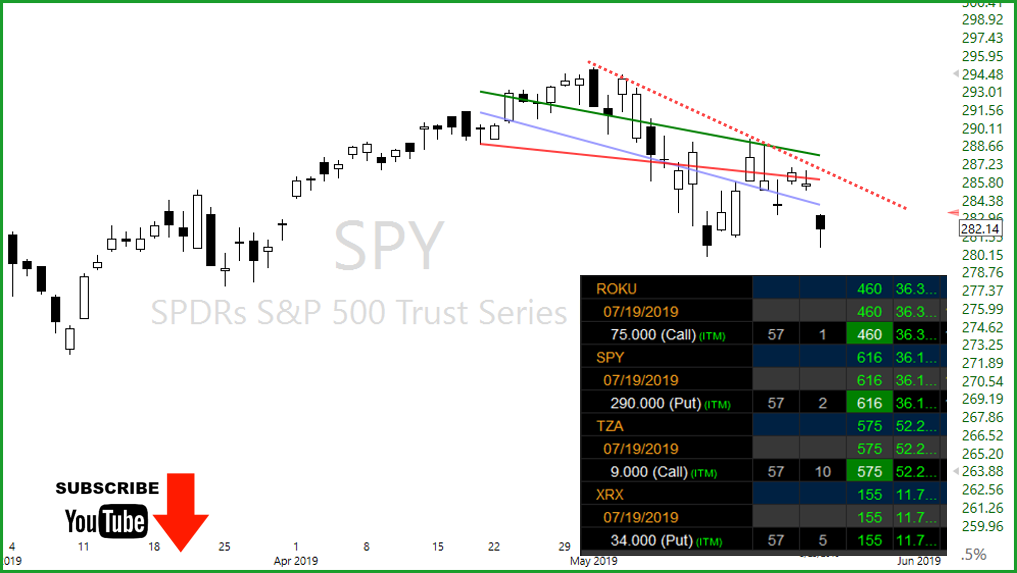 We use 2 of The Worlds Best Trading Tools, TC2000 for charting, LTA-Live Trading Alerts for real-time price action, candle and candle patterns, and western patterns. The right tools for the right job.👍




Free YouTube Education • Subscription Plans • Private 2-Hour Coaching
DISCLAIMER: Investing / Trading involves significant financial risk and is not suitable for everyone. No communication from Hit and Run Candlesticks Inc, its affiliates or representatives is not financial or trading advice. All information provided by Hit and Run Candlesticks Inc, its affiliates and representatives are intended for educational purposes only. You are advised to test any new trading approach before implementing it. Past performance does not guarantee future results. Terms of Service