💲 Another great day this past Friday closed out the last ½ of MCD for a 50.9% base hit or $410.00. Knowing how to make sense of a chart, the LTA Live Trading Alert Scanner and the Hit and Run family is the best of the best. All buys and closes announced in HRC Live Trading Room, be sure to tune in starting at 9:10 Eastern when I'll review the markets, trade ideas.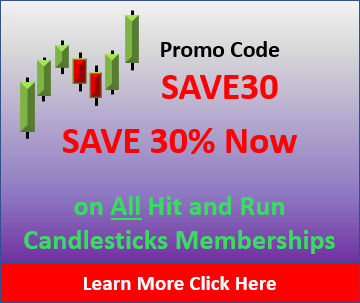 👀 The Bull did it's a thing again on Friday, gapping and closing above the 50-SMA followed by four higher closes (AMAZING). We have added a resistance line because of the multiple touches between the buys and sellers at $289.20. There is no question the 👈Bulls have had a great run, and we may even see more of it today, the close is what will count. Over the 50-SMA was major and the bull deserves a rest but not required. A close over $289.20 would be another amazing day, and unfortunately, the FOMO (Fear of Missing Out) sickness will hit many swing traders, let's not forget the 3-day rule, plan your trades and wait for the trap to work. Price in the VXX 15-Min chart is still trading below the T-Line Red Dots, and the FNGU 15-Min chart is trading above the T-Line Green Dots. At Friday's close.
👉Bought MCD on June 4th, July 19 $125.00 Calls. Closed on June 7, for a 💲 50% profit. 😎 I'll take a Big Mac, Fries, and a Coke, please.
🎯 CRON is one we are stalking this week on our watchlist; If you look at a 3-day chart, you can see the Double Bottom and Bullish Engulf. We are bullish on CRON over $16.00 with a qualified chart pattern. CRON alerted a couple of times last week on the #1 Tool in my toolbox "The LTA Live Trading Alert Scanner? Members are sure to be in the trading room about 9:10 Eastern when I review the markets, trade ideas, and CRON.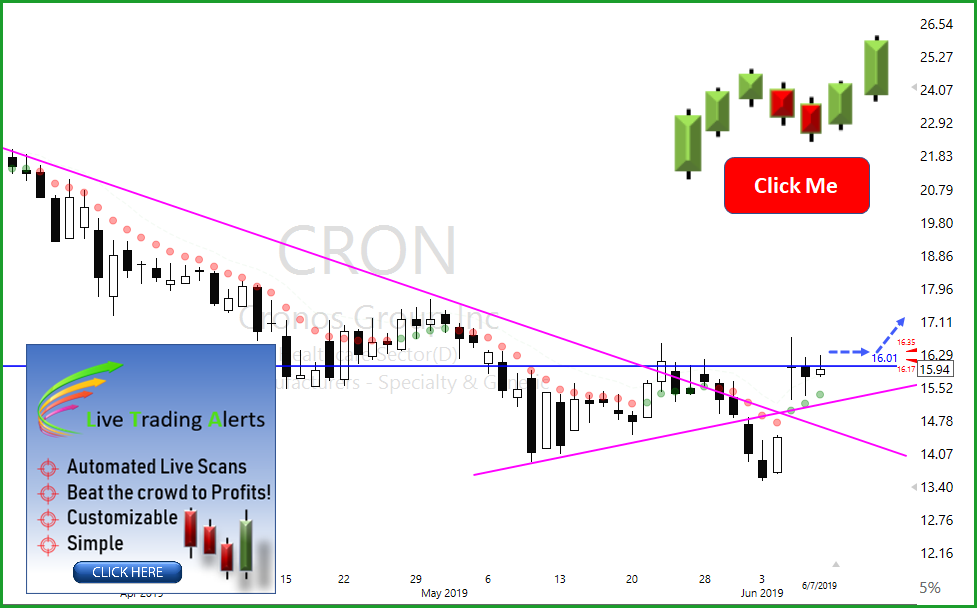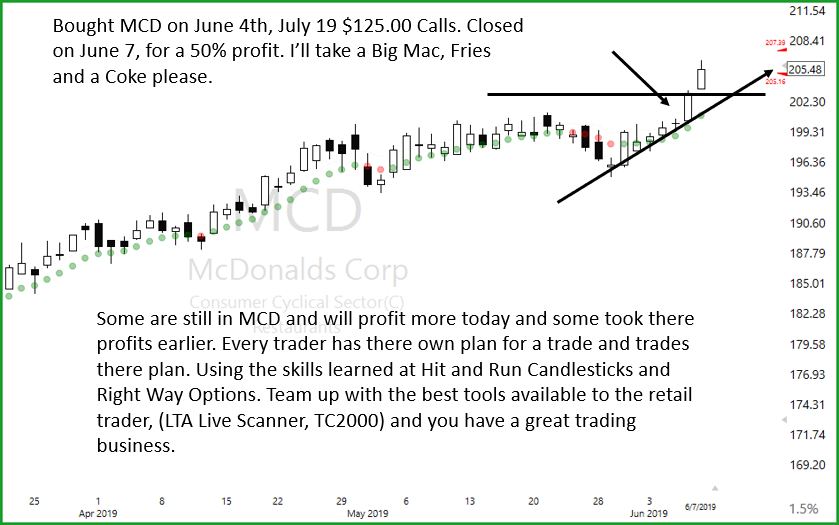 A Traders Edge In All Markets
The LTA Scanner can filter out charts that are trending, up or down and alert on charts that have Candlestick signals and patterns, western patterns and when indicators, such as MACD, Stochastics, RSI or Bollinger Bands have crossed or reaches the desired level. Hey, check out the NEW BULL PERFECT TREND ALERT. The right tools for the job.
Acton Plan
Don't fall into the (FOMO) trap: The Fear of Missing Out
Use our base hit strategy, sell into strength
Buy close to your stop and support
USE the LTA Trade Alert Scanner to find the winners

We use 2 of The Worlds Best Trading Tools, TC2000 for charting, LTA-Live Trading Alerts for real-time price action, candle and candle patterns, and western patterns. The right tools for the right job.👍




Free YouTube Education • Subscription Plans • Private 2-Hour Coaching
DISCLAIMER: Investing / Trading involves significant financial risk and is not suitable for everyone. No communication from Hit and Run Candlesticks Inc, its affiliates or representatives is not financial or trading advice. All information provided by Hit and Run Candlesticks Inc, its affiliates and representatives are intended for educational purposes only. You are advised to test any new trading approach before implementing it. Past performance does not guarantee future results. Terms of Service