Live Trading Alerts Scanner update v1.17.422 is available; We are still holding ROKU, SPY puts, TZA, XRX puts, GE, and PEP they were all brought to us via the LTA Scanner like a waiter brings a cold beer and Steak. The right tools for the right job.

It looks to me that the SPY still has a date with our pair of deuces $277.40 – $277.8. The Bears are defending the Blue Ice failure pattern pretty well; the T-Line Bands are being driven by a bear with price action below the red and green line. The T-Line is below the Volatility Dots, and yesterdays candle action closed below the T-Line. The T2122 chart (4wk New High/Low Ratio) has dropped to about 26, and it's moving average is being pushed down as well. I have heard from many traders they are having trouble, so am I, remember to for trades that are working in your favor and the goes for the overall market, have you looked at IYT, IWM lately.
5/23/2019 Acton Plan
Manage the trades I am in
Don't trade the first 30-min of the market, unless it is for a chart I already own
Trade smaller, less capital in a position
Fewer positions
Longer lunch (LOL)
Trade strong, stable charts, not one-day wonders
Trade with the trend of the chart
Trade for base hits
Stops, always have a stop plan
Ise the Scanner with built-in rules to find short and long trades

Trade Ideas
We are adding the following trade ideas to our watch-list. Be sure to check earnings dates. SE, ERY, DUG, SHOP, KO, PEP, GIS, LRCX, W, XRX Trend, Protective Stops, Base hits.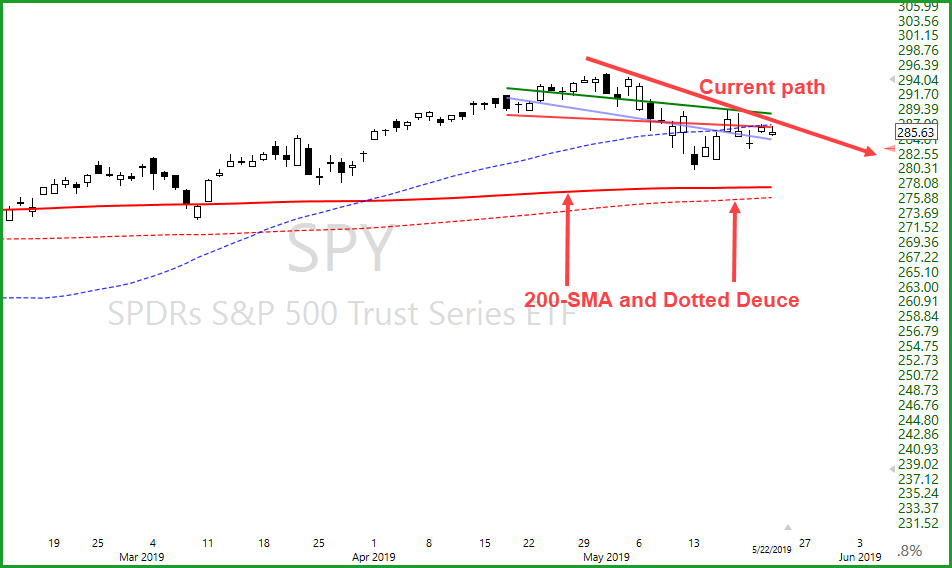 We use 2 of The Worlds Best Trading Tools, TC2000 for charting, LTA-Live Trading Alerts for real-time price action, candle and candle patterns, and western patterns. The right tools for the right job.👍




Free YouTube Education • Subscription Plans • Private 2-Hour Coaching
DISCLAIMER: Investing / Trading involves significant financial risk and is not suitable for everyone. No communication from Hit and Run Candlesticks Inc, its affiliates or representatives is not financial or trading advice. All information provided by Hit and Run Candlesticks Inc, its affiliates and representatives are intended for educational purposes only. You are advised to test any new trading approach before implementing it. Past performance does not guarantee future results. Terms of Service