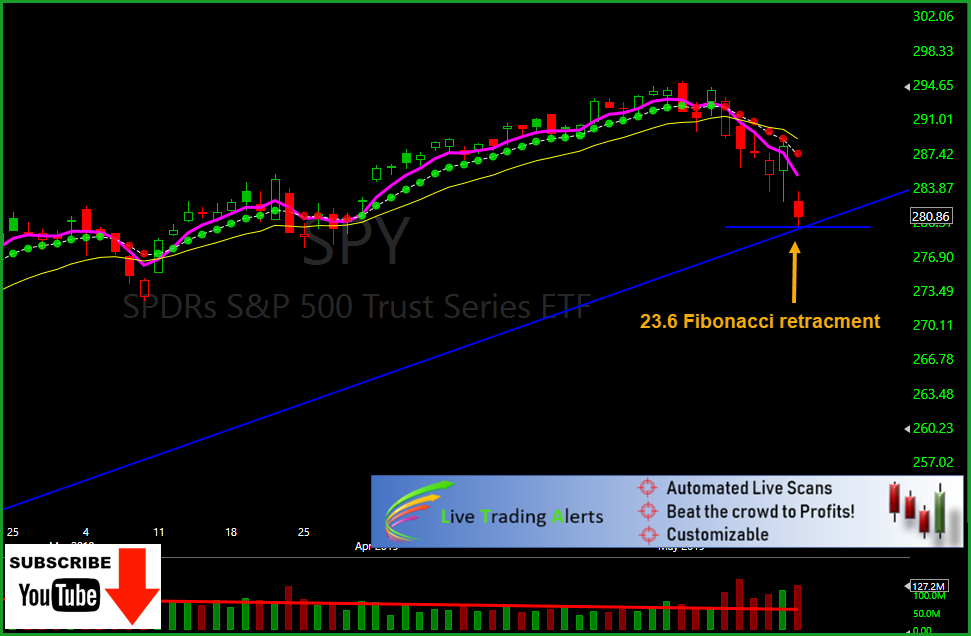 Yesterday's gap hurt…Ouch! But we should not have been surprised, the current trend has been a sleuth of bears, and they were hangry. The bears have run the lows lower until they broke the 50-SMA and then gaped smack dab on the Fibonacci 23.6 retracement line closing at 280.86. The futures are up a bit this morning, and we are oversold so a relief rally may be in the cards, but a true run for bullishness will need a pattern such as a low/high higher low/ higher high or a bullish 123 step pattern.
Our bar chart is still strong into a downtrend. The closing price yesterday is about halfway between the 50-SMA and the 200-SMA, the battle is on, the sellers will fight for the 200-SMA and buyers will fight for the 50-SMA.
🍰 Today we are adding 10 stocks to our watch list for a possible trade in the next few days. AXSM, GIS, PG, COTY, ZNGA, MELI, SPWR, ROKU, WW, ZAYO. The alert software we at Hit and Run Candlesticks and Right Way Options is available to you. Try it for a month
🎯 The Worlds Best Trading Tools ✅ TC2000 for charting, ✅ LTA-Live Trading Alerts for real-time price action, candle and candle patterns, and western patterns. ✅ TradeHawk for placing the trades. Crazy enough, not one of them are expensive.
👍 A good tool improves the way you work. A great tool 👉 improves the way you think. – Jejj Duntemann
Free YouTube Education • Subscription Plans • Private 2-Hour Coaching
DISCLAIMER: Investing / Trading involves significant financial risk and is not suitable for everyone. No communication from Hit and Run Candlesticks Inc, its affiliates or representatives is not financial or trading advice. All information provided by Hit and Run Candlesticks Inc, its affiliates and representatives are intended for educational purposes only. You are advised to test any new trading approach before implementing it. Past performance does not guarantee future results. Terms of Service