Normally, Hit and Run Candlesticks does not post featured trades on Fridays.  However, I'll offer a bonus trade idea for today anyway.  Just remember that Friday is payday!  We should be primarily focused on existing postions, taking profits and deciding if weekend headline risk changes whether a potions should be adjusted or closed.
Today's Featured Trade Idea is KRG.  This stock has printed an Inverted Head and Shoulders pattern, which is also a Rounded Bottom Breakout pattern.  It has broken through the neckline and Resistance on Wednesday.  It then retested that level Thursday, holding it as Support.  On positive trading, we can use a stop fairly tight below Support and Target prices from Support/Resistance levels off the Weekly chart.
While this stock is a REIT (be aware for tax purposes), it will offer a very low Risk for a reasonable position size.  This offers a good Reward/Risk Ratio, while allowing us to remove all risk (by raising the Stop above Break-even) if Target #1 is reached.  If the stock reaches the second Target, the Trade Goal will be achieved.
Hope to see you in the trading room at 9:10am Eastern.
Below is my analysis and a potential trade plan made using our Trader Vision 20/20 software.
The KRG Trade Setup – As of 5-31-18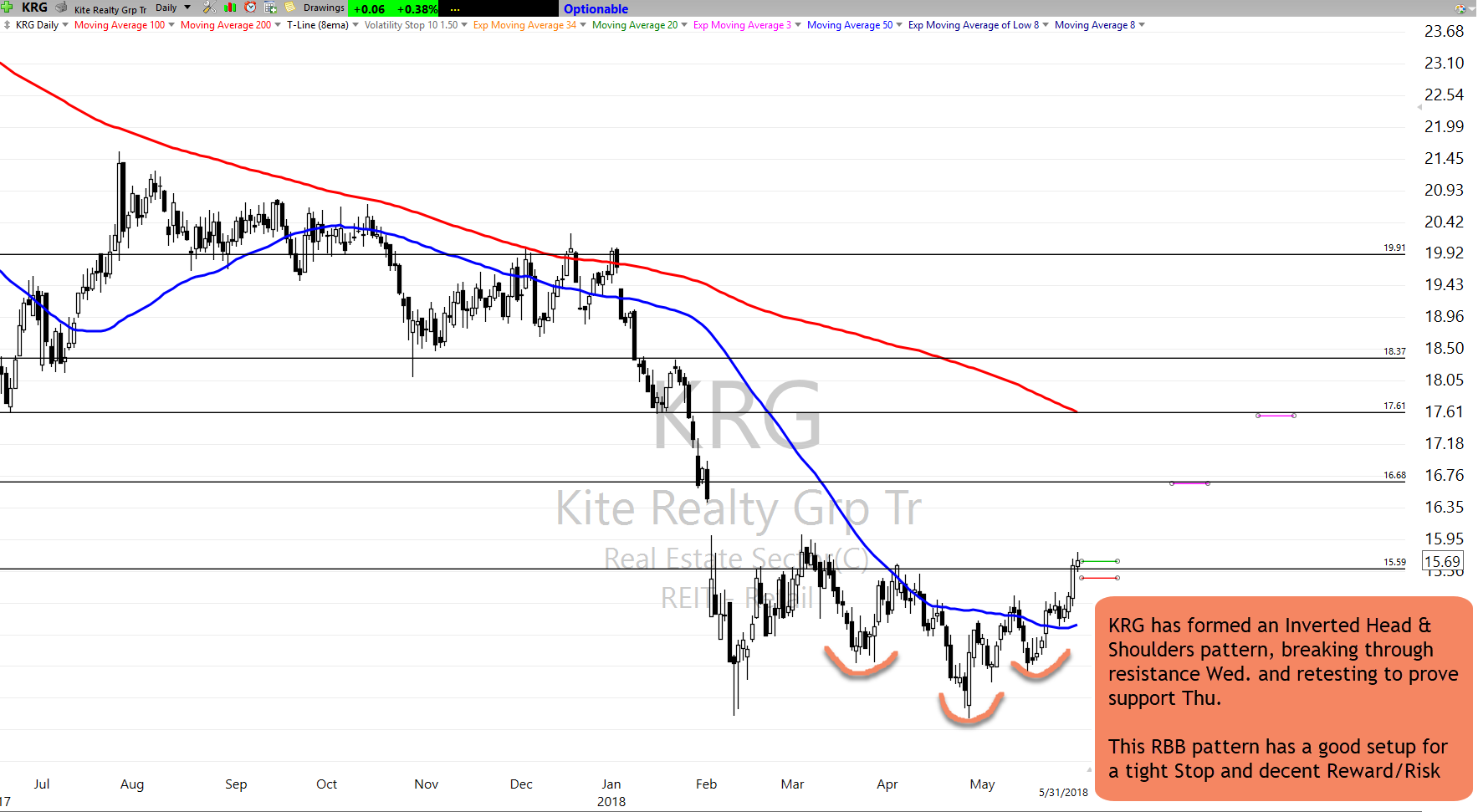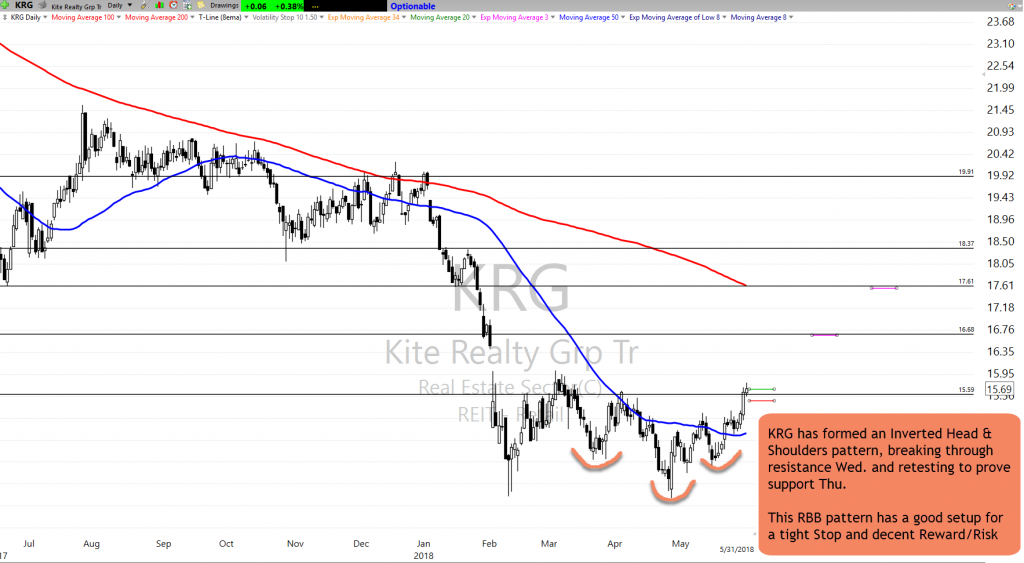 The KRG Trade Plan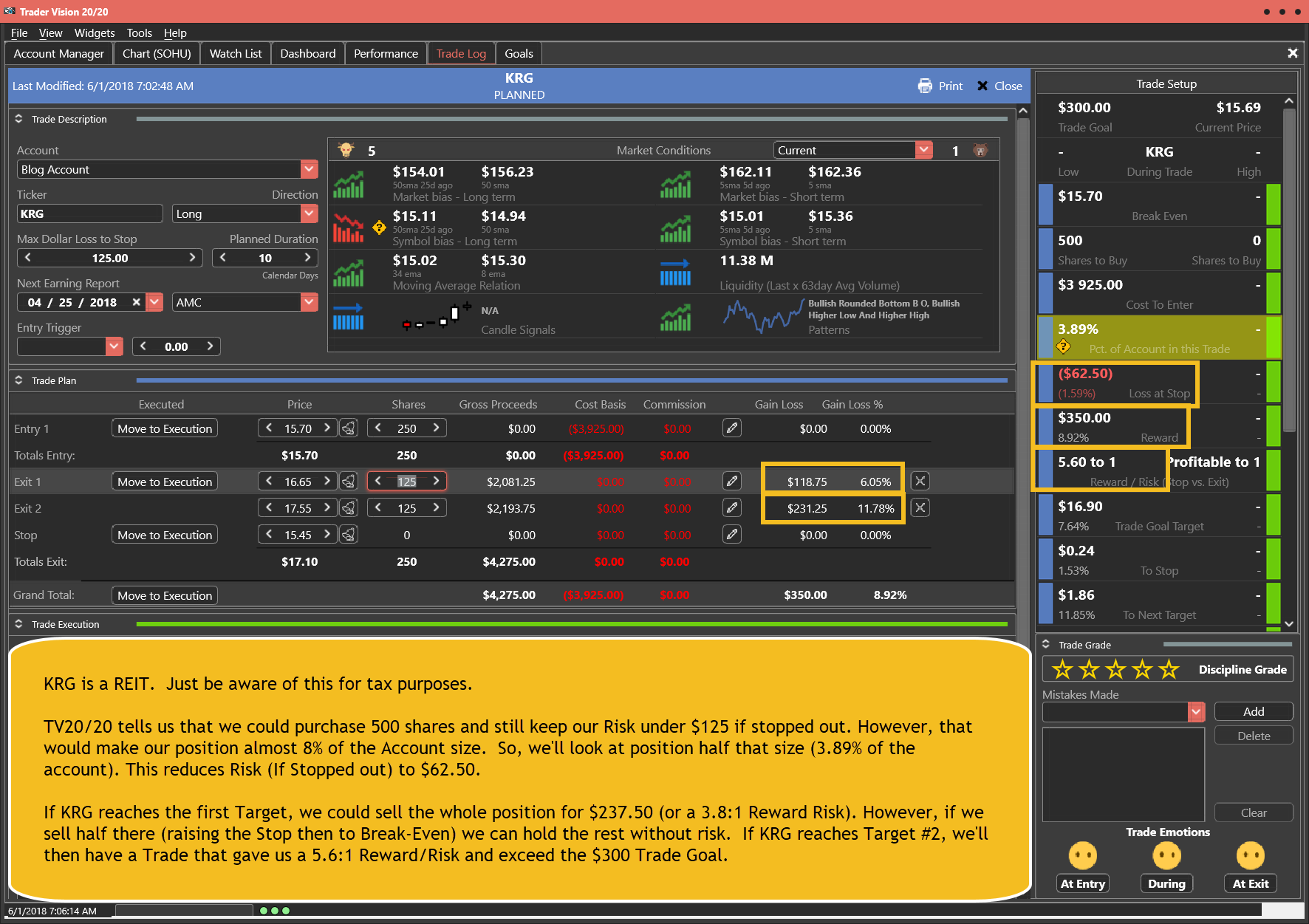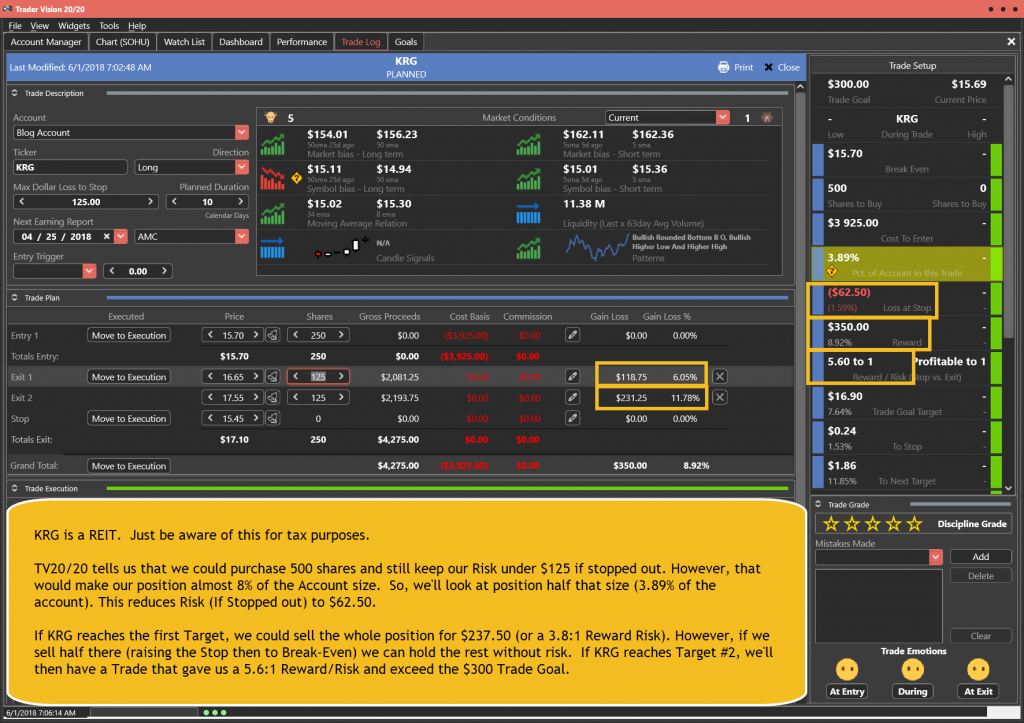 Notice how Trader Vision 20/20 does the work for you, by allowing you to define your risk in terms of "Position Size" (Dollars invested in a trade), "Risk to Stop" (Dollars lost if stopped out) and in terms or Reward/Risk Ratio.  It's easy to look at all the various scenarios using Trader Vision.  So you know…
How much money is at risk if Stopped Out?
How much will be gained if we sell the entire position at Target #1?
What does that mean in terms of Reward/Risk Ratio?
How much will be gained if we sell half the position at Target #1 and the remainder at Target #2?
What does that mean in terms of Reward/Risk Ratio?
Knowing all these scenarios really takes the pressure off a trader, making it much easier to control your emotions during a trade.  It also logs all this information so that down the road you can see exactly what you were thinking.  These are some of the benefits of TV20/20
---
Time is running out

…Act fast if you want to register for the Upcoming Workshop:
Trading With Fibonacci Retracements/Extensions
6/7/18 at 8pm Eastern
Why do Fib Ratios Work?
Why Should You Use Extensions instead of Projections?
Answers to Common Problems Using Fibs.
Where do you begin and end your drawing?
Do we use Bodies or Wicks?
Which Ratios should be your focus?
How to Identify the major support/resistance Levels with Fibs?
How to Find Entries with Fib Retracements?
How to Set Targets Using Fib Extensions?
Testimonial
This is not your usual service that sends out a ton of stock recommendations, and then cherry picks the winners to show you how great they are. Hit and Run Candlesticks and Right Way Options are truly educational services. They taught me how to trade not what to trade. The entire team: Rick, Doug, Steve, and Ed are there to help and answer your questions. They are awesome. They cut years off my learning curve. And it's a team effort. Everyone in the room (all the members) are there to help with invaluable insights and advice. The only service you will ever need. Thanks to all the team for how you have helped me and for all you do. –Jonathan Bolnick
***************************************************************************************************
Investing and Trading involve significant financial risk and is not suitable for everyone. No communication from Hit and Run Candlesticks Inc. is to be considered financial or trading advice. All information is intended for Educational Purposes Only. Terms of Service.
Ed Carter is not a licensed financial adviser nor does he offer trade recommendations or advice to anyone.
***************************************************************************************************