The Danger Zone Battle Begins, It's Time To Raise Your Caution Level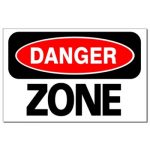 The price of the major indexes finished the day pressed directly against the Danger Zone of price resistance.  The feeding grounds of the Bears!  If a reversal of the market is to occur it would be right in this area.   We should be watchful of the Bears reestablishing dominance.  With the end of quarter window dressing possible, this could be an interesting battle to watch from a distance.  However, joining the battle in the danger zone could prove to be very damaging to your account.  Futures were slightly positive overnight but once again have moved to the downside this morning.  For new stock and options traders, this is a battle you should consider sitting out until there is evidence of victory has been established.  Keep in mind this fight could take a couple of days with consolidation as a result.
Events To Consider
On the Economic Calendar, we have pending Home Sales and the all important Petroleum Status Report at 10 AM Eastern and 10:30 AM Eastern respectively.  The Earning Calendar shows 63 companies reporting today.  Stay on your toes around these events and reports.  The last thing we want to do is get caught, unaware.  As the CEO of our trading business's, the responsibility lies directly on our shoulders.
My Plan Of Action
As for me, I will be very slow to move on new positions this morning until I see some direction.   However, I will quickly as possible protect capital if the Bears gain the upper hand and failure (reversal) price action begins to win the day.  Let's hope the end of quarter window dressing wins the day and as a result, the bulls charge upward!
Have a fantastic day and keep your caution flags waving.
Watch Morning Video | Right Way Options
Trade Wisely,
Doug