💲 From our June 11th blog post: SNAP popped, and we closed ½ for 31% yesterday. CMCS we closed for a small profit because of the long upper wick, we will buy it back on a qualified buy pattern. Roku doing ok and GE hade a good day but really needs to break out of $10.50. LULU broke out yesterday and looking great, up 3-days need a little rest before buy now. Note the charts I look at have nothing to do with what the Fed may or may not do they are all based on the charts themselves. All buys and closes announced in HRC Live Trading Room, be sure to tune in starting at 9:10 Eastern when I'll review the markets, trade ideas.
Have good trading day – Rick
Pre-Market Thoughts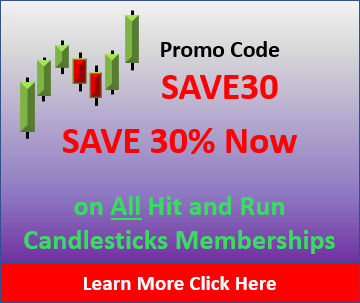 Big day with the Feds (announcement @ 2:00 pm Eastern) and I suspect we will see a little volatility as well. I personally don't think chasing the market or charts today is the wise thing to do, let the dust settle wait for the quality chart patterns, wait for your favorite charts to come back to you, so you have more control. $291.10 was cleared by the spy which such a bullish tone and produced a J-J hook continuation pattern. I still think any consolidation above $287.70 remains bullish if price action (the candlesticks) play their part right. The VIX is still not showing any fear and still trading below a down trending T line.
✅ Be patient. Know what you want and be patient
✅ Always plan your trade out
Use our base hit strategy, sell into strength
Buy close to your stop and support
USE the LTA Trade Alert Scanner to find the winners and use Promo Code: Privilege for a $50.00 discount
Trade Ideas
🎯 X setting up; X US Steel has put together an Inverted H&S bottom starting with the Morning Star candle pattern, and very close to becoming an RBB strategy. Remember to wait for the (QEP) Quality Entry Pattern for best results.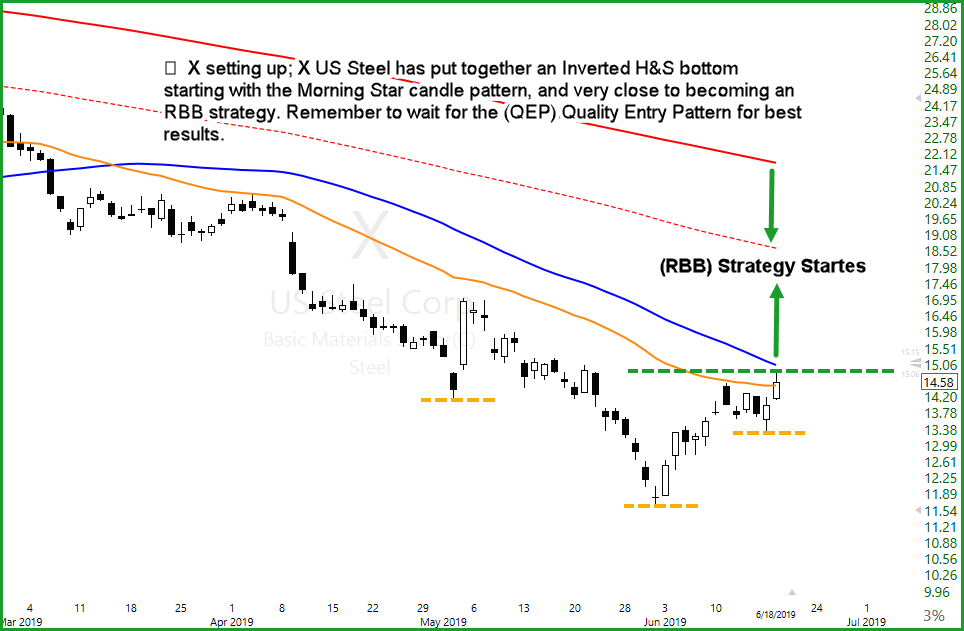 🍰 The LTA Alert Scanner and TC2000 are my tools of choice because they work!. Rick and the HRC Members kick off the trading room starting at 9:10 Eastern We review the market, and today's trade ideas. KL, MGM, X, BA, CTL, HON, AUY, MRO, EGO, AMD

✅ A Traders Edge In All Markets
The LTA Scanner can filter out charts that are trending, up or down and alert on charts that have Candlestick signals and patterns, western patterns and when indicators, such as MACD, Stochastics, RSI or Bollinger Bands have crossed or reaches the desired level. 😎 One of my favorites is the T-Line Band Scan. The right tools for the job.
We use The Worlds Best Trading Tools, TC2000 for charting, LTA-Live Trading Alerts for real-time price action, candle and candle patterns, and western patterns. The right tools for the right job.👍




Free YouTube Education • Subscription Plans • Private 2-Hour Coaching
DISCLAIMER: Investing / Trading involves significant financial risk and is not suitable for everyone. No communication from Hit and Run Candlesticks Inc, its affiliates or representatives is not financial or trading advice. All information provided by Hit and Run Candlesticks Inc, its affiliates and representatives are intended for educational purposes only. You are advised to test any new trading approach before implementing it. Past performance does not guarantee future results. Terms of Service