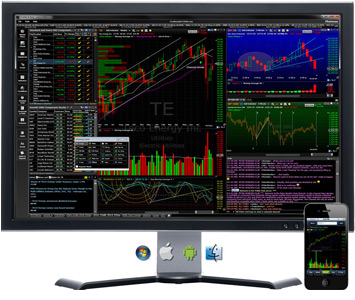 TC2000
My charting program of choice is TC 2000, but our members cover the gambit in the trading world using platforms like TOS, Fidelity, IB, Scottrade, Ninja Trader, Schwab, Tradestation, Options Express, Metastock, just to name a few.  The members are very generous and enjoy sharing ideas and problem-solving when something arises.
One thing you'll find in our trading room that you won't find in others is our members are encouraging and enjoy each other making money.  You'll see great trade ideas thrown out from the crack of dawn until late into the evening!
One of our members Sugar Bear said the other day, "Rick's trading room feels just like my own "Cheers Bar."  Come join in the camaraderie and see for yourself.
Hit & Run Candlesticks gladly endorses 'Worden Brothers' software »
---
"Thank you for you help with the Rounded Bottom Breakout pattern (RBB).  You are right about the built in rules..."

- Jeff In Ok
"Once again I say thanks to you (and Steve). I am acquiring a much better insight into the markets..."

- Steve
"This is just a quick note to thank for all your stock picks, training and guidance that you have provided..."

- Alexa