After a Monday morning gap followed by a surge of energetic buying setting new records by the end of the day, some uncertain candle patterns emerged. The most uncertain of them are the bearish engulfing patterns on the SPY and QQQ that seemingly rejected the index highs. So the question for today is whether the bears will wake up enough to follow through to the downside or will the bulls defend, making this nothing more than a day of price volatility? One thing for sure is this adds an element of uncertainty with the massive amount of economic data that awaits us Wednesday morning!
During the night, Asian markets mixed as they struggled for direction, with Hong Kong tech selling off strongly. European markets trade primarily lower this morning due to a Covid surge, and increasing restrictions and lockdowns occur. U.S. futures also seem to be struggling for the direction as they try to shrug off yesterday's selling.
Economic Calendar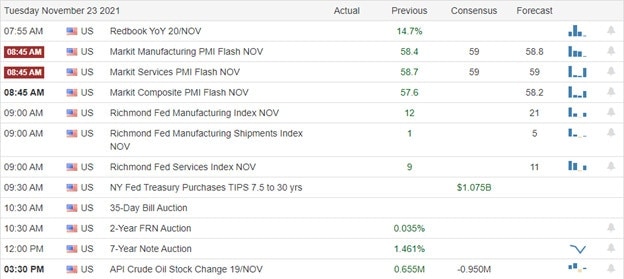 Earnings Calendar


On the Tuesday earnings calendar, we have 39 companies listed, but of course, a number of them are unconfirmed. Notable reports include BBY, DLTR, AEO, AMWD, ADI, ADSK, BURL, CBRL, DELL, DKS, ESLT, GPS, HPQ, SJM, JACK, J, MDT, JWN, PSTG, QIWI, TITN, VMW, & XPEV.
News and Technicals'
Zoom exceeded analysts' estimates for the quarter and issued better-than-expected guidance. In addition, the company called off its planned $14.7 billion Five9 acquisition during the quarter. On Monday, Germany's health minister issued a stark warning to the country's public, telling them that vaccination was the key to their survival. Outgoing Chancellor Merkel has called on Germany's federal states to decide upon stricter measures, and another lockdown is a possibility. Austria's lockdown began Monday and will last for at most 20 days, with a nationwide vaccine mandate taking effect on Feb. 1. The Netherlands' launched a partial lockdown on Saturday as well. Inflation in Turkey is now near 20%, meaning basic goods for Turks — a population of roughly 85 million — have soared in price, and their local currency salaries have become severely devalued. "Insane where the lira is, but it's a reflection of the insane monetary policy settings Turkey is currently operating under," one analyst said. Treasury Yields fell slightly in early Tuesday trading, with the 10-year slipping to 1.6236% and the 30-year dipping to 1.9699% after digesting the news of the Powell nomination.
Yesterday's selling left behind some uncertain candle patterns after the extremely extended tech sector sold off quickly as we headed into the close. Both the QQQ and the Spy printed some nasty bearish engulfing patterns after stretching to new records in early trading. However, one candle does not make a trend, and the question on everyone's mind was it just a one-off event, or is it the first signal of a top? The first test will require a follow-through to the downside, and that may be a tall order considering the wild-eyed speculation we have experienced in the past couple of months. With volume likely to start declining over the next couple of days as traders head out for holiday plans, we will have to stay focused on price action and be ready for just about anything considering the massive amount of data coming your way Wednesday morning.
Trade Wisley,
Doug