Picked up a little AMD yesterday; AMD alerted from the LTA Scanner Friday with a Bullish Engulf T-Band Breakout and yesterday demonstrated follow-through. We also picked up WBA yesterday with the (RBB) strategy; price is riding the green T-Band line and a Pop Out of The Box Breakout pattern. TGT is still trapped in the Bands now challenging the Green line for a breakout. SNAP holding above price support with a Doji yesterday; follow-through could kick price above the green line for a nice profit.
Full disclosure, we are actively trading all stocks mentioned in the above paragraph. We may close or add more at anytime.

Pre-Market Thoughts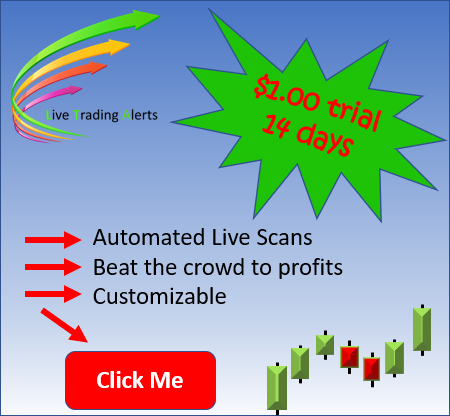 The SPY closed down a Buck .64 yesterday with a Doji between the green and blue T-Band lines. A close today below the blue mid-Line will put the lower red line in the crosshairs. Price above the lower red line keeps the buyers fairly happy, a close below the lower red line will cause some bull discomfort, and the VXX will become active. The 60-Min chart is suggesting $293.05 could be tested before the days end. I suspect the SPY is reluctant to charge upward until it hears what J. Powell has to say about future rate cuts and timing. We are prepared for a choppy couple of days (are you?) The VXX chart has had very little interest by buyer. However, a close above $25.10 will put the VXX chart in the conversation.
😊 Have a great trading day – Rick
The LTA Alert Scanner and TC2000 are my tools of choice WHY? Because they work!.
Rick and the HRC Members kick off the trading room starting at 9:10 Eastern We review the market, and today's trade ideas.
Trade-Ideas
✅ For your consideration: Here are a few charts I thought should go on the watch-List, remember to trade your trade. Trade smart and wait for for the QEP → (QEP) Quality Entry Patterns). WW, ROKU, STZ, SMAR, DLTR, XLNX, PCG, FSLR, AXSM
Disclosure: We do not act on all trades we mention, and not all mentions acted on the day of the mention. All trades we mention are for your consideration only.

✅ A Traders Edge In All Markets
The LTA Scanner can filter out charts that are trending, up or down and alert on charts that have Candlestick signals and patterns, western patterns and when indicators, such as MACD, Stochastics, RSI or Bollinger Bands have crossed or reaches the desired level. 😎 One of my favorites is the T-Line Band Scan. The right tools for the job.
We use The Worlds Best Trading Tools, TC2000 for charting, LTA-Live Trading Alerts for real-time price action, candle and candle patterns, and western patterns. The right tools for the right job.👍




Free YouTube Education • Subscription Plans • Private 2-Hour Coaching
DISCLAIMER: Investing / Trading involves significant financial risk and is not suitable for everyone. No communication from Hit and Run Candlesticks Inc, its affiliates or representatives is not financial or trading advice. All information provided by Hit and Run Candlesticks Inc, its affiliates and representatives are intended for educational purposes only. You are advised to test any new trading approach before implementing it. Past performance does not guarantee future results. Terms of Service