While economic data and Fed members suggest more work on inflation is required, the market has covered its eyes and ears, deciding no news is bad news, at least for now. As a result, the SPY, QQQ, and IWM continue to extend away from their 50-day averages as the DIA chops in a wide multiweek range. Before the bell today, we have another big round of market-moving economic and earnings reports to keep the price action challenging. Expect the big-point whipsaw to continue as fighting the Fed remains in vogue.
Asian markets traded mixed but primarily higher overnight, despite Japan posting its worst-ever trade deficit numbers. European markets continue to extend higher, with the CAC reaching an all-time high despite the Russian spring offensive picking up steam and possible recession. U.S. futures suggest an uncertain open, but with several pending market-moving reports, anything is possible. Expect considerable price volatility as investors digest the data.
Economic Calendar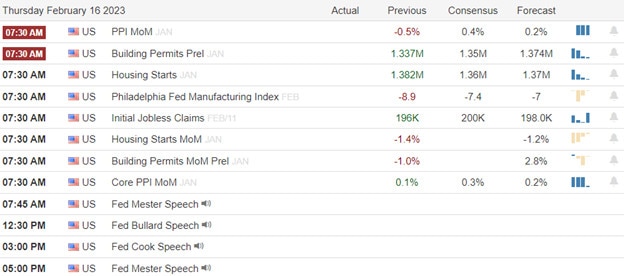 Earnings Calendar


Notable reports for Thursday include AEM, AMAT, AAWW, BJRI, BLMN, CHUY, COHU, CEG, CROX, ED, DDOG, DLR, DOCN, DASH, DKNG, DBX, ETR, HAS, HSIC HUBS, H, LH, OGN, PARA, POOL, SHAK, SWAV, SO, TXRH, TSEM, USFD, VMC, WE, & ZBRA.
News & Technicals'
The European Union's embargo on Russian oil products came into effect on Feb. 5, building on the $60 oil price cap implemented by the G-7 (Group of Seven) major economies on Dec. 5. China, India, and Turkey, in particular, have ramped up purchases to partially offset a fall in Russian crude exports to Europe of 400,000 barrels a day in January. According to the IEA's oil market report, Russian net oil output was down by only 160,000 barrels a day from pre-war levels in January, with 8.2 million barrels of oil shipped to markets worldwide.
Bitcoin surged 11% to $24,655.94 at around 3:36 a.m. ET while ether was up more than 8% at $1,684.59, according to CoinDesk. The value of the entire cryptocurrency market rose more than $84.8 billion in the 24 hours before 3:39 a.m. ET. Crypto markets were on edge earlier this week after a step in regulatory scrutiny from U.S. authorities on stablecoins.
Ford expects production of its electric F-150 Lightning pickup to be down through at least the end of next week to address a potential battery issue that resulted in a vehicle fire. The updated timing comes a day after Ford confirmed production of the highly watched EV had been suspended at the beginning of last week due to a potential battery issue. However, Ford said it believes engineers have found the root cause of the issue.
The market seems to be in a phase where no news is bad news, as economic reports suggest the rate will continue to rise and remain elevated for extended periods. However, fighting the Fed or perhaps ignoring the potential consequences of doing so is now in vogue. Crypo's also entered the game, surging 11% in the last 24 hours despite the SEC crackdown on the sector. Through all this pushing and shoving, the Dow remains locked in a multiweek consolidation with a price range of nearly 800 points. The tech sector continues to stretch higher even as bond yields and the U.S. dollar strengthens. How much longer this lasts is anyone's guess but enjoy the ride and keep watch for signs of a reversal that could be substantially punishing once the reality of rate increases and recession returns.
Trade Wisely,
Doug