Today's Featured Trade Idea is MTSI.
For a more detailed analysis of the ticker, refer to Rick's Public Stock Trade Idea for today…or, of course, members can listen to his detailed analysis in the trading room at 9:10am Eastern.
However, for now, here is my analysis and a potential trade plan made using our Trader Vision 20/20 software.
The chart broke a long-term downtrend forming a bottom over the last 4 months.  It broke into a Rounded Bottom Breakout pattern on earnings at the beginning of May and has now also completed a J-hook pattern inside that RBB.  At the end of last week it broke through and held above a long-term Resistance level (proving it is now Support on 2 successful retests).  We will be looking for an Entry inside a Buy Box (based on it doing intraday retracing pretty much every day).  Then we'll use a Gap-fill Target as well as a second confirmed off the Weekly chart.  Below is my markup of the chart and the trade plan as laid out by Trader Vision 20/20.  As a bonus, if you click the green button below, you'll be able to watch a video of the chart markup and trade planning process.
The MTSI Trade Setup – As of 6-10-18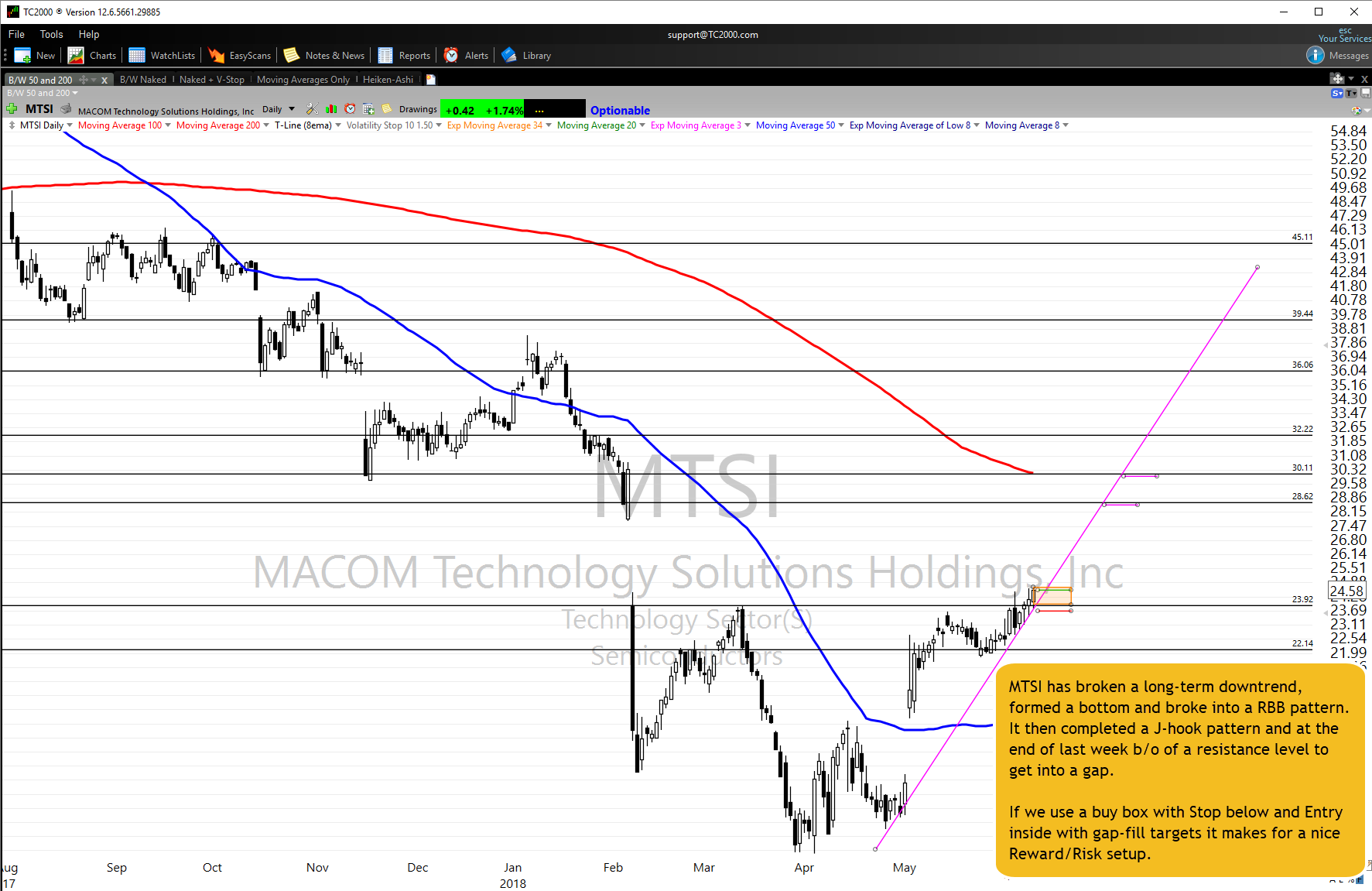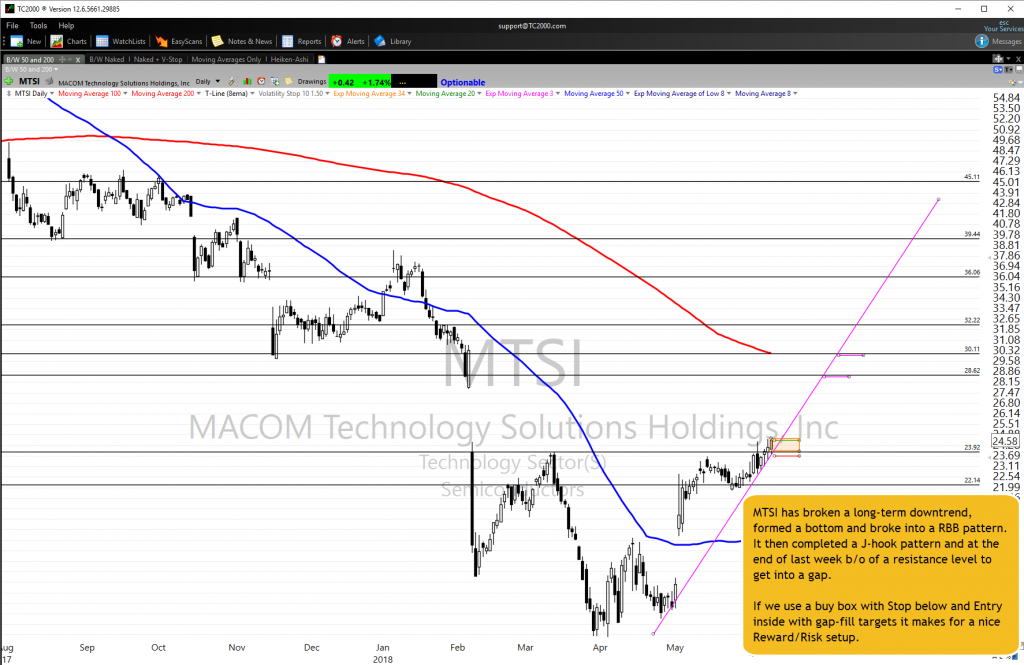 The MTSI Trade Plan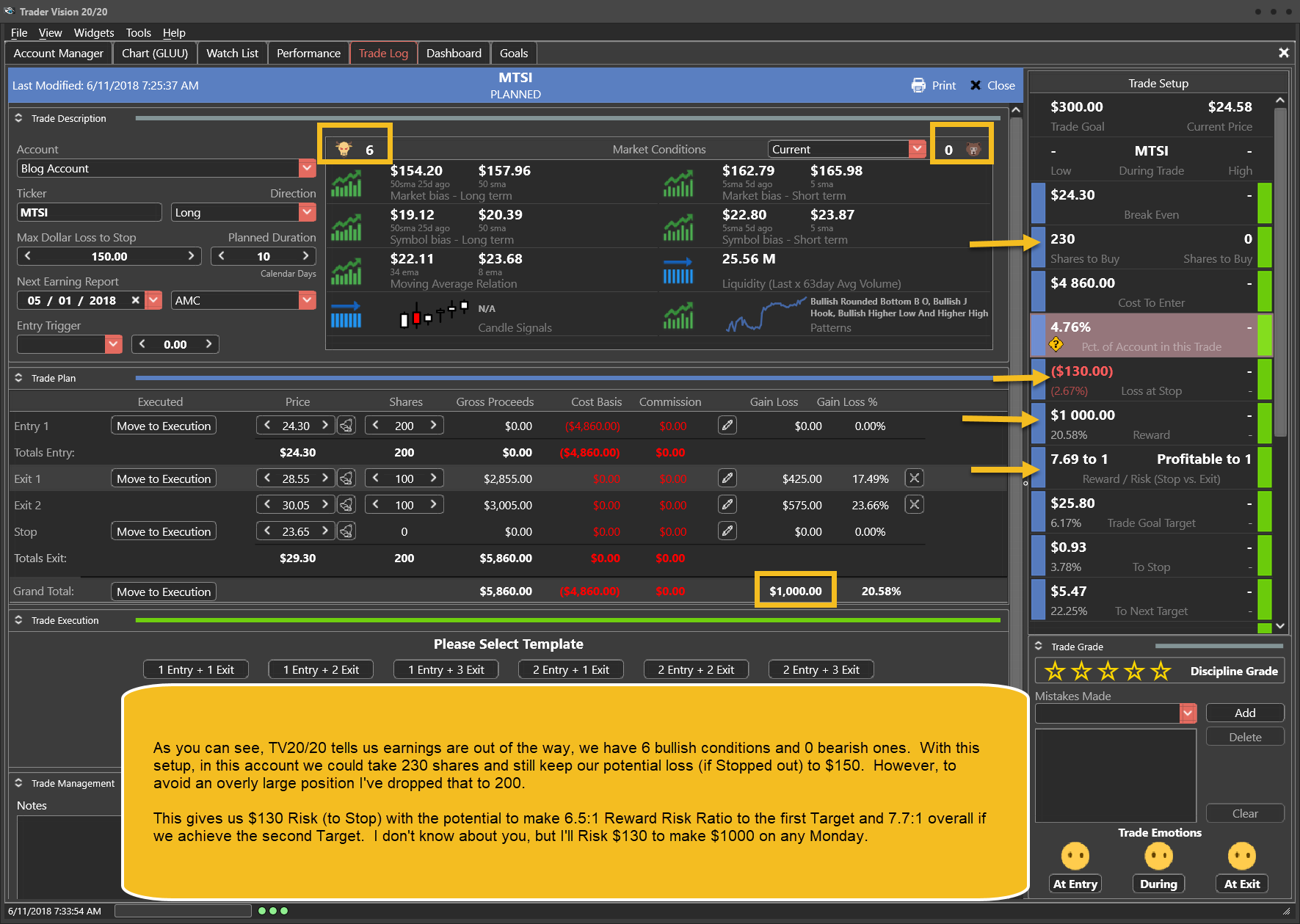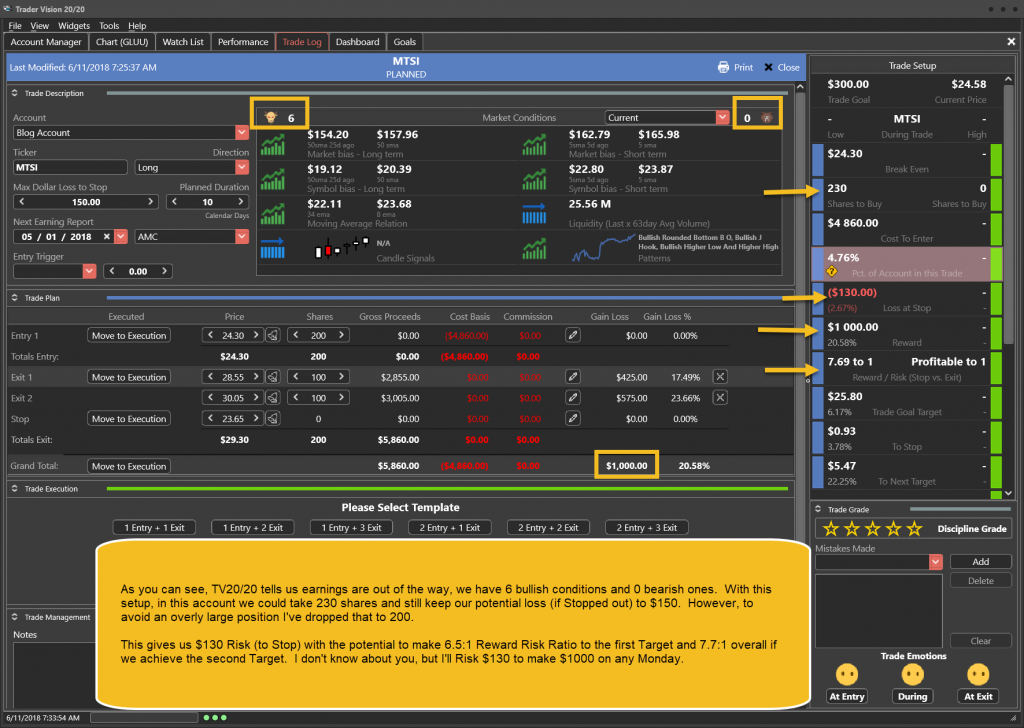 Note how Trader Vision 20/20 does so much of the work for you.  As the arrows above show, Trader Vision shows you how many shares you can buy while still maintaining your desired level of risk, what position size and percent of your account that would represent.  This makes it very easy for you to adjust to your own account parameters.  TV20/20 also shows you the current Bullish and Bearish conditions for this ticker.  Finally, you can immediately grasp the potential reward and the Reward/Risk implications of the trade as you have planned it.  No guesswork.  No surprises.  No emotional roller coaster.
To see a short video of this trade's chart markup and trade planning, click the button below.
If you're interested in putting the power to Trader Vision 20/20 to work for you, click below.
---
Testimonial
This is not your usual service that sends out a ton of stock recommendations, and then cherry picks the winners to show you how great they are. Hit and Run Candlesticks and Right Way Options are truly educational services. They taught me how to trade not what to trade. The entire team: Rick, Doug, Steve, and Ed are there to help and answer your questions. They are awesome. They cut years off my learning curve. And it's a team effort. Everyone in the room (all the members) are there to help with invaluable insights and advice. The only service you will ever need. Thanks to all the team for how you have helped me and for all you do. –Jonathan Bolnick
***************************************************************************************************
Investing and Trading involve significant financial risk and are not suitable for everyone. Ed Carter is not a licensed financial adviser nor does he offer trade recommendations or investment advice to anyone. No communication from Hit and Run Candlesticks Inc. is to be considered financial or trading advice. All information is intended for Educational Purposes Only. Terms of Service.
***************************************************************************************************