The better-than-expected CPI brought out the bulls with a big gap up open but investors exhaled closing the indexes lower as rising bond yields raised recession concerns. Adding to the uncertainty looking forward both Jerome Powell and Warren Buffett warned that more banking troubles are likely on the horizon. Expect some price volatility this morning as investors react to the PPI and Jobless Claims figures but don't be too surprised if low-volume chop rules the rest of the day as we wait for the huge day of market-moving data Friday morning.
Asian markets traded mixed overnight reacting to the Fed's warning of recession as a result of the banking crisis. European markets also trade mixed this morning as recession uncertainty weighs on investors' minds. At the time of writing this report U.S. Futures trade near the flatline ahead of jobless numbers and producer inflation data after the Fed signaled a recession on the horizon.
Economic Calendar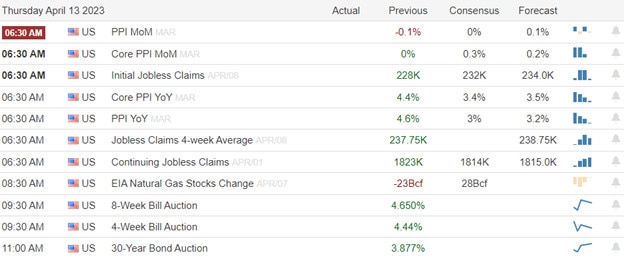 Earnings Calendar


Just one more day to wait until we begin 2nd quarter's earnings with several big banks ramping up the volatility. Notable reports for Thursday include DAL, FAST, FRC, & PGR.
News & Technicals'
SoftBank sold $7.2 billion worth of shares in Alibaba via prepaid forward contracts. Three years ago, SoftBank maintained a nearly 25% stake in Alibaba worth over $100 billion. SoftBank and its Vision Fund have been posting huge quarterly losses amid a slowdown in the tech sector that has hammered valuations.
According to a survey by the International Association of Credit Portfolio Managers, 81% of fund managers see defaults picking up in the next 12 months, compared with 80% in the survey last December. For North American corporates, 86% of respondents see defaults rising, while 91% see defaults rising in Europe.
Oil traded near a five-month high as falling US inventories and surging Chinese imports added to signs of a tightening global market. West Texas Intermediate futures held above $83 a barrel after gaining 4.4% over the past two days.
According to Federal Reserve documents released Wednesday, the fallout from the U.S. banking crisis is likely to tilt the economy into recession later this year. Though Vice Chair for Supervision Michael Barr said the banking sector "is sound and resilient," staff economists said the economy will take a hit.
Stocks opened higher on Wednesday, as investors exhaled after the latest read on inflation failed to produce any worrisome surprises. That enthusiasm faded somewhat as the trading day went on, with the S&P 500 closing 0.4% lower while the Dow shed 38 points. Interest rates responded by moving lower, with the 10-year Treasury yield falling back near 3.4%, while shorter-term rates fell more amid some relief on the Fed rate-hike outlook. Today traders will get more inflation data from the PPI report and the data on the jobs front with the jobless claims. Shortly after attention will turn to the big bank earnings Retail Sales and Industrial Production figures out Friday morning.
Trade Wisely,
Doug