Today's Featured Trade Idea is GLUU.  There is a lot to like about this stock which has been solidly Bullish, even in the face of an overall Market that has chopped back-and-forth in a range for weeks.  However recently it has done a brief J-hook pattern to consolidate and avoid over-extension.  Now it has printed a Doji Continuation at the breakout level.  As a bonus, we now have video of the markup and creation of the trade plan (which took less than 4 minutes, including talking to record the video).
For a more detailed analysis of the ticker, refer to Rick's Public Stock Trade Idea for today…or, of course, members can listen to his detailed analysis in the trading room at 9:10am Eastern.
However, for now, here is my analysis and a potential trade plan made using our Trader Vision 20/20 software.
The DDD Trade Setup – As of 6-4-18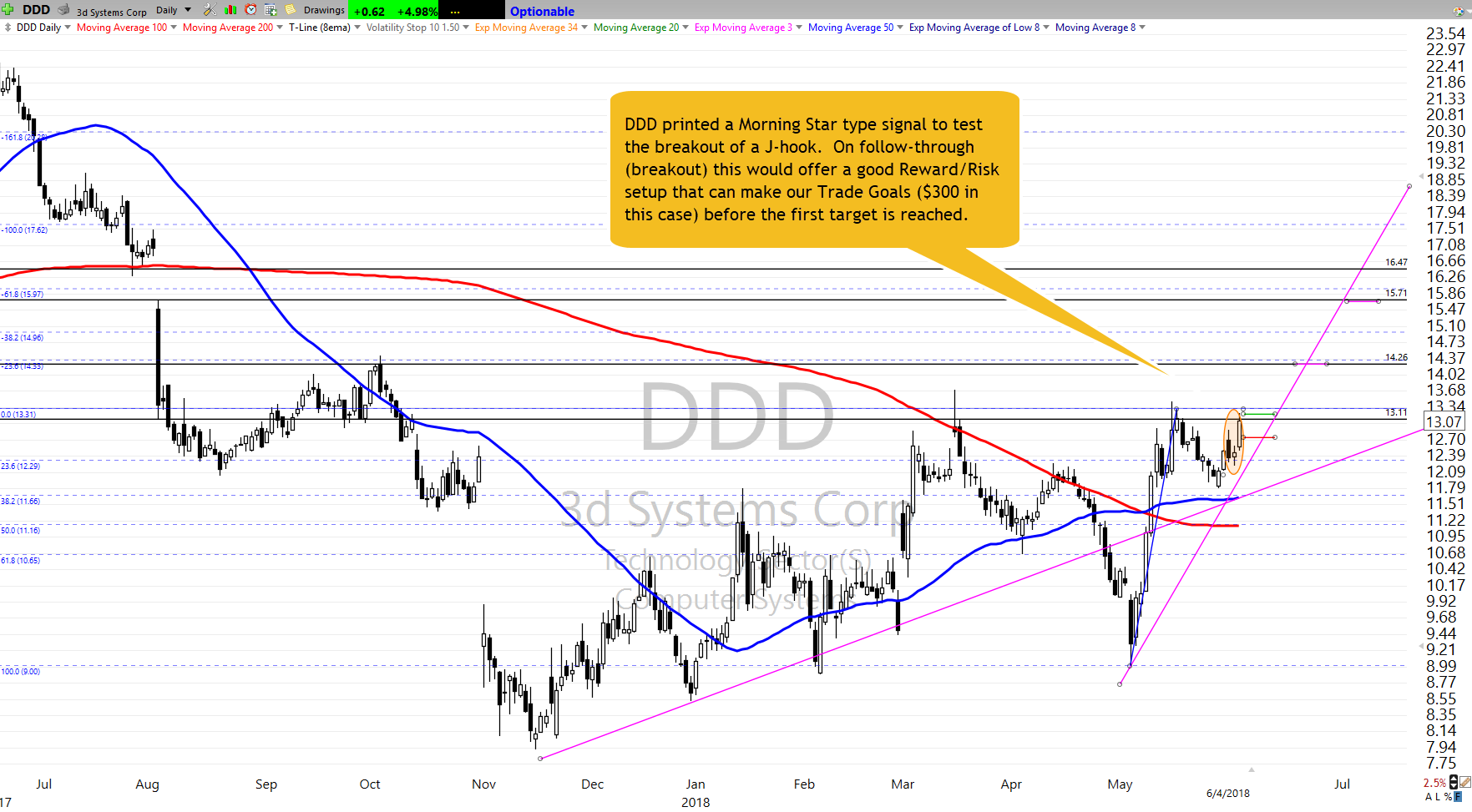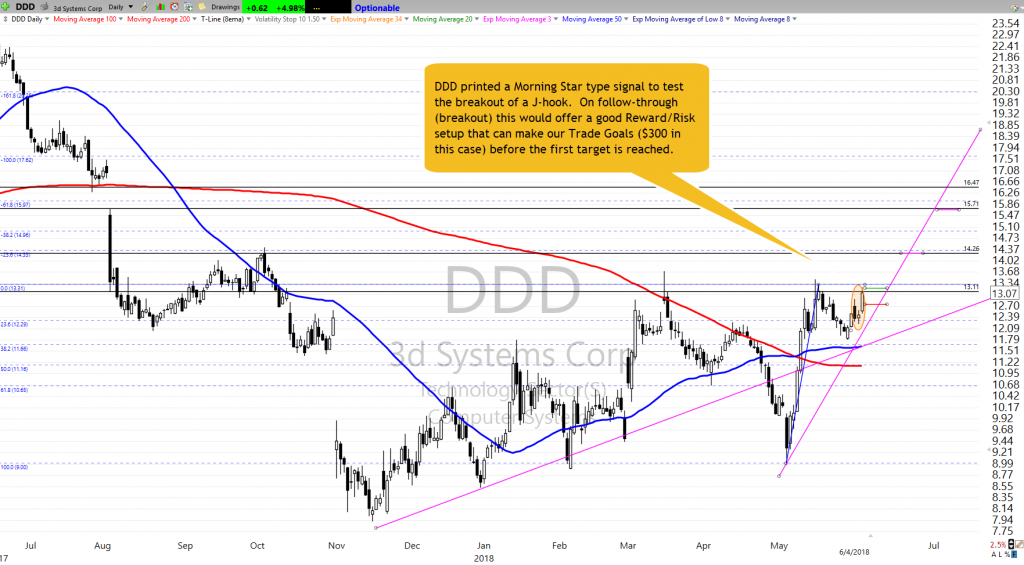 The DDD Trade Plan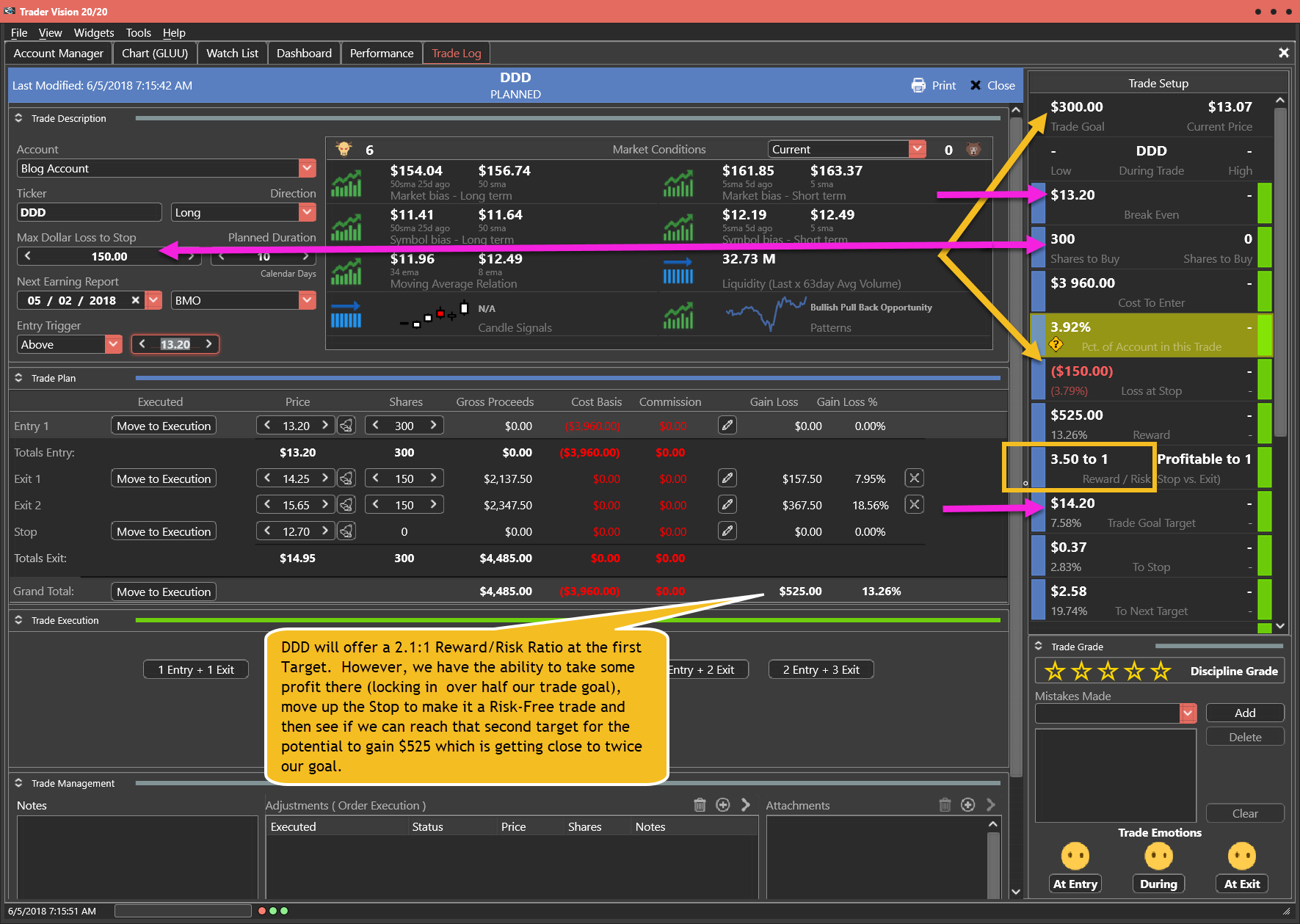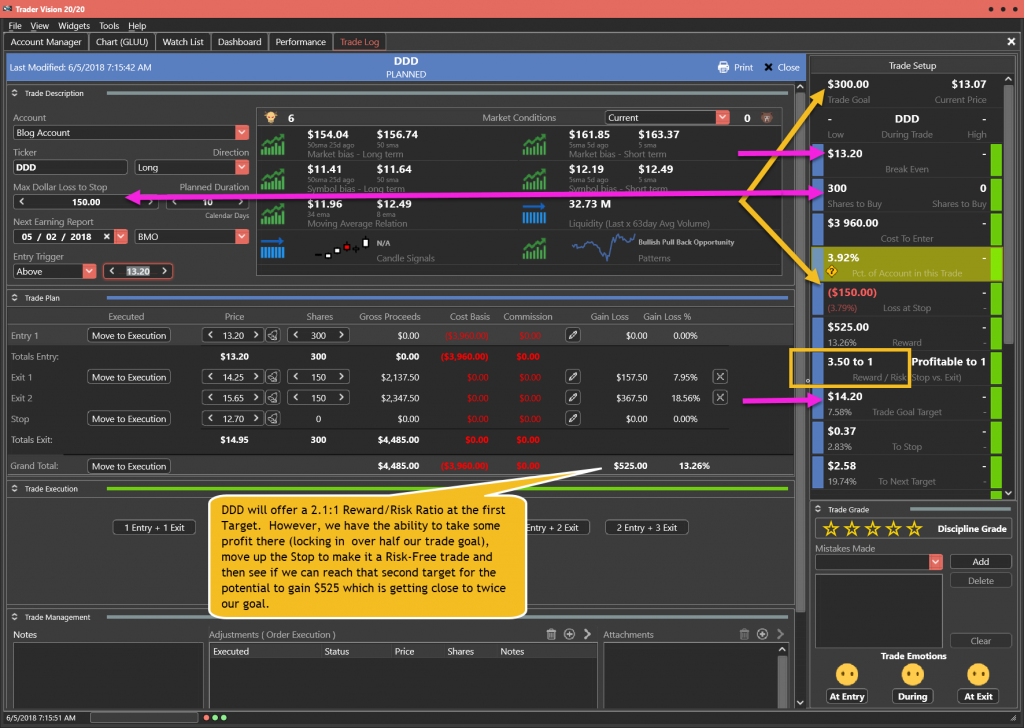 Note how Trader Vision 20/20 does so much of the work for you.  As the magenta arrows above show, with Trader Vision, not only do we know the break-even price, but we also know exactly how far a trade must move to reach our Goal for the trade.  In addition, TV20/20 tells us how many shares we can buy and still keep our potential loss (if Stopped out) below our chosen risk level for the trade.
To see a short video of this trade's chart markup and trade planning, click the button below.
---
Upcoming Workshop:
Time is running out…act now to save your seat
Trading With Fibonacci Retracements/Extensions
6/7/18 at 8pm Eastern
Why do Fib Ratios Work?
Why Should You Use Extensions instead of Projections?
Answers to Common Problems Using Fibs.
Where do you begin and end your drawing?
Do we use Bodies or Wicks?
Which Ratios should be your focus?
How to Identify the major support/resistance Levels with Fibs?
How to Find Entries with Fib Retracements?
How to Set Targets Using Fib Extensions?
Testimonial
This is not your usual service that sends out a ton of stock recommendations, and then cherry picks the winners to show you how great they are. Hit and Run Candlesticks and Right Way Options are truly educational services. They taught me how to trade not what to trade. The entire team: Rick, Doug, Steve, and Ed are there to help and answer your questions. They are awesome. They cut years off my learning curve. And it's a team effort. Everyone in the room (all the members) are there to help with invaluable insights and advice. The only service you will ever need. Thanks to all the team for how you have helped me and for all you do. –Jonathan Bolnick
***************************************************************************************************
Investing and Trading involve significant financial risk and is not suitable for everyone. No communication from Hit and Run Candlesticks Inc. is to be considered financial or trading advice. All information is intended for Educational Purposes Only. Terms of Service.
Ed Carter is not a licensed financial adviser nor does he offer trade recommendations or advice to anyone.
***************************************************************************************************