Tuesday got off to a rough start, but the bulls fought back despite the very anemic volume, likely due to the after-the-bell report from MSFT. The company enjoyed a sharp initial rally, but the gloomy outlook MSFT forecasts for the future now indicate their Wednesday will be lower. Today we have a big day of earnings that includes TSLA after the bell, so plan for price volatility. It may also be wise to consider the possible market-moving economic report coming Thursday morning as you plan your risk.
During the night, Asian markets mostly rallied as Australia struggled with higher inflation reports. On the other hand, European markets see modest declines across the board this morning. With a big day of earnings ahead, U.S. futures point to a gap down open due to MSFT's disappointing forecast. Expect the big point moves to continue as the market reacts to all the data.
Economic Calendar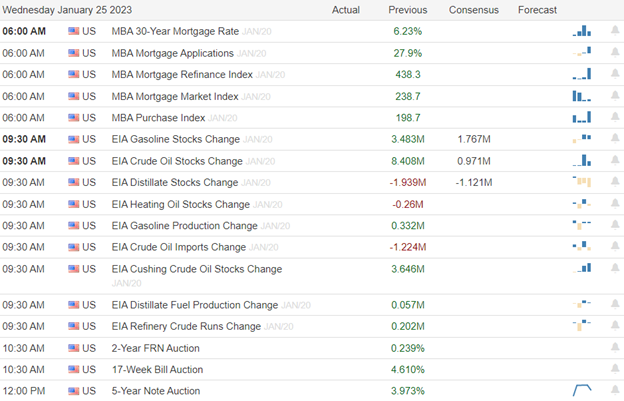 Earnings Calendar


We have nearly 70 companies listed this Wednesday expected to report. Notable reports include ABT, ASML, T, ADP, AXTA, BA, BOOT, CCI, CSX, ETD, FLEX, FCX, GD, HESS, IBM, KMB, LRCX, LVS, LC, LEVI, NEE, NEP, NSC, PKG, PGR, RJF, STX, NOW, SLG, STLD, TSLA, TXT, USB, URI, WFG & WOLF.
News & Technicals'
Microsoft sees a gloomy tech environment will continue despite betting top-line estimates. Microsoft sees Azure growth slowing down in the following quarters as customers try to save money on their existing applications running in the cloud. In addition, the company's finance leader said a slowdown in new business in December would continue across Microsoft's commercial business.
Slowing inflation hasn't relieved consumers yet because prices are still well above where they were a year ago. Commodity and freight costs are falling but won't immediately trickle down to consumers in part due to supplier contracts and some companies' desire to boost profit margins. But retailers are fighting back by pushing their private label products, which could win over consumers with cheaper prices and force manufacturers to offer better deals.
Dutch chip equipment maker ASML forecasts a 25% jump in 2023 revenue. ASML CEO Wennink said China accounted for around 15% of sales in 2022 and will be at a "similar" amount this year, despite U.S. chip export restrictions. For the fourth quarter of 2022, ASML's net sales rose more than 29% to 6.4 billion euros ($7 billion). For the full year, net sales came in at 21.1 billion euros, a more than 13% year-on-year rise.
After a rough start on Tuesday, the bulls fought back despite the very anemic volume with the uncertainty of the pending MSFT earnings after the bell. MSFT beat top-line estimates as cloud sales soared, but in the conference call, the company forecasts challenging times looking forward. Sharp after the bell, gains quickly diminished, and the stock is indicated lower this morning. Unfortunately, yesterday's bullishness fell short of breaking through the long-term bear trend, which may create another lower high due to the first disappointing big tech report. Though we have a light day on the economic calendar, many will be thinking about the slew of reports on Thursday morning that can potentially move the market dramatically, so plan your risk carefully. In addition, earnings numbers ramp up today, so also prepare for substantial price volatility as we wait on TSLA's report after the bell.
Trade Wisely,
Doug