The daily index swings continued Thursday, but this time produced a big intraday whipsaw leaving behind some possible topping candle patterns. The price action suggests the bears are hungry, but I would not expect the bull to give up easily. The VIX hinted at some fear of returning to the market as it popped through a multi-month downtrend yesterday. The question for the day is, will the bears find the energy to follow through, or will the bulls rush back to defend? With this week's significant daily reversals, I think anything is possible as we head into the weekend.
Asian markets closed the day mostly lower, with the tech-heavy HSI leading the way, down 2,01%. European markets trade decidedly bearish this morning as investors mull future central bank actions and the possibility of a recession. U.S. futures point to a lower open ahead of earnings, consumer sentiment, and more Fed speakers.
Economic Calendar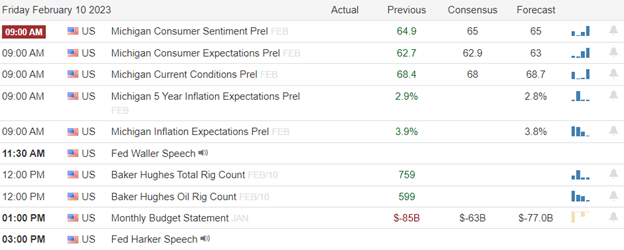 Earnings Calendar


We get a little break on the earnings calendar on Friday. Notable reports include AXL, ENB, FTS, IQV, NWL, SPB & WPC.
News & Technicals'
Adidas could lose around 1.2 billion euros ($1.3 billion) in revenue in 2023 if it cannot sell its existing Yeezy stock. Shares of Adidas were down 11% around 9 a.m. London time following the news. "The numbers speak for themselves. But, unfortunately, we are currently not performing as we should," Adidas CEO Bjørn Gulden said in a press release.
Yahoo will lay off more than 20% of staff, or around 1,600 workers, and the company's Yahoo for Business unit will be slashed in half. The company said about 1,000 of those cuts would occur by the end of the week.
Dan Schulman became PayPal CEO after the company split from eBay in 2015. He will remain a member of PayPal's board of directors. "I'm proud of what we have accomplished at PayPal and of the incredibly talented and committed people I work with every day," Schulman said in a statement.
The wild chop continued on Thursday, tossing traders a big intraday whipsaw and leaving behind bearish engulfing candles with the VIX breaking a multi-month downtrend. That said, one day does not make a trend, and though the bears made an appearance, will they have the energy to follow through? Don't expect the bulls to give up easily, and with the big point swings we have experienced this week, we can't rule out another quick swing higher. We have more Fed speakers, consumer sentiment, a treasury statement, and a lighter day of earnings reports to provide inspiration. Keep an eye on price support levels because if they break, some quick selling to occur as traders rush to protect profits.
Trade Wisely,
Doug