Monday started the day with bears milling about, but they could not wrestle control from the bulls despite the extremely extended condition of the SPY, QQQ & IWM. The VIX indicated a slight increase in fear, and volume declined, perhaps acknowledging last week's exuberance. International trade numbers, a mid-day Powell speech, and a slew of earnings reports are likely to keep price volatility high and traders guessing what comes next. Testing support and resistance levels in the SPY, QQQ and IWM will require some big point moves, so plan your risk carefully.
Overnight Asian markets closed the day, mixed with modest gains and losses as Australia raised interest rates. As uncertainty continues to linger, European indexes trade in a relatively modest chop range this morning. U.S. futures have softened slightly from overnight highs, with earnings and a speech from Powell keeping traders apprehensive of the path forward.
Economic Calendar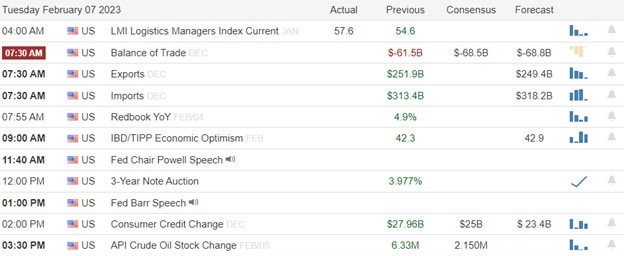 Earnings Calendar


We have about 80 companies listed on the earnings calendar, although many are unconfirmed. Notable reports include AIZ, BP, CNC, CMG, DEI, DD, ENPH, ESS, FISV, FTNT, IT, GPK, HRB, HAIN, HTZ, ILMN, INCY, J, KKR, LIN PRU, RCL, SPR, VFC, VVV, WU, & YUMC.
News & Technicals'
BP posted underlying replacement cost profit, used as a proxy for net profit, of $27.7 billion for 2022. That compared with $12.8 billion for the previous year. The British oil major announced a further $2.75 billion share buyback and boosted its dividend by 10% to 6.61 cents per ordinary share. BP's record annual profits follow bumper earnings from energy giants Shell, Exxon Mobil, and Chevron.
Microsoft on Monday announced plans to host a news event Tuesday that could be related to the AI chatbot ChatGPT. The company confirmed the event minutes after rival Google announced its answer to ChatGPT, called Bard. Microsoft's event follows the company's January announcement regarding its new multiyear, multibillion-dollar investment with ChatGPT maker OpenAI.
Binance will suspend U.S. dollar withdrawals and deposits for international customers beginning Feb. 8, the company said. Binance banking partner Signature Bank in January raised transaction minimums for dollar transfers. After it announced the suspension, millions of crypto dollars flowed out of Binance, but the company says it remains "net-positive."
Although we saw a few bears milling about yesterday, there was no technical damage, with the SPY, QQQ, and IWM enormously elevated as the DIA rested at its 50-day average. Fortunately, index volume also contracted substantially yesterday, perhaps an acknowledgment of the over-exuberance last week and the uncertainty of the possible recession. Nevertheless, the bulls remain in control as we head into another big day of earnings reports and a mid-day speech from Jerome Powell. Prepare for more price volatility as the data comes out, keeping in mind some big index point moves are possible to test support or resistance in the SPY, QQQ & IWM.
Trade Wisely,
Doug