As the index stretch higher with its 6th straight day of gains, the Dow briefly touched the rarefied air of new highs before pulling back slightly, heading into the close.  Will the bulls find the inspiration to keep the pedal to the metal with a jam-packed earnings calendar, jobless number, manufacturing, and housing data?  Perhaps, but the futures currently suggest a profit-taking pullback could begin.  Unfortunately, price supports are substantially lower, so it could prove a bit painful for those buying late in the rally if selling picks up. As a result, expect price volatility to remain challenging. 
During the night, Asian markets traded mixed with Evergrande impacts back on the minds of traders. European markets see modest losses across the board this morning as they monitor China's rapidly deteriorating real estate situation. Currently, U.S. futures point to a lower open with a busy day of data ahead and bonds on the rise. Get ready. It could prove to be a bumpy ride this morning.
Economic Calendar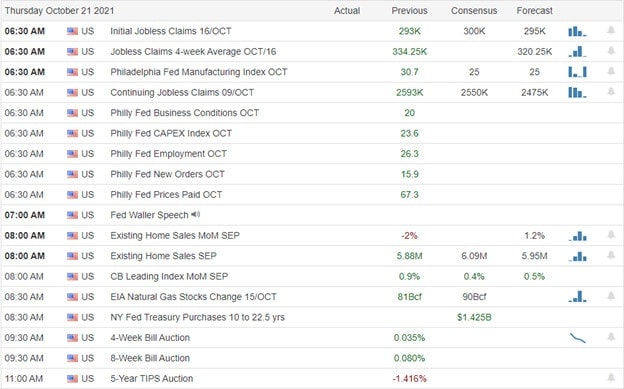 Earnings Calendar


We have a busy day this Thursday on the earnings calendar with more than 75 companies listed. Notable reports include ABB, ALK, ALLY, AAL, T, AN, BCS, BX, BJRI, CMG, CROX, DHR, FCX, GPC, INTC, KEY, MMC, MAT, NUE, POOL, DGX, SAP, SCHN, SNAP, SNA, LUV, SIVB, TSCO, UNP, VLO, & WHR.
News and Technical's
Heavily indebted, Evergrande was in talks earlier this month to sell part of its services unit to Hopson Development Holdings, its smaller rival. However, Hopson said Wednesday that talks fell through to purchase just over half of shares issued by Evergrande Property Services. The collapse of the Hopson deal comes as Evergrande faces the end of a 30-day grace period on Saturday for a closely watched $83 million interest payment to investors in an offshore U.S. dollar-denominated bond. As a result, China's real estate sector has to be "substantially smaller" to keep the overall economy healthy and stable, said Li Gan, an economics professor at Texas A&M University. "We have too big of a risk in the sector. We built too much housing, so the stabilization first has to come [from] trimming the sector," said Gan.
Additionally, Gan estimated that about 20% of China's housing stock is left vacant, yet developers continue to build millions of new units each year. The Food and Drug Administration on Wednesday authorized Covid vaccine booster shots made by Johnson & Johnson and Moderna, another critical step in distributing the extra doses in the U.S. Americans will also be allowed to "mix and match" vaccines, getting a booster shot from a different drugmaker than the one that made their initial doses. Treasury yields traded slightly higher in early price action as the 10-year held above 1.649% and the 30-year climbed to 2.118%.
The bulls inked their 6th straight day of gains, briefly touching a new record high with earnings enthusiasm overcomes inflation and supply chain worries. However, chart technicals are flashing a short-term overbought condition and the price action extension over the last six days of trading adds significant risk to traders entering late-stage positions. That said, we have our biggest day of earnings data so far this season that could keep the party going if the bulls continue to find inspiration. Although China is trying to convince the markets that the Evergrande situation is contained and a one-off event, real estate prices are plunging, reminiscent of the 2008 U.S.-led financial crisis. Keep an eye on this as it could quickly become a spreading market contagion. Besides a busy day of earnings, we will get the latest reading on Jobless Claims, Manufacturing data, and Existing Home Sales data to digest this morning. Currently, futures point to a lower open, but price supports and open gaps could create a painful pullback if selling picks up. So buckle up, and let's get ready to rumble!
Trade Wisely,
Doug