Rick Saddler's 2018 "Road To Wealth Project Account" Actual Account Performance
For 2018, we have decided to do a better job demonstrating the success of the Hit and Run Candlesticks • Right Way Options trading methods. So, Rick set up a small account ($5,100) intended to give a small trader an idea of what is actually possible for a trader who follows the HRC/RWO methods. As each month comes to a close, we'll post the account statement to allow you to see the actual results achieved.
This statement is from the personal account of Rick Saddler and is being shared for educational purposes only. The account balances created by his trading results and shown on the statement are not necessarily indicative of future results. It is important to note that your trading methodology may be different from Rick Saddler's and generate different results. Rick Saddler and Hit and Run Candlesticks are not responsible for your trading results.
Trading tools used to achieve trading wealth
LTA-Live Trading Alerts • TC2000 • TradeHawk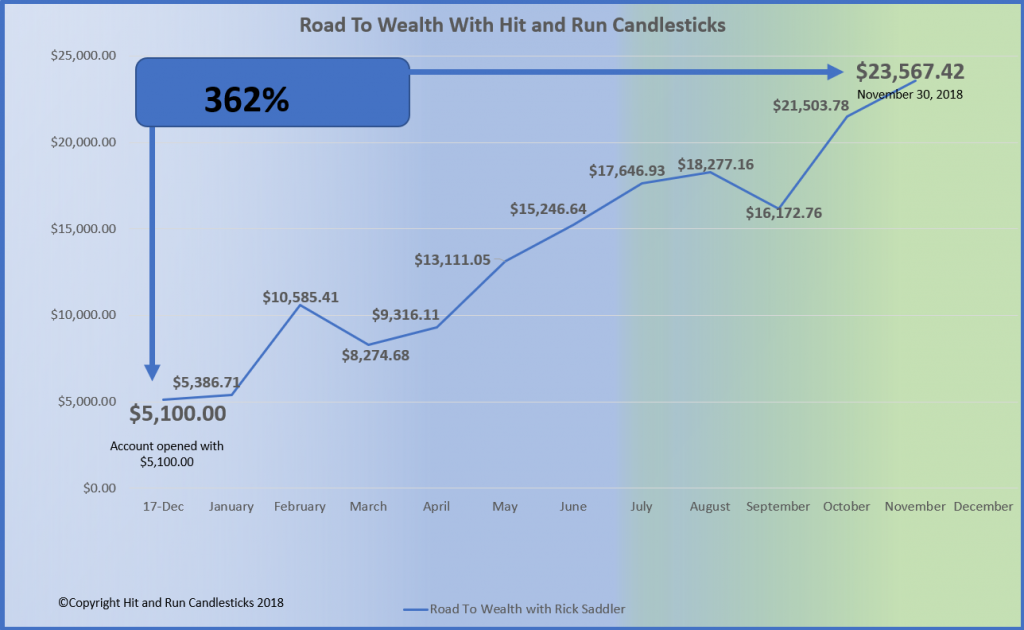 2018 YTD (Through November)

+362.11 Percent
---
Ricks Top 2 Trading Tools:
Smart Phone App Alerts • Reminders • Updates • iPhone App • Android App
---
January Statement
For Month:

+5.64 Percent

For Year:

+5.64 Percent
Due to the processing of the account funding transactions not being complete until mid-January, please assume the January beginning Balance was actually $5,100 instead of $3,781.04.
February Statement
March Statement
April Statement
May Statement
June Statement
July Statement
August Statement
September Statement
October Statement
November Statement
December Statement
Brokerage statement not yet available