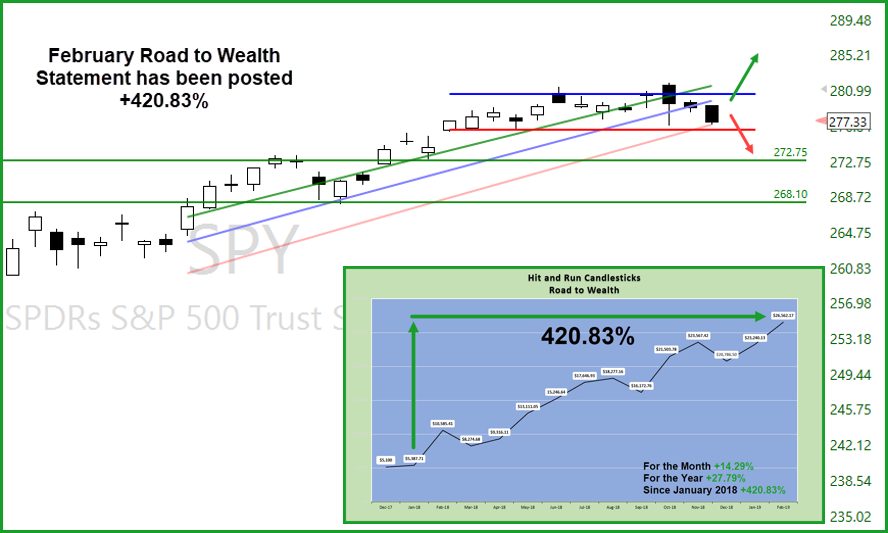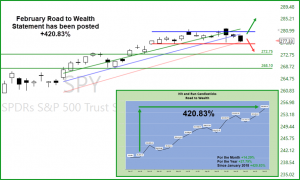 Although price closed above our Lower T-Line Channel Band, the price action is testing its ability to hold onto a bullish rating. In the past eight days, the SPY has printed a few candles that suggest the bulls need a restful pullback, but the bears don't seem to have enough growl to push them over. This type of price action is hard on most trades because there is not a defined trend, (chop chop chop). Our 4-hour chart shows that price has crossed into bear territory and targets are in the $272.75 and $268.10 areas. For the Bulls to get the game back, they need to capture the $279.25 flag.

Hit and Run Candlesticks News
My #1 trading tool LTA-Live Trading Alert Scanner alerted us on (IWM) as it was just starting to breakdown below the T-Band channel, The IWM PUTS closed up yesterday 17.3 The February Road To Wealth Account statement has been posted to the website. Trade-Ideas for the next week or so: CSCO, BBY, WDAY, AXP, PM, ADP, CC, WYNN, ADSK, LGIH, XOM. Some of these are long and some are short.
Live Trading Alerts News
Testimonial

I have hit for over $300 this morning using your LTA scanner, I think I have found my niche!

Coach B.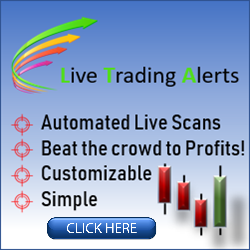 ✅Save time reviewing hundreds of charts. ✅Find EXACTLY the right set up by being alerted for only those tickers that qualify. ✅Stop "Chasing trades" by being alerted of the move (not finding out later.) ✅Eliminate "trouble pulling the trigger" (be sure when a ticker is moving.) ✅Stop "leaving money on the table" (manage your exits with lower-time alerts.) ✅Stop "Predicting" by trading alerts that show the turn, not forecast it. ✅Stop ignoring the overall market (by watching alerts on DIA, SPY, IWM, QQQ.) ✅Gain massive efficiency over flipping through charts (hoping to find them at just the right time) or waiting on someone to feed you trade ideas.

Free YouTube Education • Subscription Plans • Private 2-Hour Coaching
DISCLAIMER: Investing/ Trading involves significant financial risk and is not suitable for everyone. No communication from us should be considered as financial or trading advice. All information provided by it and Run Candlesticks Inc, its affiliates or representatives is intended for educational purposes only. You are advised to test any new approach before implementing it. Past performance does not guarantee future results. Terms of Service