Blue Ice Failure, Bearish h Pattern, Inverse ETF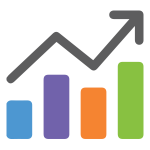 All three, the Blue Ice Failure, Bearish h Pattern, Inverse ETF's are proven and important tools and strategies we have in the Hit and Run Candlesticks trading tool box. The market is not always bullish and we traders need tools like this from time to time.
We hope you can have the same success we have with the strategies. If you would like to take your success to the next level, we offer Private Coaching, Educational manuals.
Video Replay Topics
Membership Benefits
Focus during the day is on trading and trading education
Learning about chart patterns – what are they and how do they work
Candlestick signals – which ones matter and which ones don't
Trends – just how important are they
Trend lines – how to draw them, from where to where
Learn more Click Here
Bearish "h" Pattern
The Bearish "h" pattern looks like the letter "h" and is considered an uptrend reversal pattern. It forms as part of down trending price action. You might say that this is the upside down version of the Bullish J-Hook pattern. As price pulls back from a swing high, the key is to look for a brief rally with three or four candlesticks that have higher highs because this may be part of the Bearish "h" pattern. After this, price stops moving up and start moving sideways. The highs of the candlesticks in this part of the "h" pattern stay in the same price range. You can literally draw a box around the candlesticks that form the top of the Bearish "h" pattern. Price then starts to move lower and breaks down and out of the sideways price action.
Blue Ice Failure
Imagine someone falling through the ice, then trying to come back up to the hole they plunged through. On their way up, they bump up against the ice and then fall back down again. This is the analogy behind the Blue Ice Failure Pattern (a term coined by David Elliott).
In stock charting terminology, the Blue Ice is the blue colored 50-day simple moving average (50 SMA) and price is the subject taking the plunge. More specifically, price is falling, it approaches the 50 SMA and plunges down through it. Price finds support after the plunge and starts to rally toward the 50 SMA. Price reaches the 50 SMA area and tries to break up through it but bumps up against it and then falls back down again.
Investing and Trading involve significant financial risk and is not suitable for everyone. No communication from Hit and Run Candlesticks or it's associates should be considered as financial or trading advice.

All information is intended for Educational Purposes Only. Terms of Service