Having reaped the benefits of a nice relief rally traders will have to consider the weekend risk of the trade war news and the rising tensions with Iran. Futures are currently pointing to a bearish open with the Dow currently expected to open about 100 points lower.
With a light day on both the earnings and economic calendars traders will have plenty of ponder the technical damage in index charts as this volatile week comes to the close. Yesterday afternoon I began to lighten up by taking profits to reduce risk and hedging positions that I plan to hold. Consider carefully how best to protect your capital in light of the tensions, possible volatility that can emerge over the weekend.
On the Calendar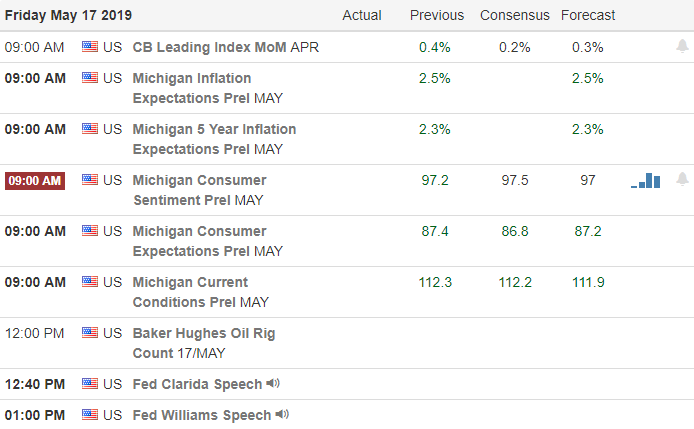 As usual we get a little break on the Earnings Calendar Friday with only 13 companies today. Notable earnings include DE & RDY.

Action Plan
After a big rally to test key resistance levels futures are pointing to some profit-taking at the open this morning. With a light day on the earnings calendar and the economic calendar the market will have to ponder the technical damage in the charts as we move toward the weekend. Tensions with Iran have grown to such an extent that the Whitehouse has deemed it time to inform Congress.

Hopefully cooler heads prevail but traders should consider the weekend risk if a military confrontation were to occur let alone the slings and arrows tossed back and forth in the trade war. Currently futures point to more than a 100-point gap down. If that holds the open watch closely to see if sellers support the gap before considering short positions. However, if the sellers do being to pile on reducing risk into the weekend fear could quickly grow and selling could quickly accelerate.
Trade Wisely,
Doug