The markets gap down and run south as tough talk between US and China dims the chances of a trade deal Tuesday. However, Wednesday morning, an unnamed official says China is willing to make a partial deal, but unwilling budge on any of the core issues and, the market gaps up as this ridiculous price whip continues to chop trader's account to pieces. Before you jump into this morning's gap keep in mind the indexes continue to show current downtrend with 50-day averages in decline. Fool me twice, shame on me!
Asian markets closed mixed and mostly lower on the uncertainty of trade talks that begin on Thursday. Responding to the Bloomberg report and hopefulness of a partial trade deal European markets are higher across the board this morning. US Futures rose sharply after the 6 AM news story and indicate the Dow will gap up between 150 and 200 points at the open as we wait for the release of the FOMC minutes later today.


On the Calendar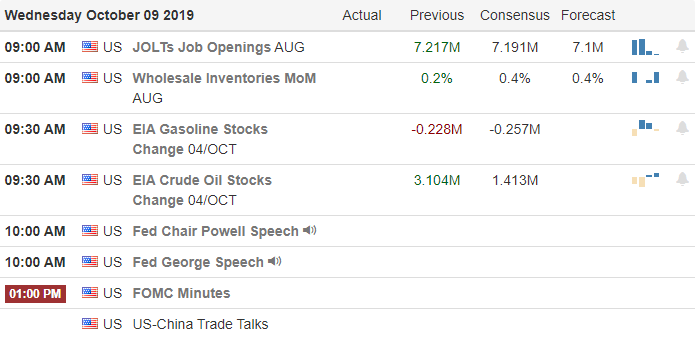 On the hump day Earnings Calendar, we have just eight companies reporting their results today, but none are market-moving or particularly notable.


Action Plan
At 6 AM, Bloomberg reported that an unnamed official close to trade negotiations that China is willing to make a partial deal. The news quickly spiked the Dow Futures higher at one point, suggesting a 200 point gain at the open. Apparently, China is willing to commit to purchasing of farm products if the US stops tariff increases. However, they are unwilling to budge on any of the major sticking points. The President, in the past, said tariffs are to increase on OCT.15th if no progress is made on a bilateral deal. I guess the good news is that at least today's gap is to the upside! Trade negotiations begin this Thursday, stay tuned for future gaps and whips in price.


According to reports, Turkey is about ready to invade Syria, as US troops pull back as the President attempts to fulfill a campaign promise to bring our troops home. The UN has reported they are in a desperate financial situation and may not be able to pay staff by November because so many countries have failed to pay their dues, making their peacekeeping operations impossible. Technically, speaking the indexes are in a current downtrend with declining 50-day averages amidst so much swirling uncertainty. Be careful not to chase this morning's gap, and remember we have the FOMC minutes release at 2:00 PM Eastern this afternoon.
Trade Wisely,
Doug