Welcome to the New Blog
Welcome.
As an introduction, I just want to let you know that the idea behind this blog is to share trade plans you can evaluate and potentially use yourself….today!   Meanwhile, we will also simultaneously demonstrate how Trader Vision 20/20 can help you improve your trading.  In each post, we'll provide one detailed trade plan, with focus on one or two of TV20/20's features used in the creation of the plan.  Before we get started, here's the obligatory disclaimer…
---
Blog Disclaimer:
As with everything else on this website, the plans and all related materials presented in this blog are intended for Informational Purposes only.  They are not intended and should not be relied upon as financial advice.  Nothing presented here should be taken as counsel to buy, sell or hold any financial instrument.  Nor should any of it be construed as advice on the best or most appropriate way to make buy/sell/hold decisions in any specific circumstances.
Investing and Trading involves significant financial risk and is not suitable for everyone.  Even when suitable, trading success requires knowledge, experience, and strong psychology.  In addition, there is always some element of luck involved in market success.  This being the case, every trader will sustain losses and streaks of losses during their trading career, regardless of their methodology.
Please consult your own financial advisor when making decisions regarding financial management.
---
With that out of the way, let's dig in!
Today's Featured Trade Idea is EXAS.  For a more detailed analysis of the ticker, refer to Rick's Public Stock Trade Idea for today…or, of course, members can listen to his detailed analysis in the trading room at 9:10am Eastern.
However, for now, here is my analysis and a potential trade plan made using our Trader Vision 20/20 software.
The EXAS Trade Setup – As of 5-29-18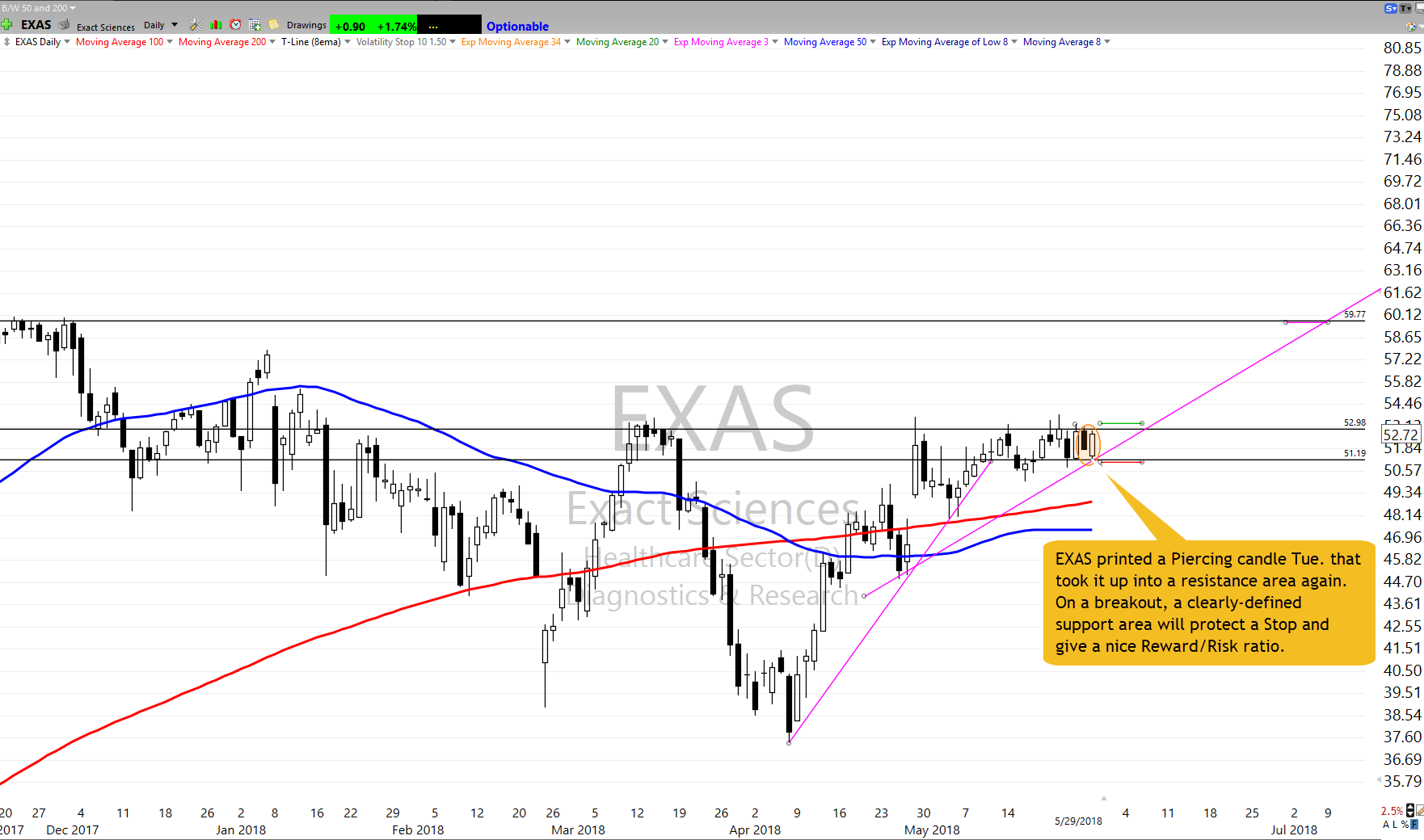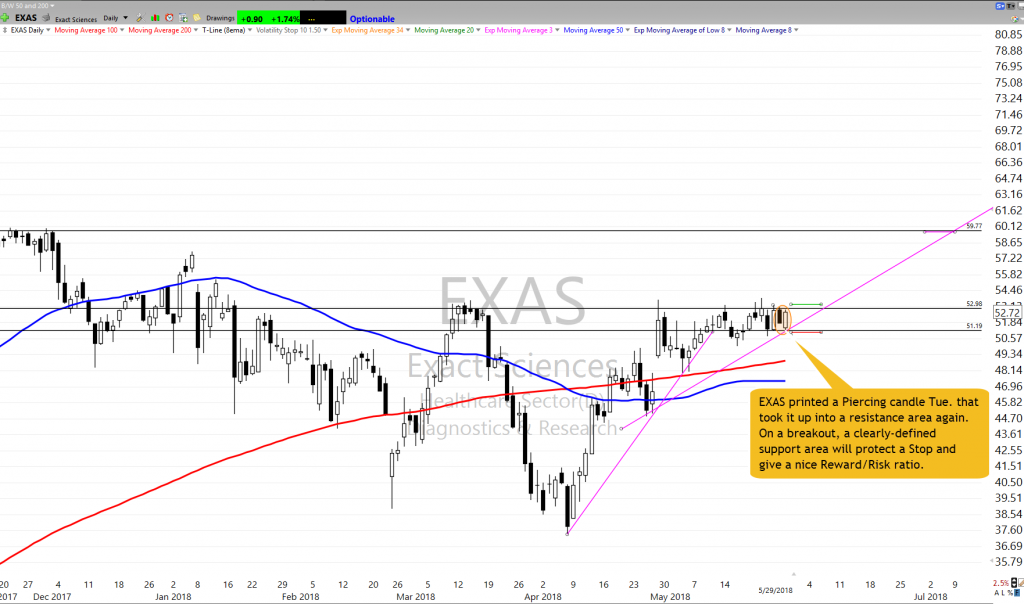 The EXAS Trade Plan

Notice that all good trading starts with a set of S.M.A.R.T. goals.  (Specific, Measurable, Attainable, Realistic, Time-based)  These goals allow you to develop the parameters that you'll need to plan and manage a trade successfully.  In this case, we can see that for this given account, we have analyzed our long-term financial objectives and determined they can be reached by taking trades that can give us $300 of profit with no more than $150 risked (if stopped out).  Also note that while this is a 2:1 Reward to Risk Ratio, in this case, our trade plan has the potential to yield an even better 3.55:1 Reward to Risk Ratio.
The EXAS Trade – Follow-up Mid-day 5-30-18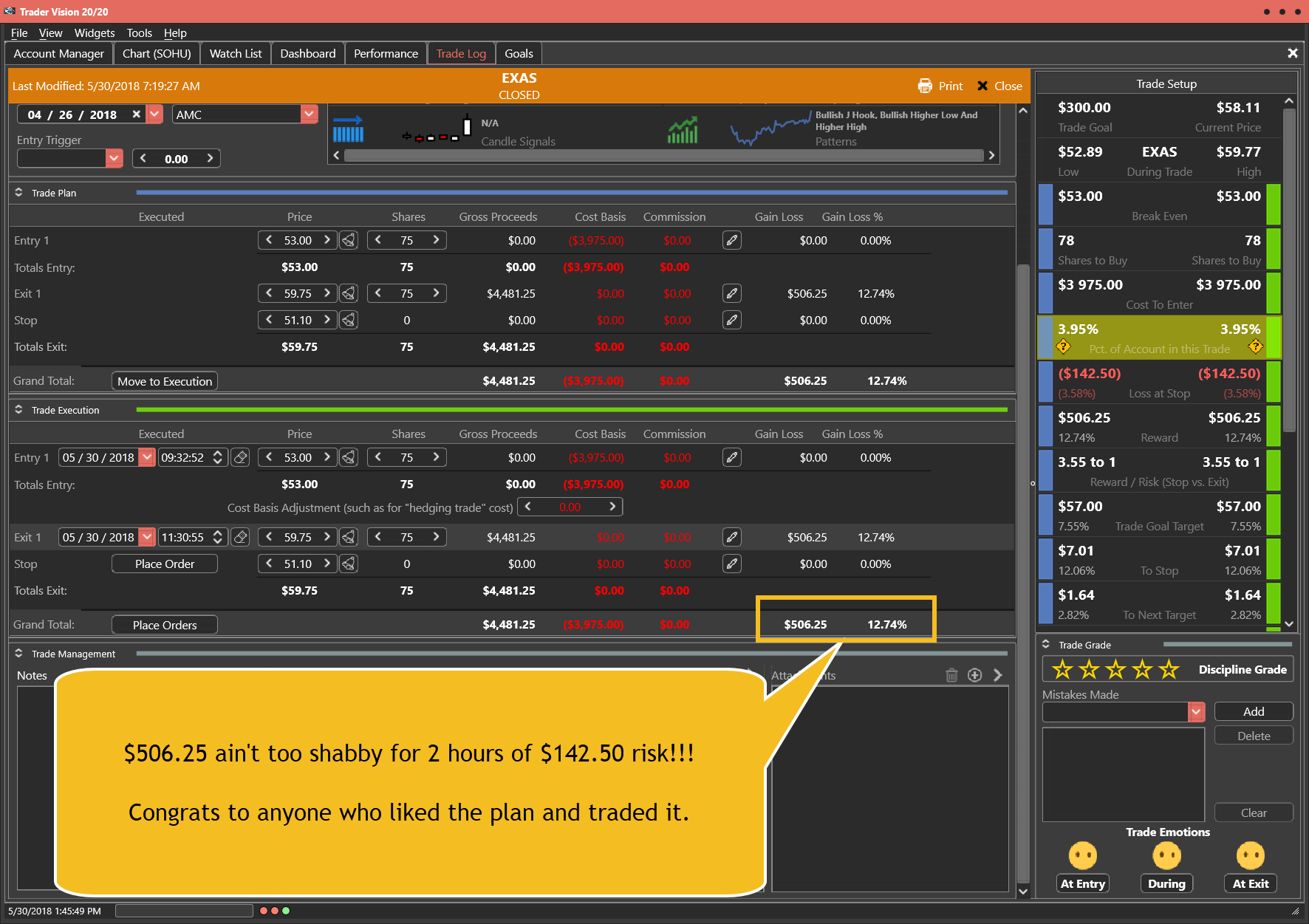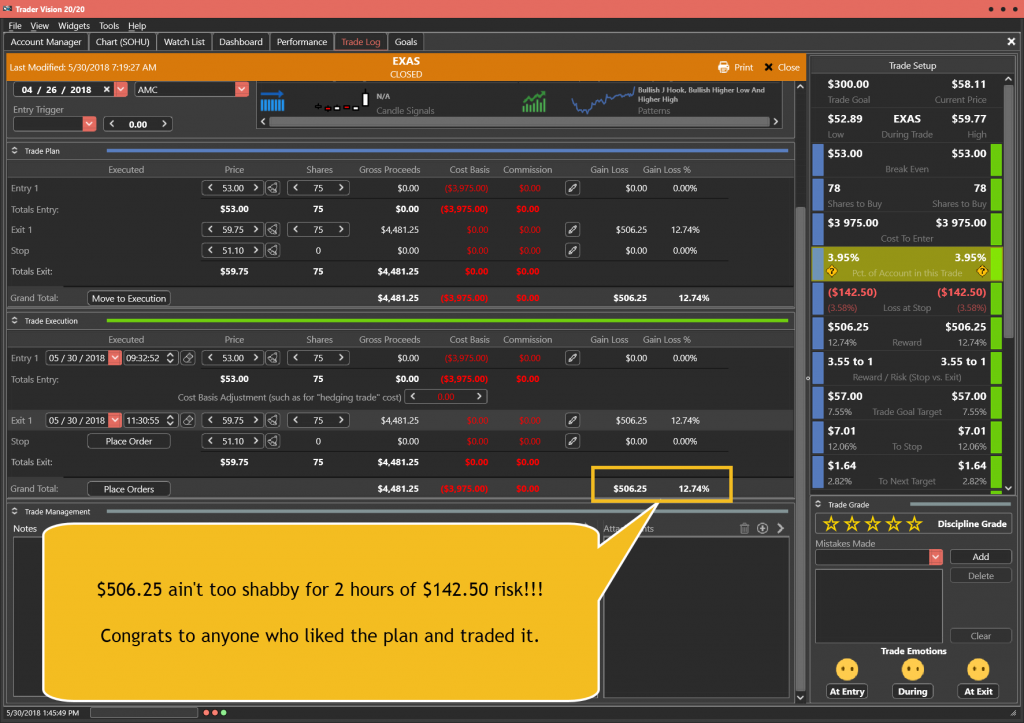 ---
Upcoming Workshop:
Trading With Fibonacci Retracements/Extensions
6/7/18 at 8pm Eastern
Why do Fib Ratios Work?
Why Should You Use Extensions instead of Projections?
Answers to Common Problems Using Fibs.
Where do you begin and end your drawing?
Do we use Bodies or Wicks?
Which Ratios should be your focus?
How to Identify the major support/resistance Levels with Fibs?
How to Find Entries with Fib Retracements?
How to Set Targets Using Fib Extensions?
Testimonial
This is not your usual service that sends out a ton of stock recommendations, and then cherry picks the winners to show you how great they are. Hit and Run Candlesticks and Right Way Options are truly educational services. They taught me how to trade not what to trade. The entire team: Rick, Doug, Steve, and Ed are there to help and answer your questions. They are awesome. They cut years off my learning curve. And it's a team effort. Everyone in the room (all the members) are there to help with invaluable insights and advice. The only service you will ever need. Thanks to all the team for how you have helped me and for all you do. –Jonathan Bolnick
***************************************************************************************************
Investing and Trading involve significant financial risk and is not suitable for everyone. No communication from Hit and Run Candlesticks Inc. is to be considered financial or trading advice. All information is intended for Educational Purposes Only. Terms of Service.
Ed Carter is not a licensed financial adviser nor does he offer trade recommendations or advice to anyone.
***************************************************************************************************