A SIMPLE AND POWERFUL TOOL TO HELP YOU
REDUCE EMOTION, STAY DISCIPLINED AND ACCOUNTABLE FOR 
YOUR TRADING AND SET GOALS TO MEET LONG TERM PLANS
In short, a tool to help you turn your trading into a thorough, repeatable, disciplined business process designed to support continuous improvement!
Annual maintenance/support fee of $99
Reduce Emotion
Trader Vision 20/20 significantly reduces the emotional aspect of trading because it forces you to plan every trade. Lack of trade planning heightens emotion because the trader doesn't know what to expect in terms of risk and reward. Imagine walking down a dark alley not knowing what to expect and not having the means to protect yourself. Emotional traders trade in the dark, hope for the best and fear losses.
Trader Vision 20/20 is a standalone software program that provides protection from trader emotion. Traders are not hoping for the best. Instead they are planning for success.
With Trader Vision 20/20, the trader plans every trade so they always know what they are risking and the potential reward. Every trade has a plan that identifies entries, stops and targets. It encourages traders to think through every trade making the decision process more mechanical rather than emotional.
Develop and Maintain Discipline and Accountability
Successful traders are disciplined and are accountable for their trading efforts. They accomplish this by analyzing and planning every trade, logging every transaction and making notes for later review. Trader Vision 20/20 is a tool that helps traders stay disciplined and be accountable for their trading.
Set Goals to Meet Long Term Plans
Let's say that you want to accumulate $2 million in your trading account in 10 years. This sounds like a lofty goal at first. However, if you break this down into smaller attainable goals it is achievable. You can use Trader Vision 20/20 to input smaller attainable goals to see how they add up in the long run. For example, let's say that your current trading account is $100,000. If you execute 30 trades per month and each trade averages $100 profit, continuing at this rate for 5 years compounds to $465,000 and in 10 years compounds to $2.1 million. There you have it, the $2 million goal is very doable when you look at it in smaller attainable goals. This is the type of analysis that Trader Vision 20/20 helps you to do. In addition, Trader Vision 20/20 will look at your trading performance and tell you if your goals are being met and what you need to do to stay on track.
What Is Trader Vision 20/20?
Trader Vision 20/20 is a stand-alone software package designed to help traders
– Develop and set actionable and attainable goals. You can start with your year end or long term goal and break it down into smaller more manageable short term goals. Trader Vision 20/20 calculates how much profit you need to make on each trade to meet your goals.
– Analyze and plan potential trade setups based on strategy, risk, reward, cost and market conditions. You can define and specify market indicators that tell you the direction of the overall market. You then use this as a gauge to the directional strength of the trade you are considering. You then proceed to input entries, stops and targets and Trader Vision 20/20 computes risk, reward, cost and risk/reward ratios.
– Execute and manage trades with insight into the changing risk/reward ratio as a trade progresses. You can change stops and targets as the trade progresses. Trader Vision 20/20 automatically calculates risk/reward ratios based on your changes.
– Document trades with notes, attached charts and a record of all adjustments made during the trade. You make important notations for every trade and even attach a marked up chart for the trade to review later. Trader Vision 20/20 keeps this information organized for you.
– Track trading performance across trading strategies, market conditions and time variables. At a glance, you can determine which trade strategies are working or not and make changes to your trading habits based on performance. This saves you from the tedious task of going through pages of spreadsheets and tallying results manually.
Annual maintenance/support fee of $99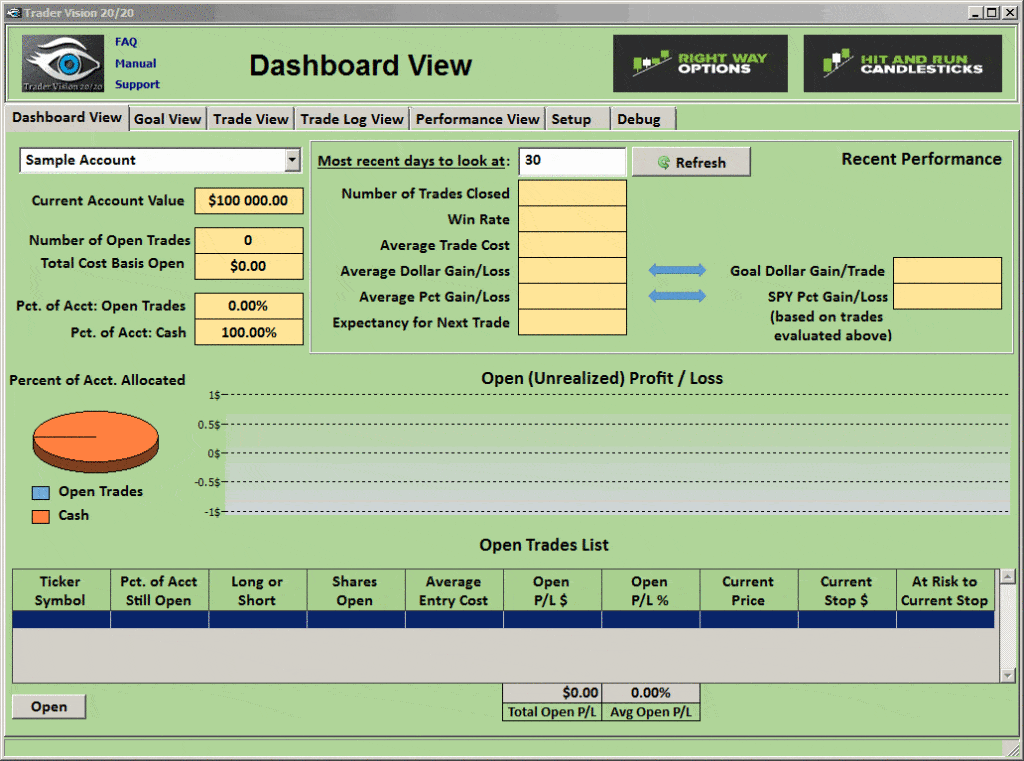 Dashboard view shows you a summary of the results of your trading.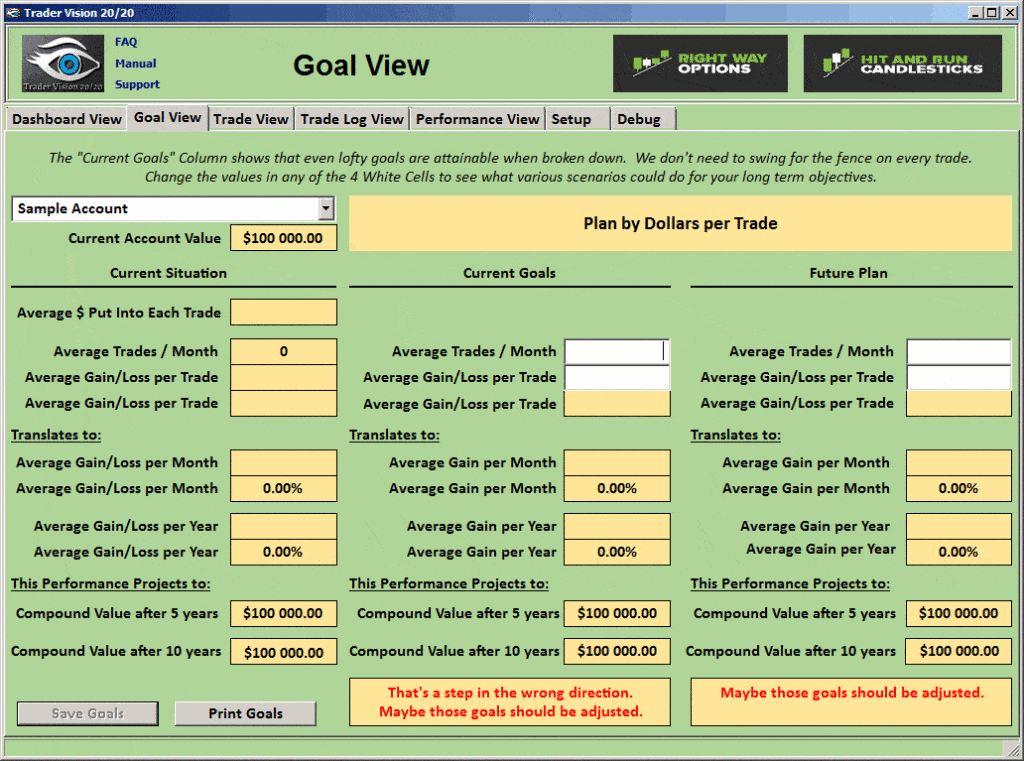 Goal View gives you an overview of how you are doing in terms of meeting your goals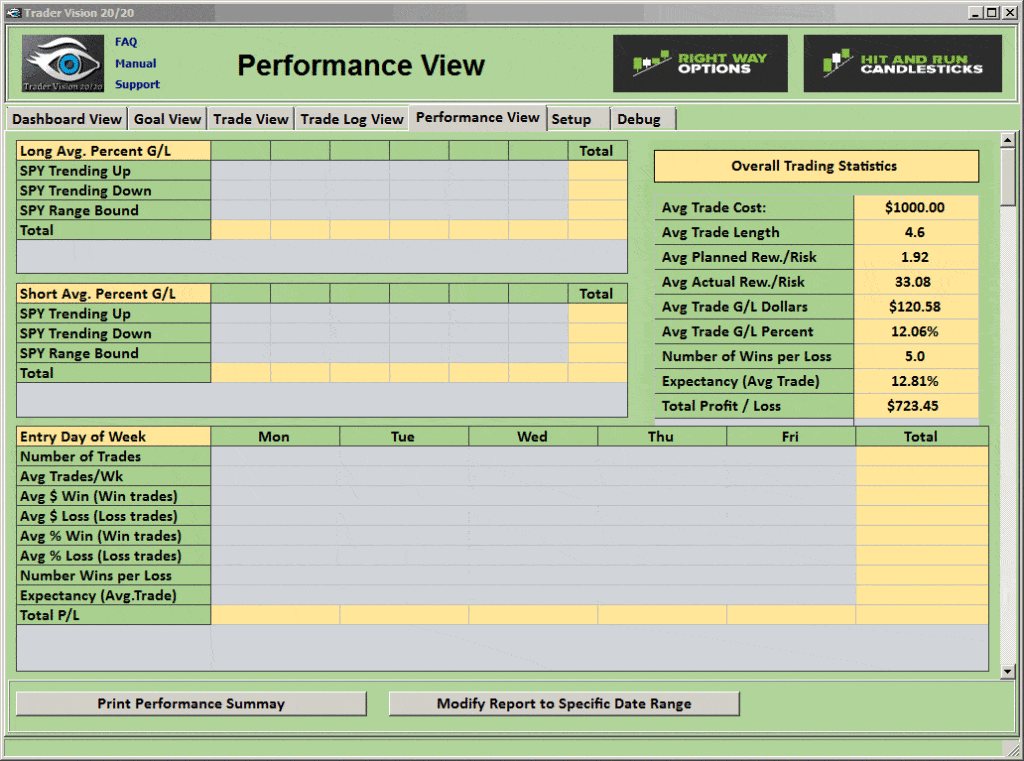 Trade View provides a template for setting up your trades. Just fill in the white areas and Trader Vision 20/20 does the gray area calculations for you.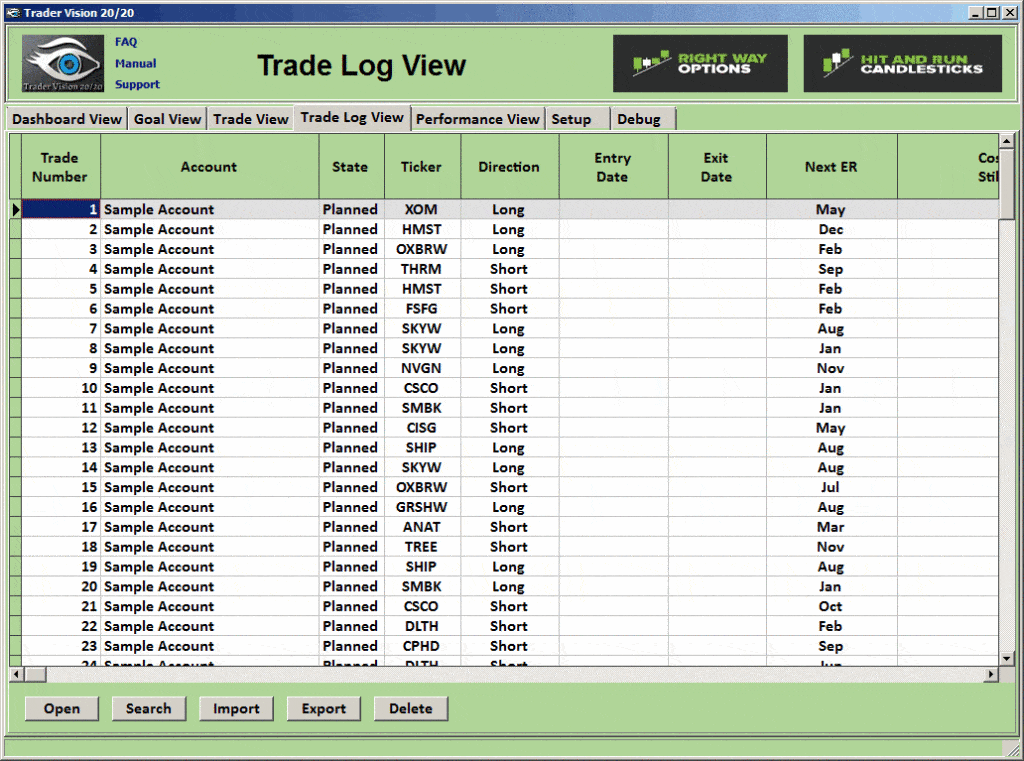 Trade Log View is a listing of every Trade View trade.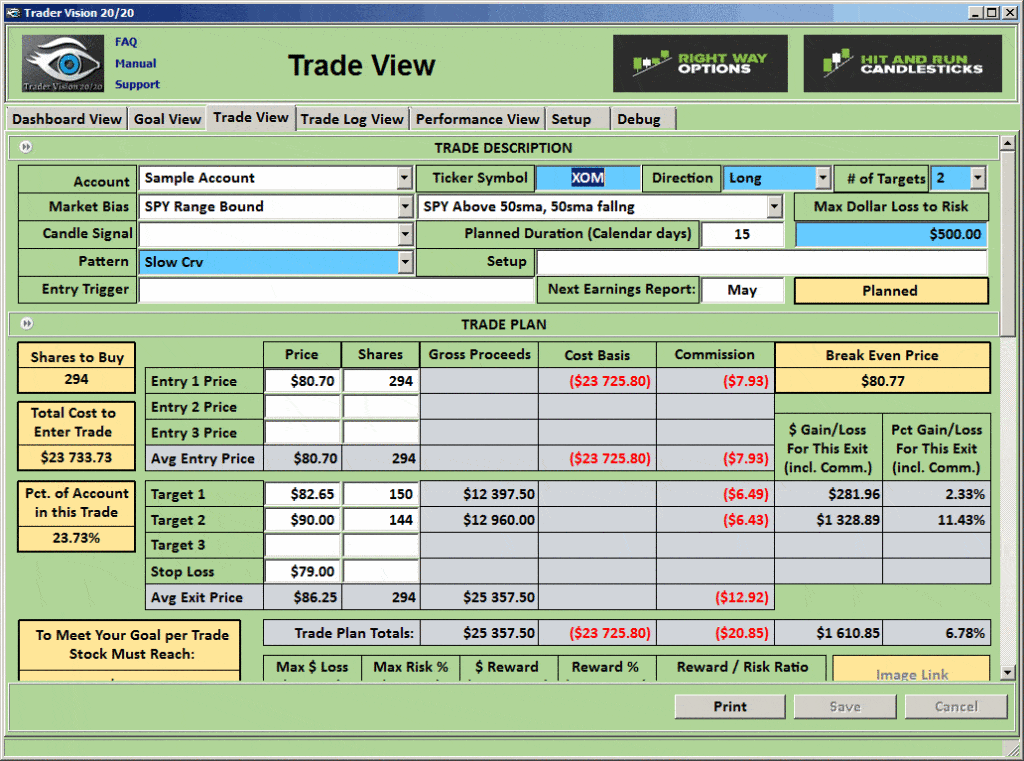 Performance View summarizes your trading activity. This is where you can monitor your win and loss statistics. It will even tell you which trading strategies are working and not working.
Annual maintenance/support fee of $99