The bulls powered through to set more new records to end October after disappointing tech earnings results due to supply chain disruptions. Not to be outdone, the bulls are pushing for yet another gap up open November trading on a high note. Index charts remain quite extended, but at this point, nothing seems to dissuade this relentless bull. However, when gapping to new records, we can not rule out the possibility of a pop and dorp pattern, so be careful chasing in at the open, making sure we see some follow-through buying.
Overnight with the threat of stagflation, Asian markets traded mixed as the Nikkei soared 2.61%. Across the pond, European markets kick off the month decidedly bullish across the board. Ahead of earnings and manufacturing data, the bulls seem unstoppable this morning, pointing to a substantial gap and new records at the open.
Economic Calendar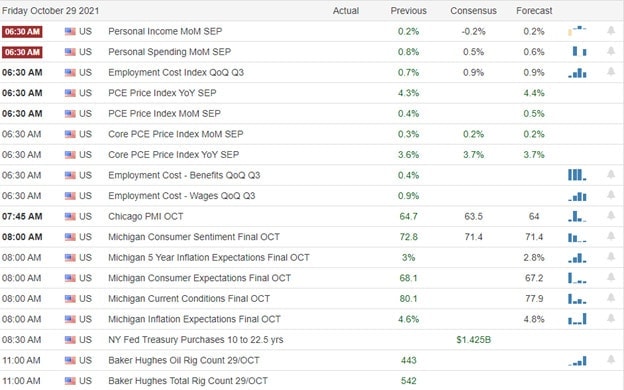 Earnings Calendar


On the Monday earnings calendar, we have 87 companies listed with several unconfirmed reports. Notable reports include ADTN, ALX, ANET, CAR, BCC, CRUS, CLX, CVI, FANG, FN, BEN, GAIA, GXO, IPI, L, MCK, MOS, NXPI, ON, OTTR, PCG, PSA< O, RYAAY, SBAC, SPG, SKT, TTM, RIG, VNO, WFRD, & WMB.
News & Technicals'
Barclays CEO Jes Staley will stand down following an investigation into his relationship with Jeffrey Epstein. C.S. Venkatakrishnan (known as Venkat), currently head of global markets at Barclays, is set to take over as chief executive immediately. The bank said the investigation had not found that Staley "saw, or was aware of, any of Mr. Epstein's alleged crimes." In October, China's factory activity contracted more than expected, shrinking for a second month, an official survey released on Sunday showed. The latest October manufacturing data shows low production and high price inflation, economists say. "A worrying sign is the passthrough of inflation from input prices to output prices. The input price inflation has been high for many months by now, driven by the rising commodity prices," Zhang Zhiwei, chief economist at Pinpoint Asset Management, wrote. Treasury yields begin November higher, with the 10-year trading at 1.5938% and the 30-year rising to 1.9638% in early trading Monday morning.
Although the DIA, SPY, and QQQ continue to appear extended, the disappointing tech earnings only fanned the flames of buying, setting new record highs on Friday. With another busy of earnings and the whispers of FOMC taper in the air, can we expect more of the same? Futures this morning suggest yes with a gap up to more records! That said, we can't rule out the possibility of a pop and drop coming into play. According to analyst's estimates, ISM may decline slightly with the report at 10 AM Eastern. However, with the decline in durable goods, GDP, and personal incomes not slowing the buying frenzy, a manufacturing decline might just easily get shrugged off. We can be sure that the price action will likely remain challenging with lots of earnings-fueled gaps and whipsaws.
Trade Wisely,
Doug