Tuesday's index prices went wild, generating multiple whipsaws as investors reacted to and tried to sort out the future ramifications of the CPI numbers. Unfrotunitally the big point swings may well continue into Wednesday as the market reacts to market-moving economic reports and a slew of earnings events to keep speculation volatility high. So plan carefully, as the significant point moves make it near impossible to hold onto a trading edge. Remember, cash is a position that protects your capital in these dangerous conditions.
While we slept, Asian markets reacted negatively to the hotter-than-expected CPI numbers seeing red across the board at the close. However, European markets trade mainly higher this morning seemly less concerned about possible inflationary economic impacts. Facing another big day of possible market-moving reports, the U.S. futures point to a lower open but rise from overnight lows waiting for retail sales figures.
Economic Calendar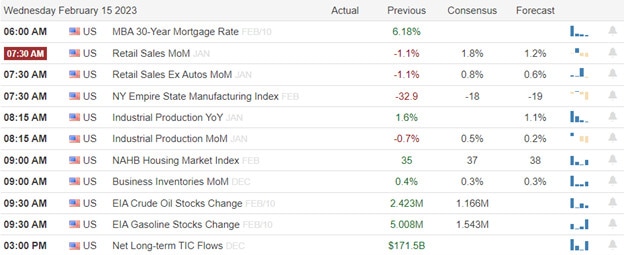 Earnings Calendar


Notable reports for Wednesday include ALB, ALKS, AIG, AWK, ADI, GOLD, BIIB, SAM, CF, CHH, CSCO, CYH, ET, EQIX, FSLY, FSR, GNRC, HL, IDCC, INFN, INVH, KHC, DNUT, LAD, MRO, MLM, NUS, NTR, PGRE, OC, RBLX, ROKU, RGLD, SGEN, SHOP, STAG, SUN, SPWR, SNPS, TTD, TWLO, UPWK, WH, & ZG.
News & Technicals'
A Goldman credit card would've been part of a suite of products to help enhance the profit margins and loyalty of its retail efforts, according to people with knowledge of the matter. However, when it scaled back plans to become the primary bank for the masses, the rationale for a Goldman card evaporated, said one of the people. Solomon acknowledged last month that the bank's ambition in consumer finance outstripped its ability to execute on them.
A costly trading decision sees the annual net profit of Barclays dropping by 19%. The British lender took a substantial hit from an over-issuance of securities in the U.S., which resulted in litigation and conduct charges totaling £1.6 billion throughout 2022.
The Biden administration wants at least 500,000 publicly accessible electric vehicle chargers on US roads by 2030. Now, companies that build and operate charging networks — including Tesla, GM, Ford, ChargePoint, and others — stand to reap the rewards of federal funding if they meet new requirements. For example, white House officials announced that Tesla will open up 7,500 of its charging stations by the end of 2024 to non-Tesla EV drivers. Previously the company's chargers in the U.S. were used mainly by and made to be compatible with Tesla Evs
In reaction to yesterday's CPI, the indexes went wild, producing multiple whipsaws as investors grappled with what it means for future rate increases and the possibility of an overall economic slowdown. However, despite the hefty price swings, current support and resistance levels held, leaving more questions than answers as we face another day of likely market-moving reports. Along with impactful economic reports such as retail sales and industrial production, we have a hectic day of earnings to keep prices volatility high and traders making speculative bets on the direction. So, once again, plan for the possibility of big index point moves and continue to watch for those quick, sharp whipsaws.
Trade Wisely,
Doug