Although the tech enjoyed sustained buying yesterday, bullish momentum struggled with the Dow giving back most of its gains to leave behind an uncertain shooting star pattern. So the question for today can retail continue to inspire enough bullish momentum to keep the indexes rising? The rising dollar and increasing bond yields might signal a risk-off scenario, so keep a close eye on them if they continue marching higher.
Overnight Asian markets closed the day mostly lower, with only China posting a modest gain of 0.44%. European markets appear to have a more bullish outlook, but current gains hover near the flatline as they wait on earnings results. U.S. futures point to a flat to mixed open ahead of retail earnings and housing data.
Economic Calendar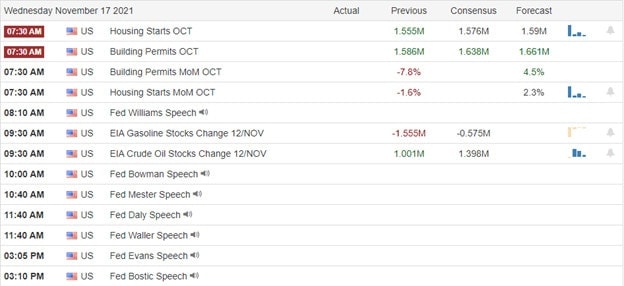 Earnings Calendar


We have 44 companies listed on the earnings calendar with another day of focus on retail. Notable reports include TGT, NVDA, CRMT, BIDU, BBWI, BILI, CSCO, DSX, HI, IQ, LOW, MTOR, MBT, QUIK, SCVL, SONO, TTEK, TJX, UTI, VSCO, VINP, VTRU, XIM, ZTO.
News & Technicals'
Lowe's beat expectations for fiscal third-quarter earnings, as it got a boost from online sales and business from home professionals. Despite analysts predicting a decline, the home improvement retailer's same-store sales rose by 2.2% in the three months. In addition, CEO Marvin Ellison said sales to home pros, such as electricians and contractors, rose 16% in the third quarter. Amazon has told some customers that, from Jan. 19 onward, the company will no longer accept Visa credit cards issued in Britain. The e-commerce giant cited high fees charged by the payment processor. Visa said it was "very disappointed that Amazon is threatening to restrict consumer choice in the future." The U.S. Justice Department will sell off $56 million worth of cryptocurrency it seized as part of a massive Ponzi scheme case against a man who promoted the crypto lending program BitConnect. The BitConnect scam has swindled thousands of people in the U.S. and abroad out of more than $2 billion worth of bitcoin. In September, the Securities and Exchange Commission sued BitConnect, its founder Satish Kumbhani and Glenn Arcaro, who was the lead promoter of BitConnect in the United States. Treasury yields dip just slightly in early Wednesday, with the 10-year trading at 1.625% and the 30-year edging lower to 2.0157%.
Substantial retail numbers brought out the bulls on Tuesday but curiously, the momentum struggled to stay on course into the close. While tech faired much better, the Dow gave up most of the day's gains leaving behind the uncertainty of a shooting star pattern near price resistance. Perhaps the rising dollar with the ten, twenty, and thirty-year bonds rising are beginning to show signs of risk-off that I mentioned yesterday. However, with another round of retail with LOW and TGT this morning followed by results from NVDA after the bell, the bulls can reignite momentum. That said, I still believe it wise to wise to watch closely for a possible pullback to test support levels.
Trade Wisely,
Doug