Following a mixed bag of earnings created mixed index results as the DIA reversed sharply and QQQ closed slightly positive at the close.  However, the day increased uncertainty with anemic volume and a rising VIX facing a busy Wednesday of market-moving economic reports.  The bulls seem to have no concern about the weakening economic conditions or the likely recession.  However, the market conditions could quickly produce big moves up or down, so plan your risk carefully.
During the night, Asian markets primarily rallied as the Band of Japan surprised the market, making no change to the yen yield range. European markets trade modestly higher this morning as the UK inflation rate declines for the second consecutive month to 10.7%. The U.S. futures have recovered from some overnight lows to trying to put on a brave face ahead of the market-moving PPI, Retail Sales, and Industrial Production numbers.
Economic Calendar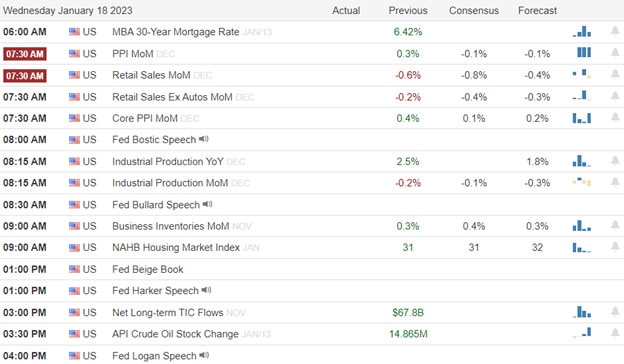 Earnings Calendar


The number of notables will increase today and Thursday, back off on Friday, and then it gets nuts for a few weeks. Notable reports include AA, DFX, FHN, FUL, KMI, PNC, PLD, SCHW & WTFC.
News & Technicals'
Analysts believe that Russian President Vladimir Putin could be ready to announce another mobilization round as Russia looks to bolster its armed forces in Ukraine. "Putin may announce a second mobilization wave to expand his army in the coming days—possibly as early as January 18," analysts at the Institute for the Study of War said Tuesday.
United Airlines' fourth-quarter profit topped Wall Street estimates thanks to strong demand and high fares. United expects to expand by flying 20% in the first quarter from a year ago. United executives will hold a call with analysts and media on Wednesday at 10:30 a.m. ET.
The Japanese yen weakened by more than 2% after the Bank of Japan announced no changes to its yield curve control. Coinbase's decision to exit comes only a few weeks after rival exchange Kraken said it would cease its operations in Japan this month. In addition, several firms have suffered from waning investor appetite for crypto after the major exchange FTX blew up in September.
A mix of earnings data created mixed index results on Tuesday, with the DIA reversing Friday's strong rally, but the QQQ managed to squeak out a $0.57 gain at the close. The VIX rallied, but the volume was very light, facing PMI and Retail Sales numbers before today's morning bell. We also have several notable earnings reports with Industrial Production, Business Inventories, Housing Market Index, Beige Book, Treasury International, and Fed speakers tossed in for good measure. Despite the uncertainty, the T2122 indicator continues to warn of a short-term overbought condition, and the bulls appear to have little to no concern about recession or the weakening economic data points. Big moves are possible in either direction, so plan your risk carefully.
Trade Wisely,
Doug