Ahead of inflation readings investors saw fit to push the indexes into price resistance levels with the Vix showing no fear of the pending data.   The T2122 indicator stretched into the short-term overbought range adding some risk of a quick market reversal should the CPI numbers disappoint.  Plan for some substantial price volatility after the open as we hear from more Fed members and wait for the FOMC minutes.  Anything is possible so plan carefully.
Asian markets closed mostly higher overnight with only the Australian index suffering losses. European markets appear to have substantial confidence in a softer CPI reading this morning seeing nothing but green. U.S. futures also suggest a bullish open ahead of the key inflation data but as soon as the data is revealed it could get much better if inflation indeed declined, however, if the opposite occurs, prepare for a bear attack.
Economic Calendar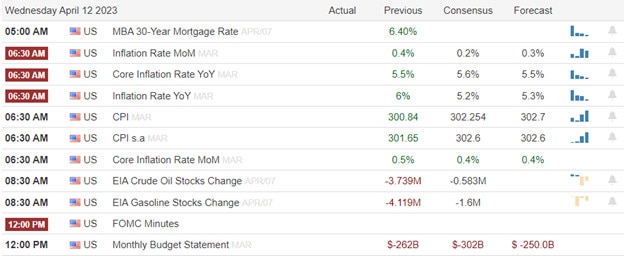 Earnings Calendar


Notable reports for Wednesday include APOG, BBBY, & SPWH.
News & Technicals'
According to Chris Harvey at Wells Fargo & Co., the resilience of US equities this year will be short-lived. He expects the S&P 500 to suffer a 10% correction in the next three to six months. That would take the American stock benchmark to around 3,700, which is near the November lows. However, Wells Fargo maintained its year-end price target of 4,200 — or about 2% above Monday's close.
According to John Flood, a partner at Goldman Sachs Group Inc., this week's lull in the US stock market is likely to end with Wednesday's consumer price index report. He wrote in a note Tuesday that investors should expect the S&P 500 to drop at least 2% should the year-over-year inflation rate come in above the previous reading of 6%. However, stocks are likely to go higher if CPI meets or trails 5.1%, which happens to be the consensus estimate from economists in a Bloomberg survey.
The U.S. Environmental Protection Agency has proposed new tailpipe emissions limits that could require as much as 67% of all new vehicles sold in the U.S. by 2032 to be all-electric. This would surpass President Joe Biden's previous commitment to have EVs make up roughly 50% of cars sold by 2030 and accelerate the country's clean energy transition. According to Kelley Blue Book data, EV sales accounted for only 5.8% of all the 13.8 million new vehicles sold in the country last year, an increase from 3.1% the year before.
Stocks closed higher on Tuesday as investors await U.S. inflation readings and the start of earnings season later this week. After moving substantially lower in March, government bond yields have stabilized more recently. For example, the 2-year Treasury yield is back above 4.0% after falling to 3.75% over the past few weeks. Market forecasts for a 0.25% rate hike at the Federal Reserve's May meeting have now increased to a 70% probability. The VIX continues to show no fear and the T2122 indicator has reached the bearish reversal zone adding to the risk of today's CPI report. Anything is possible so expect volatility and possible big-point whipsaws as we wait for the FOMC minutes this afternoon.
Trade Wisley,
Doug