The markets quickly exploded with bullishness reversing the day as Jerome Powell's comments encouraged buyers, then triggering two huge point whipsaws as emotion spilled across the index charts. Though it is currently in vogue to chase parabolic index charts and already extended charts, be warned the danger of doing so is high. Today we will hear from more fed speakers and another big day of earnings reports to continue inspiring price volatility. Yesterday proved that the reversal speed of the market is high, so plan your risk carefully as indexes continue to increase.
Asian markets traded mixed while we slept, seemly keying in on the more work-to-do comments of the Fed. However, this morning, European markets surged higher in reaction to Powell's words, with the FTSE hitting record highs! On the other hand, U.S. futures point to a gap down open ahead of another big day of earnings. Trade wisely and avoid the fear of missing out as the indexes extend.
Economic Calendar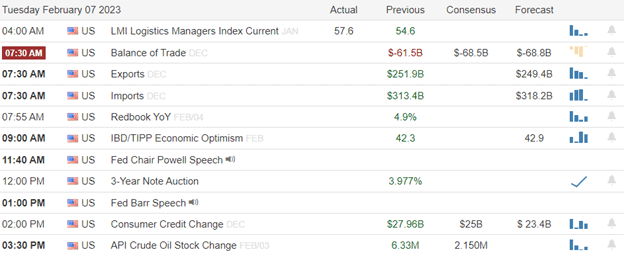 Earnings Calendar


The number of earnings reports ramped up today with just over 100 companies listed on the calendar though there are a number of them unconfirmed. Notable reports include AFRM, AB, APP, APPS, CPRI, CME, COHR, COTY, CVS, D, DIS, ETN, EMR< EFX, FOXA, GT, HI, HPP, IFF, MAT, MGM, MOH, NYT, ORLY, PTEN, PAG, PFGC, RDN, RDWR, REYN, REXR, HOOD, SONO, THC, TRMB, UBER, XPO, YUM.
News & Technicals'
Chipotle Mexican Grill reported weaker-than-expected earnings and revenue for its fourth quarter. However, CEO Brian Niccol maintained the company hadn't seen a backlash to higher prices for its burrito bowls and tacos, despite declining transactions. The company plans to open between 255 and 285 new locations in 2023 and said last month it is looking to hire 15,000 workers by this spring.
CVS said it would pay $39 per Oak Street Health share, a nearly 16% premium to the stock's last closing price. With Oak Street's acquisition, CVS will control over 160 primary care centers that serve those insured under the U.S. government's Medicare program.
Federal Reserve Chairman Jerome Powell said Tuesday that disinflation "has begun" but is going to take time. Markets latched onto Powell's words and briefly turned positive before flipping back to negative after he cautioned about stronger-than-expected economic data. "If we continue to get, for example, strong labor market reports or higher inflation reports, it may well be the case that we have to do more and raise rates more than is priced in," he said.
Intended or not, Jerome Powell's words brought out the bulls yesterday, which triggered two huge point whipsaws to strongly positive finish the day. The VIX saw fear diminish, and the T2122 indicator zoomed up again, nearing an overbought condition. Chasing extending stock prices and parabolic indexes is currently in vogue, but the risks of doing so are also very high. Plan carefully and avoid overtrading, as the reversal speed of an overextended condition can punish retail accounts harshly. We have more Fed speak today, along with some very anticipated potentially market-moving earnings reports, so buckle up for another wild day of volatility.
Trade Wisely,
Doug