Hot employment data continues to worry the market about aggressive Fed rate hikes. Though the bulls triggered hopes of a relief rally yesterday, we have the Employment Situation to deal with this morning. Analysts suggest the number could come in hot but will the bulls continue to defend yesterday's low, or will it inspire the bears? Traders could be thinking about an early getaway to extend the 3-day weekend, so don't be surprised if volume quickly drops off after the data-driven volatility of the open.
Asian markets traded mostly lower as we slept with worries about the FOMC's next decision. However, European markets trade decidedly bullish with cautious eyes on the U.S. jobs report. With no earnings inspiration this morning, U.S. futures suggest a flat to slightly lower open, pensively waiting on the Employment Situation number before switching gears and heading into the long holiday weekend. Consequently, it could be a wild morning session followed by light and choppy price action as traders get away early and extend their weekend plans.
Economic Calendar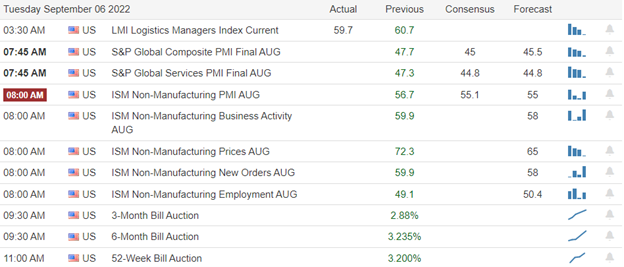 Earnings Calendar


Although we have about 20 companies listed on the Friday earnings calendar, only one report confirmed from GB that's not particularly notable.
News & Technicals'
Stocks have been selling off, and bond yields have risen ahead of Friday's August employment report, providing a critical reading of the labor market. It is a particularly important report because it is expected to be one of the last big economic reports the Federal Reserve will consider before it raises rates at its late September meeting. According to Dow Jones, economists expect 318,000 jobs added in August, and the unemployment rate held steady at 3.5%. In addition, on Thursday, a National Labor Relations Board official recommended that Amazon's objections to a historic union election in New York be rejected. In April, workers at Amazon's JFK8 warehouse voted to form its first U.S. union. Amazon has until Sept. 16 to appeal the NLRB official's recommendations. Starbucks on Thursday named Laxman Narasimhan as its next chief executive officer. Narasimhan most recently served as CEO of health and hygiene company Reckitt. He'll join Starbucks in October, learning about the company and its reinvention plan, before assuming the top job in April. Morgan Stanley analysts laid out an economic scenario for China if authorities do not provide enough funding and other support to stabilize the real estate market. The analysts said Chinese stocks would plunge, GDP would slow, and unemployment would rise. However, they said spillover from real estate to the rest of China's economy "remains manageable so far." Between April 2020 and June 2021, solar panels at Amazon fulfillment centers caught fire or experienced electrical explosions at least six times. "The rate of dangerous incidents is unacceptable and above industry averages," an Amazon employee wrote in an internal report viewed by CNBC. Rooftop solar is part of Amazon's overall plan to zero emissions by 2040.
Thursday again saw the bears dominate early trading as hot employment data continues to worry investors about aggressive rate hikes from the Fed. However, the bulls finally staged a bit of a comeback at the end of the day, raising hopes of a relief rally. Unfortunately, we have the Employment Situation number before the bell this morning that analysts suggest could also come in hot. So, I guess the question is will it inspire the bears, or will the bulls stand their ground supporting yesterday's lows? After we pass the data-driven morning volatility, traders will begin thinking about the long weekend ahead and the uncertainty it may provide. I don't think we can rule out the possibility of light choppy price action or pile-on selling to reduce risk as we slide into the 3-day weekend.
Trade Wisely,
Doug