Do we dare hope for a bullish follow-through this morning? Although a presidential executive order seems to have raised trade war tensions markets are putting on a brave face this morning. Following a rather volatile session Asian market closed mixed but modestly higher overnight. European are currently green across the board and US Futures point to a bullish open in the pre-market.
The world largest retailer, WMT, has already reported better than expected to give the futures a nice bump but we have three potential market-moving economic reports at 8:30 AM Eastern for the market to digest before the open. Keep a close eye on price action and remember we have important resistance levels just above that the bears could defend. As for me I do dare to hope for follow-through bullishness but I will patiently wait until I see proof the bulls have the energy to deal with resistance before considering new risk.

On the Calendar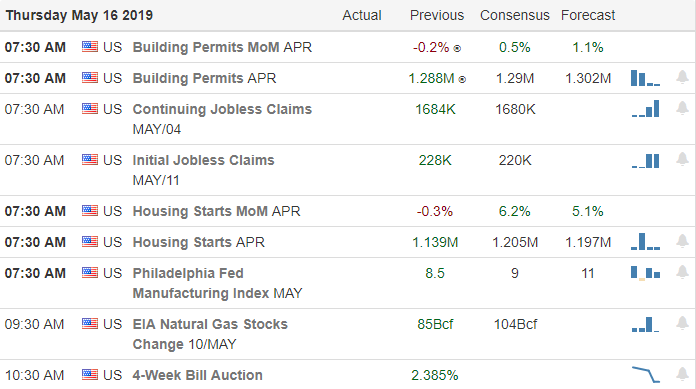 We have a lighter day on the Earnings Calendar but we have some heavy hitters that could move the market. Notable reports include, WMT, NVDA, AINV, AMAT, BIDU, BOOT, FRO, IQ, LTM, MANU, NGG & WIX.

Action Plan
We had a nice steady rally yesterday following a gap down open as the market reacted to trade tensions and declining retail sales figures. After the bell yesterday the president signed an executive order that allows the federal government to block transactions that involve information or communications technology citing National Security concerns. China sees this as a direct assault on the mobile device seller Huawei adding additional pressure to trade negotiations.
Despite that, futures are currently pointing bullish open. Dare we hope for a day of follow-through? Keep in mind we have some big earnings reports today that could move the market as well as three potential market-moving economic reports at 8:30 AM Eastern. If the pre-market bullishness holds into the open remember to watch closely key resistance levels where the bears could reassert themselves. A gap into resistance raises the risk of a pop and drop so keep a close eye on the price action and avoid chasing the open.
Trade wisely,
Doug