The gravity-defying winning streak continues as the fear of missing out intensives, so does the real risk to traders trying to enter with indexes so extended in the short term. Fed taper, inflation, energy prices, supply chain impacts, P/E ratios, market internals, and even the chart technicals seem to be of no concern at the moment. However, the more we extend, the greater the risk of a substantial pullback, so be prepared. I challenge you to take off those rose-colored glasses and assess the risks before entering new positions.
Asian markets traded mixed overnight even as the Nikkei surged 1.77% as worries of property taxes pushed Hong Kong lower. However, European markets see nothing but green this morning, fueled by earnings optimism. Ahead of a huge day of earnings, housing, and consumer confidence data U. S. futures point to new record highs in the SPY and DIA at the open.
Economic Calendar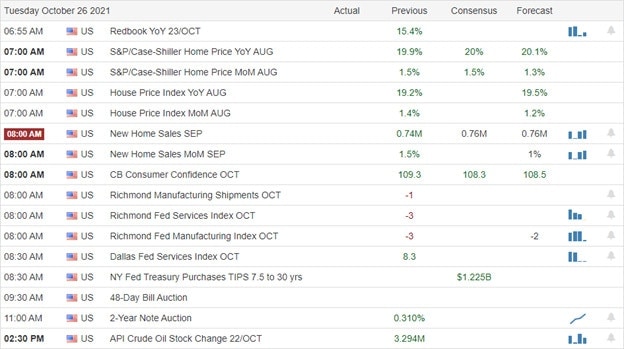 Earnings Calendar


On the Tuesday earnings calendar, we step up tech earnings with nearly 100 companies expected to report. Notable reports include AMD, GOOGL, TWTR, MSFT, MMM, AAN, AMP, ADM, ARCC, BYD, CAJ, COF, CNC, CB, CIT, GLW, CLR, ECL, LLY, EQR, ESS, FFIV, GE, HAS, IVZ, JBLU, JNPR, LOGI, NAVI, PNR, PHM, RTX, HOOD, SPGI, SHW, SSTK, TER, TXN, TRU, UBS, UPS, V, WM, & XRX.
News & Technicals'
Facebook shares rose in extended trading Monday after the company reported better-than-expected third-quarter earnings while revenue missed estimates. In addition, the company announced its plans to break out its Facebook Reality Labs into its reporting segment starting in the fourth quarter. As a result, Facebook said it expects fourth-quarter revenue of $31.5 billion to $34 billion. Democrats are making some hard choices about their signature spending plan to satisfy key moderates in the Senate, slashing the topline cost from $3.5 trillion to between $1.5 and $2 trillion. Several of Biden's campaign promises have been abandoned altogether, such as providing free community college and instituting a clean electricity standard with penalties for utilities that don't comply. Other programs that were initially permanent will instead be set to expire in a year or two, like the expanded Child Tax Credit and expanded Medicaid. According to economists, shipping backups at big U.S. ports are not likely to resolve themselves until well into 2022. Goldman Sachs said that the problems should lessen after the holidays and Lunar New Year as container traffic backs off. Companies have been left to find ways to keep their products moving amid the supply chain disruptions. Treasury yields dipped slightly in early Tuesday trading, with the 10-year trading at 1.63.17% and the 30-year falling to 2.0783%.
The bulls continue to run higher in a gravity-defying winning streak that at this point shows no signs of stopping. Inflation and supply chain issues seem to be of no concern. A Fed taper and now the prospect of 2 potential interest rate increases next year of no consequence as traders rush to add risk. A rapidly deteriorating China economy and a growing number of foreclosures in the U.S. we ignore. The fear of missing out is so intense that even the charts' technicals and the internal indicators are rendered essentially useless. What does that mean? Could this be the preamble to the classic blowoff top forming? It is very reminiscent of the last rush into stocks in late 1999, where just like today, P/E ratios were wholly ignored. How long can this last? Your guess is as good as mine but enjoy the ride as long as it lasts because there could be a reckoning at the end of it. At the risk of sounding like a broken record, I will once again caution traders to be cautious chasing already stocks. That said, whatever you trade, make sure you have considered the risk carefully because this kind of rally can produce some painful reversals overnight and big intraday whipsaws.
Trade Wisley,
Doug